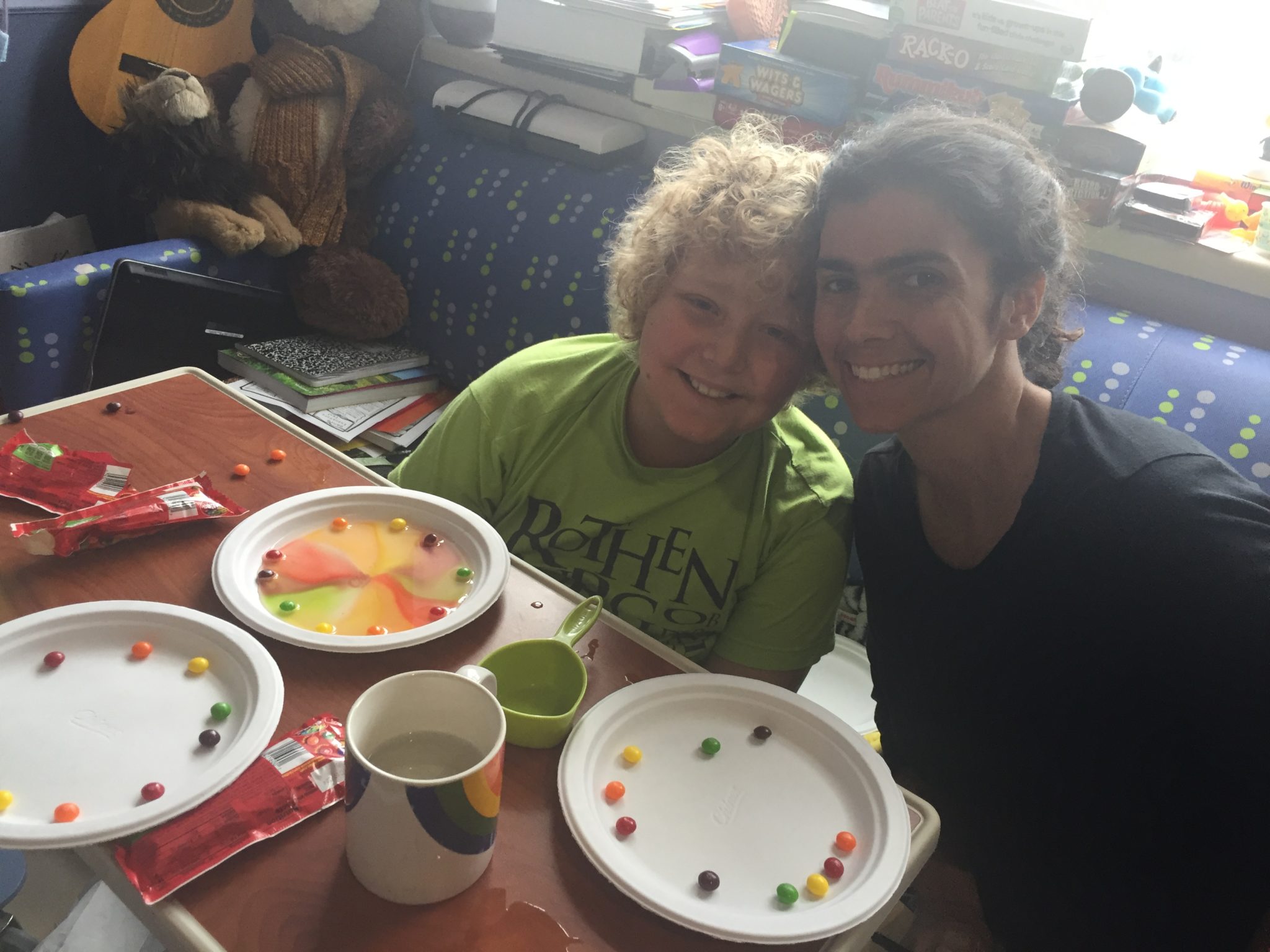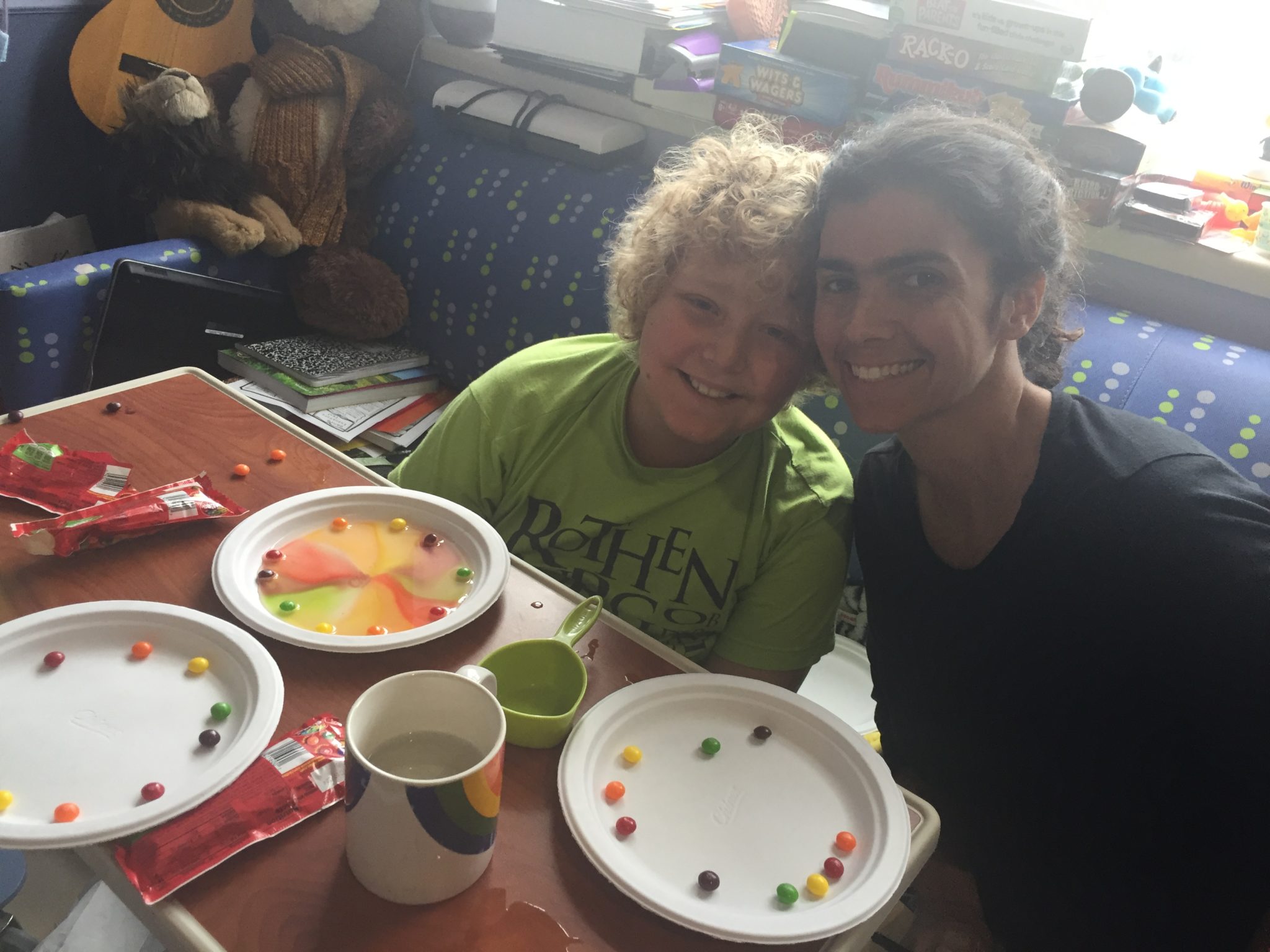 Benjamin's sleepiness continues as his counts keep dropping. He didn't wake up until morning rounds, when he heard me talking with Dr. Moore and our nursing team. There were no changes to report, just a plan for the day that would accommodate Benji's Dasatanib, Vincristine, Dexrazoxane, Daunorubicin, and final Erwinia shots.
Aunt Sarah brought Benji his second breakfast of choice from a local bagel joint, then got down to the business of weekly science experiments (today's question: which liquid will best remove the food coloring from candy?). Our nurse today was wonderful and managed Benji's complex schedule beautifully. His oral and intravenous chemo, his antiemetic and his heart protectant were all administered before lunch. We applied numbing cream on his legs for his final round of shots. Sarah went out to grab lunch during our hour wait and Benji got a nice chunk of schoolwork done.
When it was time for Benji's shots, he prepared his mind and body. I cheered him on, reminding him that these were his final shots. "They might not be," he said. I told him there weren't any more in his treatment plan. "That's what you said last time." Ouch. He was right, of course. So many lessons in expectations through this experience, for all of us.
Benji chose his favorite two nurses to administer the shots. He removed the cream and dressing and they took their places on either side of him, armed with the familiar long needled syringes in their blue gloved hands. "Ready?" they asked. Benji shook his head. "Not yet." He took a breath. He sunk into that peaceful place to which he has gone so often, that place that has served him so well. It was a visible change. He achieved his quiet mind. "Yes," he said.
The nurses were perfectly in unison and faster than any pair yet. It made all the difference. Benji had no tears, no flinching, no shooting pain. He was happy. I'm sure it was a big relief. He wanted his laps right away, and Sarah and I obliged.
As we walked, we passed the teenagers who are preparing to ring the bell, painting faces and shoes and other adornments in the conference room. Later, two other friends we've met "moved in" on 7 South for planned admissions. We know many of our neighbors right now and the vibe in the halls is warm and communal. There are rainbow stars hanging from many nearby windows.
We settled in for Wednesday Bingo and another win for Team Benji. I checked in with Michael and Banyan. They stayed home again today, with Michael's cold on the way out and Benjamin's absolute neutrophil count (ANC) on the way down. We're hoping to see each other tomorrow. I am so proud of the way Banyan has been handling his new level of responsibility. He is on top of his schoolwork. He is taking initiative at home. He is doing everything that's asked of him and then some. He's such a valuable member of our team.
Our awesome nurse was in our room this afternoon, and the subject of hospital billing came up. We were telling her how much some of the more pricey items on Benji's hospital bills are (like those Erwinia shots, valued at roughly $12,000 each). She said there is one drug so valuable that someone has to personally fly first class with it in his or her possession and hand deliver it to the hospital. She finished the story with, "Yeah, it's a rescue for Methotrexate toxicity."
Sarah and I looked at each other with our eyes wide open. I think we were both trying to act more casually than we felt. We asked what the medicine was called, and the nurse didn't know. We asked if it was a recent addition to the oncology arsenal and she didn't know that either. Through our conversation we rehashed nearly the entire traumatic experience of Benjamin's last hospital admission, exactly one year ago. She listened and looked up Benji's records and talked about the impact his admission made on some of her colleagues. It's hard to know if practical change was made. I'm very curious about this first class medicine.
Benji is sleeping soundly. For the second straight October I'm watching playoff baseball from the seventh floor. It soothes the little girl part of my soul like very few things can. There are many nights when my mind races uncontrollably; right now, living in the moment feels manageable. I'm grateful for it.