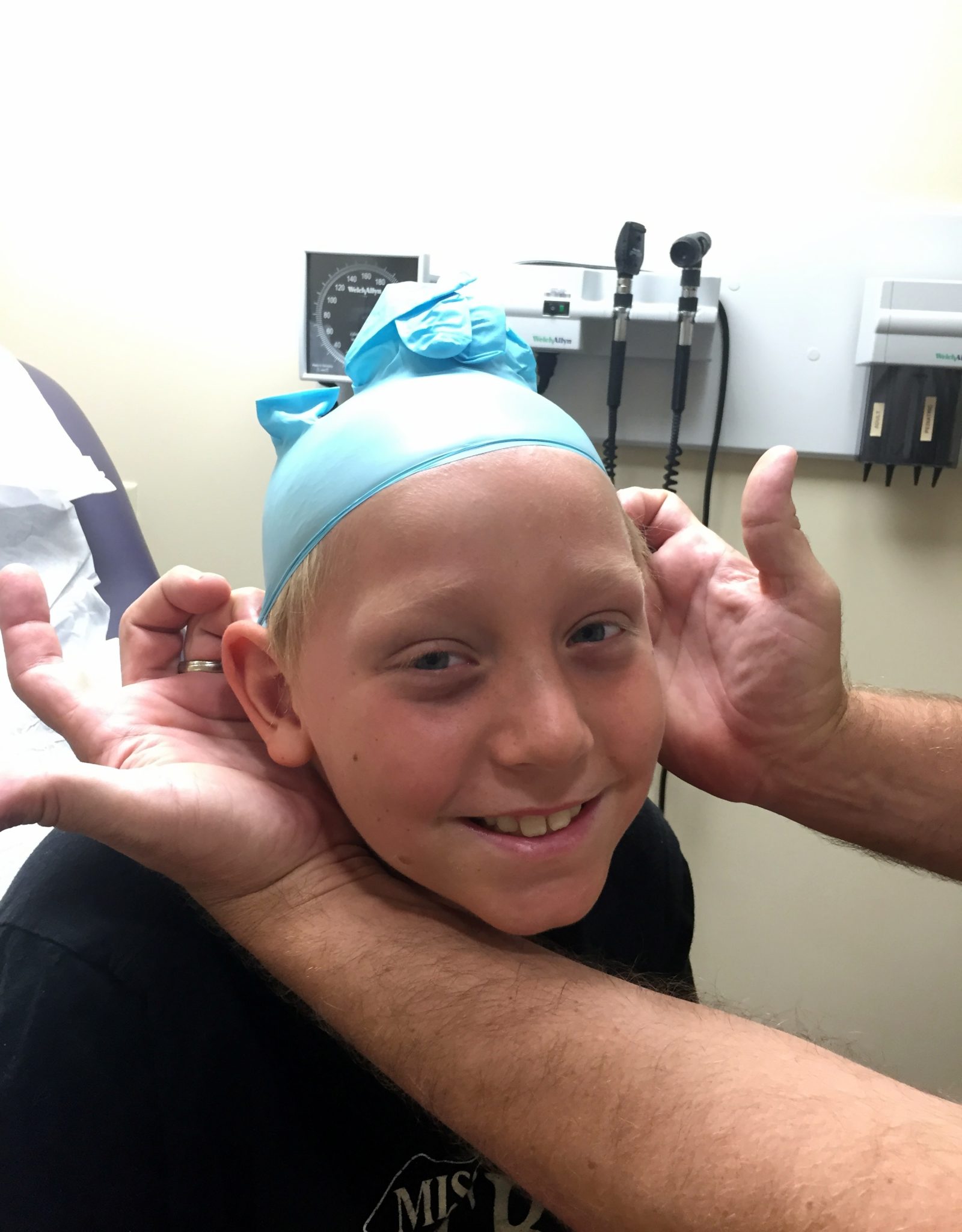 The coffee was brewing early this morning. We let the boys sleep until the last possible second. When Benji woke up, he asked if he could stay home from the hospital. "Can someone else go instead of me today?" I wish I could, brother. Remember. Today puts us one step closer. 
After Banyan left to be with his Grammy for the day, we put numbing cream on Benjamin's port and loaded up the truck. Benji was cheerful again once we started our travel rituals; birdwatching, bridge photography and the like. When we arrived at the All Children's Outpatient Clinic, we were pleased to learn that we would see Dr. Grana at today's appointment. I had so many questions.
Before the doctor arrived, Benjamin had his port accessed and his blood drawn. He spoke up for himself, making sure his saline vials were freshly drawn, and asking to fill the tubes of blood on his own. His labs came back strong, with a perfect chemistry panel, healthy hemoglobin and platelet numbers, and an absolute neutrophil count (ANC) of 1140. We were cleared for takeoff into Delayed Intensification.
While we waited for the pharmacy to bring Benjamin's Vincristine and Doxorubicin, we had a nice long conversation with Dr. Grana. She answered my questions with insight and compassion. Most of them were about Doxorubicin. It is hard not to be intimidated by this medicine. It's the last unfamiliar dripping chemo he'll get, it can have lasting effects on heart health, and it is BRIGHT red in color. She assuaged my concerns about his heart, explaining that the dosage he'll be getting isn't congruent with a statistical climb in cardiotoxicity. We knew to watch out for the orange-reddish urine, but she also told us that his tears could be orange. I'm glad she did! That would be alarming. Finally, we asked about his hair loss. She nodded knowingly. She expects it to happen within the week. Benjamin took this news like an absolute champ. He asked for my phone, held his hair back at the hairline, and used the camera on selfie mode to see what he might look like. Michael helped him take it one step further with the aid of a latex glove. He was laughing and talking about the possibility quite pragmatically. He doesn't seem concerned about it on a social level at all. To me, this says so much about his strength, self-esteem, and perspective.
Dr. Grana suggested we return to Zofran for preventative nausea medication before Benjamin's huge day of chemotherapy. It had worked for all medicines prior to high dose Methotrexate, and we agreed that alternating between Kytril and Zofran would be wise. So we gave it a try. It was pushed through his port, then the Vincristine dripped over fifteen minutes. Next came the bright red Doxorubicin. Benjamin was nauseous almost instantly.
We quickly fetched a bucket and the nurse. She offered to order Benadryl. We watched Benjamin closely, and it became clear that his nausea was triggered from the internal taste and smell of this new medicine flowing through his port. Michael was able to distract him from his discomfort with talk of a new young quarterback who has made his commitment to the University of Florida. The situation was deftly diffused by a quick thinking daddy, and no Benadryl was needed.
After the two intravenous medicines had run their course, it was time to head down to the Special Procedures Unit for Benjamin's lumbar puncture with Intrathecal Methotrexate. We waited in pre-op for quite a while. Finally, at about 1:30pm, the anesthesia nurse came to take Benji back to the operating room. He hugged Michael goodbye and put in his request for a soft pretzel. I walked with him as far as I could, staying until the milky white liquid flowed and his snore was unmistakable. Dr. Moore was doing procedures today. I was grateful. After the lumbar puncture that left Benjamin in such pain back in May, I feel he and I have a clear understanding. I gave him my thanks and rejoined Michael. That walk between operating room and husband is a long and lonely one.
We went down to the pharmacy first before retrieving the requested pretzel. We needed to collect the week's worth of Dexamethasone. We asked the pharmacist to double check the dosage; it didn't agree with what I understood from the clinic. It was correct, and the measurement was explained to us thoroughly. I felt embarrassed but Michael encouraged me. Always double check. Always understand. Because the medicine is apportioned by body surface index, it is different for each child. We understand this. Still, I was frustrated at the way the pills were distributed. Tonight's dose would be three whole pills and four half pills. Not fun for anyone, let alone a seven year old.
Michael acquired the coveted pretzel and we headed back upstairs with our pager. When it buzzed and beeped, and we walked through the double doors of the Special Procedure Unit, we saw Benjamin right away. He was sleepy. He asked for the pretzel, but only ate half of it before feeling nauseous again. Even after we were cleared for discharge, he asked to stay in the bed for quite a while before he felt able to get in the wheelchair. He slept on the ride home.
We decided to switch back to Kytril the moment Benji's window of efficacy for the Zofran was over. However, he was so sensitive to possible triggers, both physically and mentally, that the act of taking the pill caused him to vomit. We were able to give him another one and it stayed down. We also gave him Marinol when it was evident he wanted no part of dinner. The nausea stayed at bay for a while, but he vomited again an hour later.
A warm bath with epsom salts helped. As the sun went down and the neighborhood kids were filling the street to play, Benjamin started to feel better. He even participated in Banyan's frisbee game for a while, though we made sure he took it easy, remembering his dizzy spell the night he played football after a lumbar puncture. When he came inside, I thought we were in the clear, so I gave him his double dose of Dexamethasone–all seven pills. Thirteen minutes later, he vomited. I dialed the clinic number. I know it by heart.
Michael and I were so relieved to learn that Dr. Grana was the physician on call tonight. She knows Benjamin so well and was with him just a few hours ago. We explained the situation, and she said honestly that it was a borderline call, but with the information that we could see no pill fragments in the vomit, she recommended we did not repeat the dose. Usually pills are absorbed into the stomach after ten minutes. We will begin tomorrow morning with a new dose.
Anything that deviates from the Children's Oncology Group protocol is terrifying. We want to make sure Benjamin is getting exactly what he needs. But Dr. Grana has earned our trust, and we agree with her recommendation. My attitude about the seven tiny pills reversed. I am grateful for them. Surely tiny pills are more quickly absorbed than larger ones.
It's time for Charlie and the Chocolate Factory. I'm hopeful for a peaceful night and an empty bucket at the bedside.