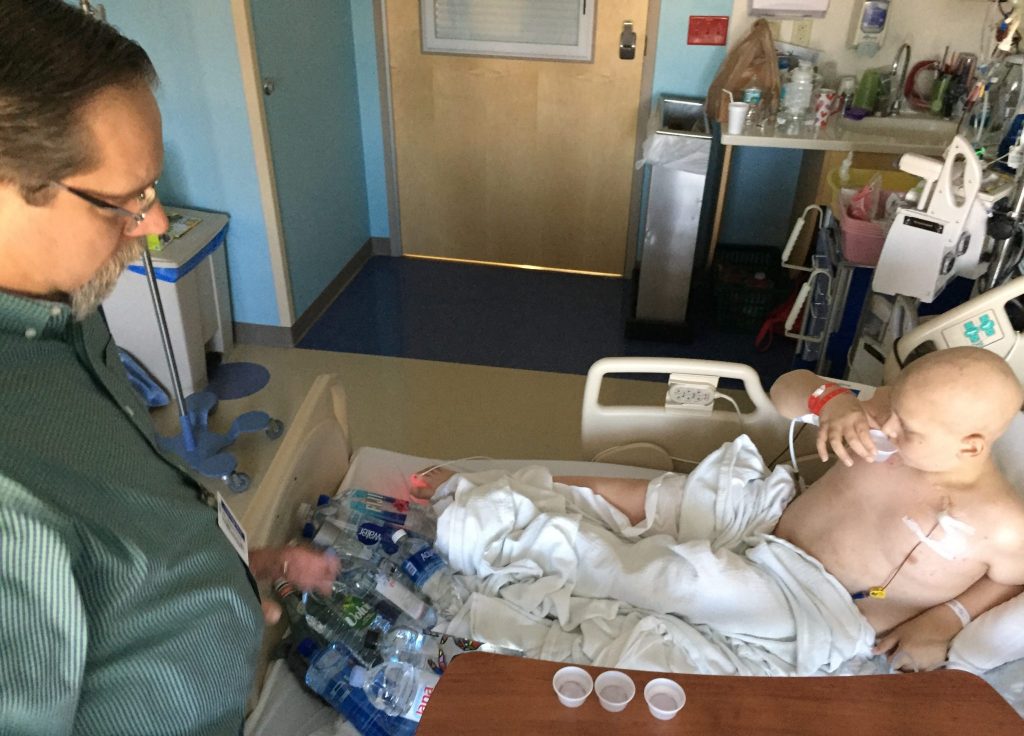 "Stand up straight and realize who you are, that you tower over your circumstances. You are a child of God. Stand up straight." ~Maya Angelou
These words saved me today. When I felt myself start to crumble, instead I stood a little straighter. Now is not the time. There is work to be done.
Benjamin's fever broke last night and his pulse slowed to a high but acceptable rate. We both got choppy sleep. I was awake at shift change to see lab numbers that were consistent with Saturday's results; white count of 6,670, 81% blasts, zero immunity, blood and platelet transfusions needed today. Benjamin was softly moaning through the report. I joined him back in bed, and we slept soundly for the next three hours.
When we woke for the day, I learned that Benji's electrolytes were off, his calcium and sodium were low, and his creatinine was high. Most importantly his albumen was low, an indicator that he isn't absorbing enough protein. Without enough protein, his veins can't retain the fluid they need. It partially explains his excess of fluid and need for lasix. The hydration isn't going where it needs to go. The team's solution was something we've been putting off as long as possible: total parenteral nutrition (TPN) through his port. It will correct all of these problems and ease the pressure on his kidneys, but it could be hard on his liver, and possibly increase his infection risk. It's a move we have to make.
While Benjamin is on the TPN he will continue to get a smaller volume of formula through his feeding tube to keep his gut stimulated. The dietician told me he'd located a small supply of Liquid Hope for Benjamin while we wait for my order to arrive (I think our nurse practitioner may have had a little something to do with this). We made the switch today. It's a small change but it made me feel so much better to be giving him quality nutrition. He hasn't eaten a meal in two weeks.
I know Benjamin heard me telling the nurses that when he sat upright in the chair last night, he didn't need oxygen. That's why he asked to sit in the chair again this morning. He tries so hard to do the right thing. I pulled a chair next to the bed, and he sat, and drank water, and looked out the window while I changed his linens. I can't really express how happy I was to see him with sunshine on his face.
Benji was exhausted from his efforts. He pushed his pain button twice when he got back into bed. He was very uncomfortable. Dr. Wishnew is the attending physician this week; she came in with Shari, our nurse practitioner, on rounds. They stayed in our room for a really long time, just watching Benjamin's labored breathing. The silence in the room was so thick I felt like I would suffocate. Finally, as we were talking about the logistics of Benji's medicines, Dr. Wishnew asked me how I was doing. I told her I was just ready to get Benji to Maryland. She looked me in the eye and said, "I'm worried about him. He's really sick. I'm worried there isn't enough time."
My stomach. Dr. Wishnew didn't say anything I didn't know. Everyone is worried about the timeline here. Everyone is worried about Benjamin's organs. But the words had not been said, until they were, and then they hung in the air forever, suspended by my own disbelief.
As soon as Dr. Wishnew and Shari left the room, I felt myself begin to dissolve. Not now. No fear. No giving up. I am present for Benjamin. I stood up straighter. I texted Michael to make sure we were on the same page with the email to Dr. Oshrine. I made a few changes to yesterday's draft and hit send. When Michael called me on his way over the bridge, the sound of his voice went straight into my chest.
Benjamin's moaning sometimes sounds like labor pain, and sometimes it's almost humming, melodic. The pain team heard these sounds. We agreed to increase the dose of Benjamin's Fentanyl patch once more, and to add a patch of Clonidine to help him relax. He is also now on a low dose of Narcan to relieve the itching caused by his pain medicines. His IV pole has three central pumps and so many bags hanging on it now I'm surprised it doesn't topple over.
The palliative care team also came in to see us. We talked about all of the changes that have been made, and about Benjamin's shallow breathing and high pulse last night. They asked me to think about intubation. They said that while they don't think it is at all necessary right now, I should consider how I want it handled if it is proposed. Well then. How exactly do I do that?
Benjamin received his platelet transfusion, and before our nurse started his red blood transfusion, she gave him Tylenol to decrease another rising temperature. He tried to take the liquid Tylenol orally, but he vomited immediately afterward. He asked for the pill form right away and kept it down. He is a total champ. You're doing such a good job, buddy. You're doing everything right. 
After Benjamin vomited, he had a nice window of time during which he was much more himself again. I saw sparkle. He was doing things on his own that he hadn't been doing in a few days, even picking on the nurses again. I decided I didn't believe Dr. Wishnew. Benjamin was feeling better and that's what I believed.
Benjamin was thirsty today. Maybe it's because his veins are dehydrated, but I took it as an encouraging sign that he knew what he needed. Benjamin asked Michael to bring him some more bottled water, and in true daddy fashion, Michael brought seventeen different varieties. We were laughing and conducting a double blind water taste test when Dr. Wishnew and Shari walked back into the room. Dr. Oshrine was right behind them. As soon as I saw Dr. Oshrine's face my stomach plummeted again. When they asked us to step out of the room, I wasn't sure if I could walk to the door. Our nurse stayed with Benjamin. I had no choice. Stand up straight.
Michael and I were taken into a closed room and asked to sit down. The three practitioners began the conversation about what they called the elephant in the room. Benjamin's condition has declined to the point where they feel that their decisions should be led by his comfort rather than a cure. The NIH trial is not entirely off the table, but Benjamin's "clinical performance standards" (diminished lung capacity, organ disease) are making him a borderline candidate at best. There is still time for this round of chemotherapy to be effective. But every time we try and buy time with chemotherapy, we are potentially making his disease more resistant. They feel that his comfort and quality of life should be prioritized now.
We talked about all of the items we addressed in our email to Dr. Oshrine–the possibility of revisiting the trial at CHOP, doing another flow cytometry on Benjamin's blood here to know where we stand, and introducing the idea of a PD1 inhibitor as potential therapy. He was open minded on every point, but was careful not to portray any false optimism. If we try the PD1 inhibitor, he thinks we should expect symptom relief, not curative therapy–and that's a guess, because there is no experience with the drug in pediatric leukemia. The only evidence based bridge to transplant is the clinical trial, which would require a restoration of Benjamin's clinical performance, and enough time bought with chemotherapy to get us there. They made this bridge feel very far away.
The room was spinning around me. Stand up straight. Michael took over the meeting when the practitioners were finished. He was somehow clear and controlled, laying out our priorities as he saw them. We have to find relief for Benjamin's organs. We have to find a way to reduce their infiltration and ease the pressure on Benjamin's lungs. The doctors said they will try as long as we ask them to. When I asked them what they needed from us, they said they joined us in hope, but they needed us to be thinking of contingency plans. If Benjamin's condition declines, we need to be prepared. I could not look anyone in the eye. I needed to leave. I needed to get back to Benjamin.
After I emptied my stomach, we spent the remainder of the afternoon trying to make Benjamin happy. When he needed to rest, we sat with him, and I held his hand. We've been holding hands so much lately. It's such an honor to be able to bring him comfort. Michael and I are completely united in hope. We refuse to give up. Benjamin felt better today than he did yesterday, and tomorrow he could wake up feeling better still. This round of chemo could still achieve its desired effect. We have no idea what each day will bring, but we are present for Benjamin and we will trust our instincts. We will stand up straight. He has shown us how.
Banyan stayed home for one more night tonight, nursing a lingering cough. He will join us tomorrow. Michael talked with him when he came home from the hospital and explained what the doctors told us. He shares our hope and was so sad not to be able to be with his brother these last few days. I am so proud of him I could explode.
Benjamin is sleeping soundly now, holding my hand. His fever has returned and his pulse is elevated, but his nurses have given Tylenol, and another port culture has been taken. He has received his chemotherapy for the night and his TPN has started its constant drip into his veins. His improved formula is on board. Everything is being managed well and his pain is under control.
Before Michael left, we started dreaming up our next camping trip with Benjamin. We wanted to paint a beautiful picture for him as he fell asleep, and for ourselves, too. Through pain and discomfort, through tubes and beeps, through his oxygen mask, Benjamin said so sweetly, "Let's see. Where should we go?" Anywhere, love. We will follow you. We will be there with you every step of the way.