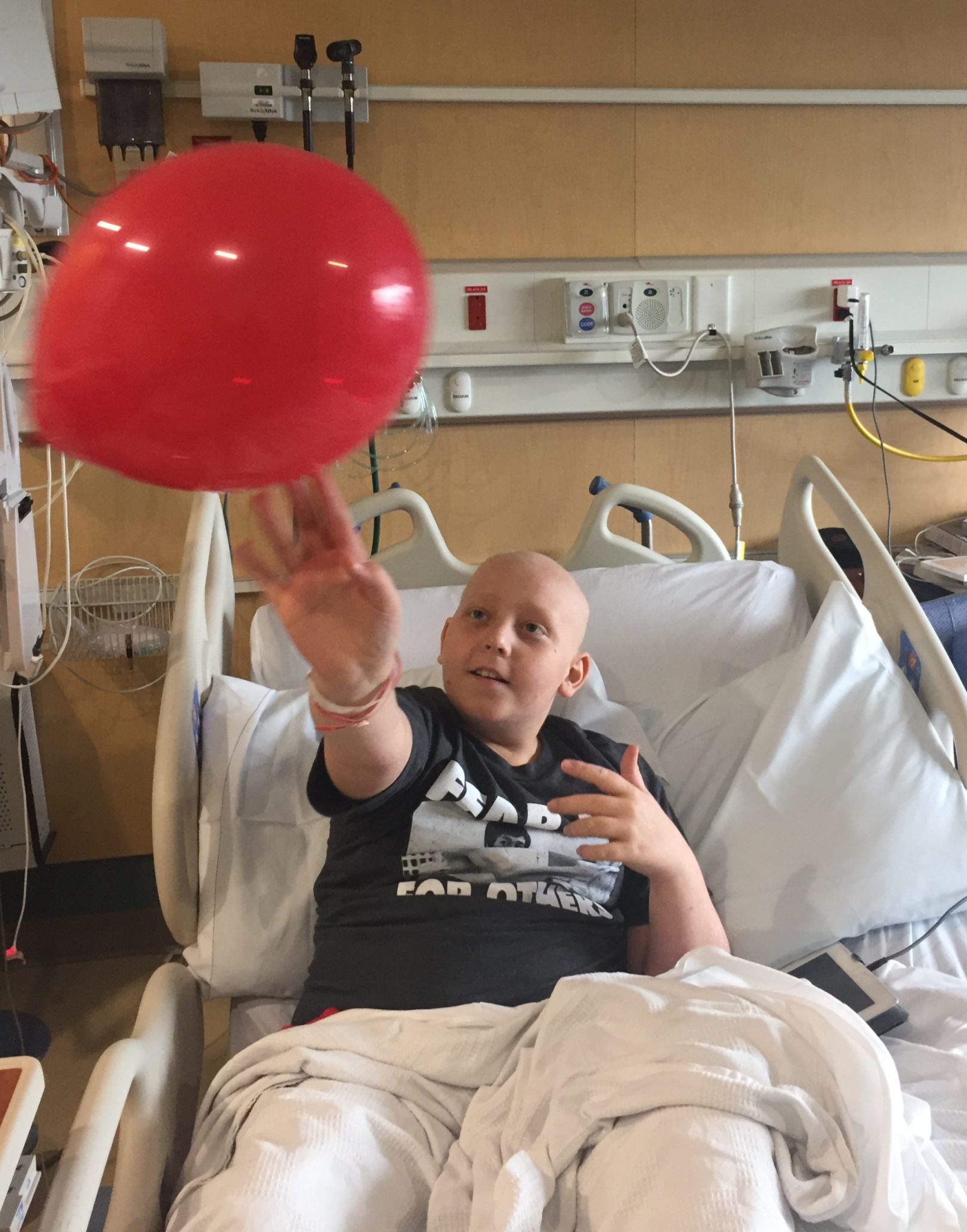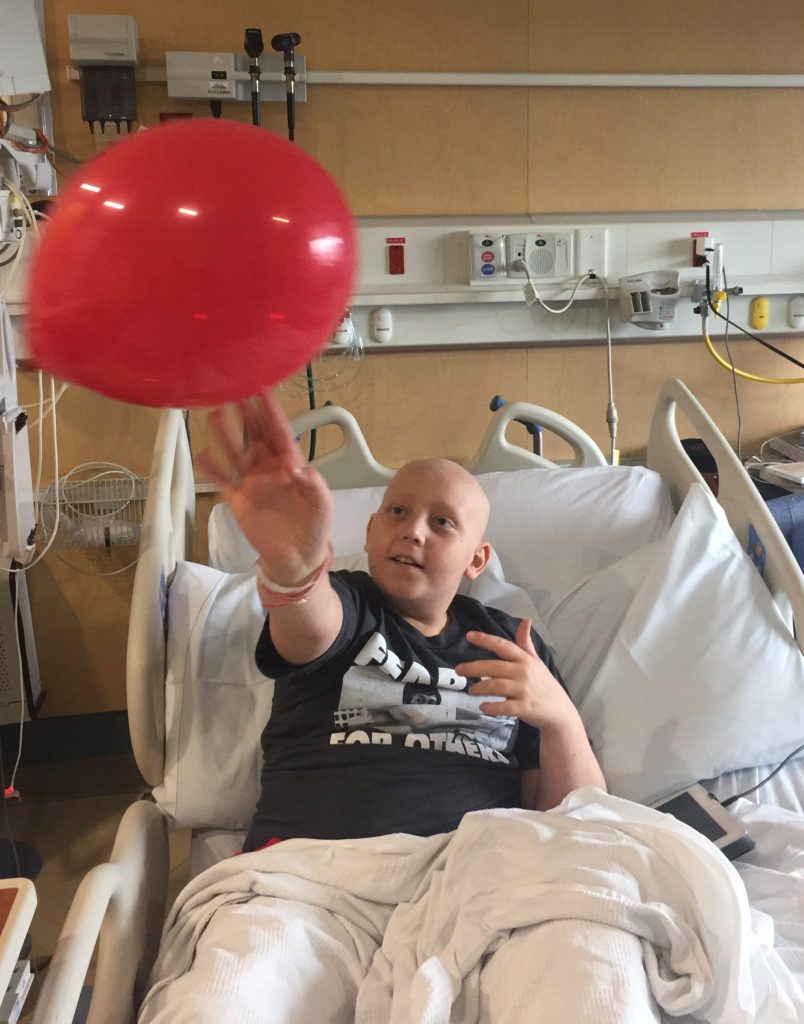 We both slept so soundly last night. I jumped up at shift change, hopeful, while Benji caught the last of his twelve hours.
Benji's labs showed a doubling of white blood cells as well as neutrophils (his ANC is 120). His blast percentage stayed the same, but that means the number of blasts doubled as well. His hemoglobin was a healthy 8.5 and his platelets were at 5,000, so no transfusions today. His lymphocytes, which need to climb in order to begin a T-Cell harvest, were higher than they'd been in quite some time. So the report was good and bad. It looks like Benji's marrow is recovering, but it is producing a mix of healthy neutrophils and unhealthy leukemia cells. Whether it has the strength to produce its own platelets during this recovery period remains to be seen.
I checked my email and was pleased to see a response from Dr. Tabori, our CMMRD specialist in Toronto. He already knew about Benji's CD19 negative leukemia population. Dr. Oshrine has been in contact with him. This was so reassuring. He also said that he had finished the sequencing of Benji's blood sample, and it confirmed that he has a high mutation load. This means his CMMRD is affecting the way his leukemia cells are mutating (rapidly) and escaping treatment. He thinks, therefore, that Benji may benefit from immune checkpoint (specifically PD-1) inhibition. I had mentioned this possibility to Dr. Oshrine a couple of weeks ago after reading a study touting its efficacy in other kinds of CMMRD derived cancers. He'd said that while it was compelling, it was untested in leukemia patients. We'd need to pursue other options that are more proven first.
Just a few minutes after Dr. Tabori's email came an email from Dr. Oshrine. He said he had received approval from the pharmaceutical company for compassionate use of Inotuzumab. He told me he would be by later in the day to explain the details. I forwarded him Dr. Tabori's email with my most immediate questions: can Inotuzumab be combined with a PD-1 inhibitor? Will the CAR-T CD22 trial still be available to Benji? Would you consider a steroid pulse to get his blast count down? I told him I would await his answers in person. Things were moving, and I was grateful.
Benji woke up from his long sleep feeling refreshed and happy. He felt great all day and was back to his spicy self. We accomplished an admirable amount of schoolwork, built Legos, played with balloons, took walks, and made snowflakes. There were only a couple of winces here and there as he moved. Was it bone pain? I don't know.
Benjamin had just finished his project on an endangered species of his choice when Dr. Oshrine walked in. He spent a few minutes chatting with my boy, then he took a seat and I took a deep breath. First he discussed the process of securing the Inotuzumab. The medicine has been used in clinical trials successfully with adults, but in pediatrics, it is new territory. Pfizer believed in their data enough to grant Dr. Oshrine access to the medicine for compassionate use with Benjamin. The next step is the FDA's approval, which has been applied for. Finally, the hospital's review board has to okay it, as this is experimental and not part of any trial or protocol. They don't meet until next Wednesday. So the soonest Benjamin could begin the medicine is next Wednesday evening.
Between now and then, there is a good chance Benjamin will need additional medicine to keep his blasts at bay. Dr. Oshrine has been keeping a close eye on Benjamin's labs, and saw the same trends I did. The nadir period from Benji's last chemotherapy has ended. His white cells, including blasts, are on a rising trajectory. Dr. Oshrine discussed a few management options with me. Steroids are off the table. I was a little surprised; I thought this was the easiest option. But he explained that when pharmaceutical companies grant compassionate use of medicines, everything has to be administered exactly as they outline. There is a long list of other medicines that can't be given anywhere near Inotuzumab, and steroids are on the list.
Unfortunately, so are PD-1 inhibitors. I felt my heart drop a little bit. I had attached more hope to Dr. Tabori's email than I had realized. Dr. Oshrine said that Dr. Tabori's information was very helpful in illuminating the rapid mutation of Benji's disease, and the research on PD-1 inhibitors and other CMMRD derived cancers is very promising. But unlike the Inotuzumab, for which there is substantial data in adults, there is zero data for PD-1 inhibitors in hematologic malignancies. To use the medicine we would have to apply for compassionate use, just like with the Inotuzumab, but it would be completely unchartered territory. There is no way either pharmaceutical company would approve their concommitant use. In a decision between applying for one over the other, the Inotuzumab was the clear choice. We have a rapidly mutating case of refractory leukemia that is CD22 positive, which is exactly what Inotuzumab was designed for. We have to put our faith in this path, and treat what is threatening Benji most imminently.
I asked Dr. Oshrine to please keep Benjamin's CMMRD in his mind with every decision, which of course he will. I understand completely why we aren't pursuing the immune checkpoint inhibitor right now. It just doesn't feel completely right to treat a manifestation, rather than the underlying cause. But the latter may not be possible, and there is no time to wait. The manifestation is on fast forward. It has to be stopped.
Finally we discussed the steps after Inotuzumab. Dr. Oshrine is still in close contact with Philadelphia, as well as with the National Institutes of Health. He has emailed the lead doctor of the CHOP study to ask her if Benji would still be eligible for the CAR-T trial after taking Inotuzumab, and also to ask if Benji's T-Cells could be harvested prior to administration of Inotuzumab. These were excellent questions. I hope her answers are yes to both.
So the big picture plan is that we begin Inotuzumab next week, provided all approvals are in place, and possibly take measures to keep Benjamin's blasts down in the meantime. The intention is for the Inotuzumab to provide a bridge to CAR-T therapy, or possibly even to bone marrow transplant. Dr. Oshrine has discussed the case with CHOP and NIH, the two thought leaders in this arena, and they agree with this plan.
Before Dr. Oshrine left, I asked him at what point we might intervene to lower Benji's blast count. He said it would depend on several things, including the mathematics of the next few lab reports, as well as the answers from CHOP that might affect his timeline for T-Cell harvesting. But mostly it will depend on Benjamin. We both looked at the amazing child in the room with us. Dr. Oshrine marveled again at how well Benjamin is handling everything, clinically speaking. His body is so strong. He is definitely doing his part in all of this, and exceeding everyone's expectations.
Michael and Banyan came to spend the evening with us. We enjoyed sub-par Thai takeout and Monday night football. I tried to repeat to Michael everything Dr. Oshrine had told me. I felt tired in saying it and he felt tired in hearing it. But we are united and it is such a comfort. Banyan taught me a card game he loves. I held him close. I didn't want to let him go.
Every treatment option for Benjamin at this point is experimental. He is so far off the beaten path that the path isn't even on the map anymore. But once again a new path is emerging. I am grateful it exists, and I believe in the person being asked to walk it. I will do everything I can to make it a smoother journey for him. Tomorrow will hold a lot of research, a little more schoolwork, and big love.