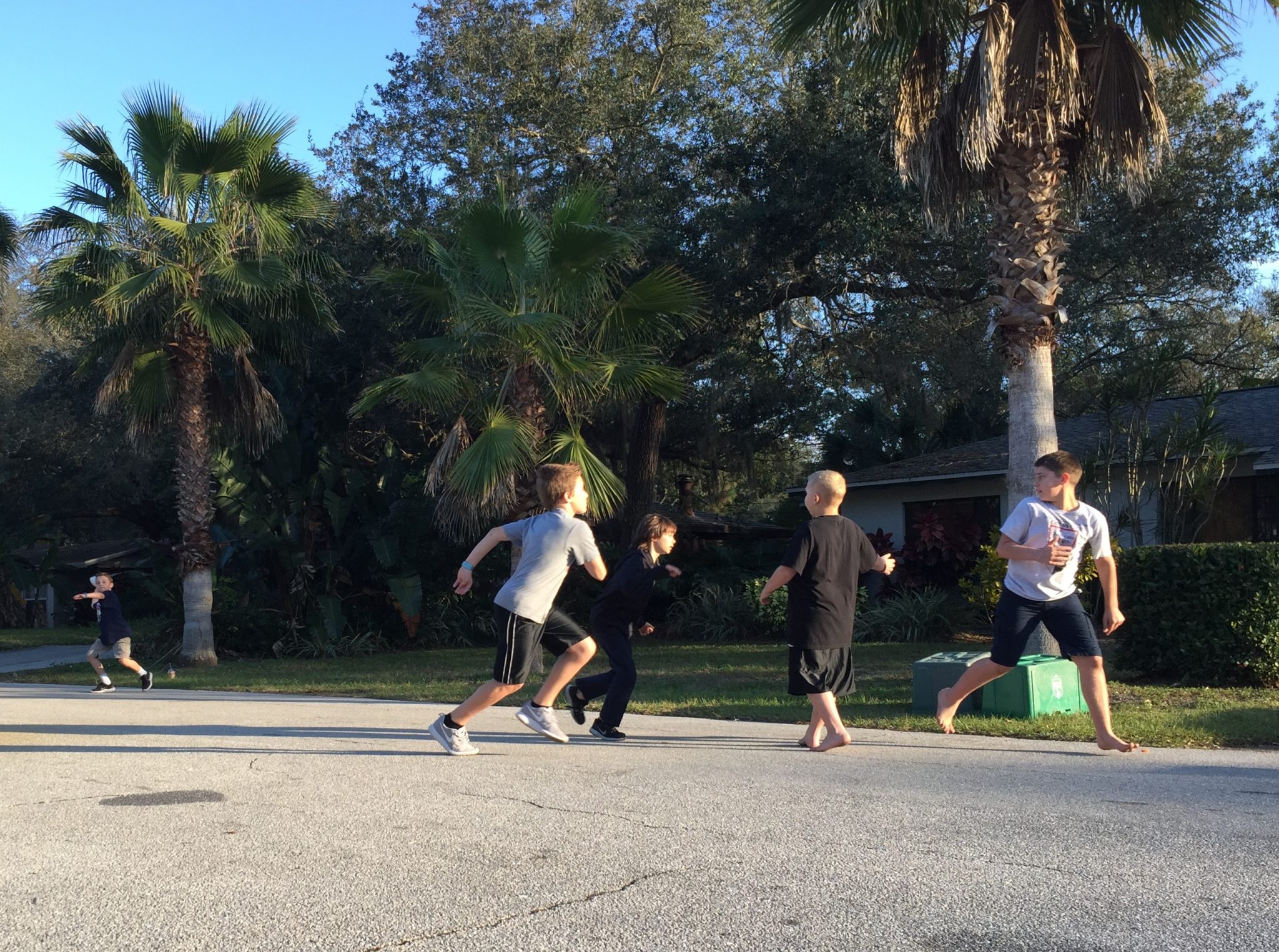 I woke up this morning at 5:29am, one minute before my alarm went off. I had an important date with one bridge before heading over another. When I got back into my car to come home, the sun was rising, the day was clear, and I was ready to take on the second bridge.
We dropped Banyan off at school and headed north. Benjamin slept in the backseat while Michael and I collected our thoughts and our Friday Questions, continuing a long conversation we started last night. We checked into the clinic and waited a while. The same little boy that had whizzed by on a scooter a couple of weeks ago was playing hide and seek with the Child Life Specialist today. He had a little less hair and an even bigger smile. Benjamin was watching him, laughing, and suggesting hiding places.
The nurse collected Benji's vitals. I was shocked at his weight gain this week. We were assured again that all of his patterns are normal, even after a week off of the dexamethasone. During this next phase of treatment, his shape and demeanor will normalize, and we will tackle new symptoms. I know this part is almost behind us. I will share with other families the observations I've made during this withdrawal week. For instance, the things that aren't great for his body aren't great for his mood, either (probably true for all of us). Potassium and water definitely help. His moods spike with his intake of white flour and refined sugar. Small healthy bites throughout the day–lean protein, vegetables, some grains, and healthy sugars like whole fruit and yogurt smoothies–are much more successful than large meals, especially bread-heavy ones. And a little bit of empathy on our part goes a very long way.
Dr. Oshrine spent the better part of an hour with us, clearly outlining the "new" Consolidation Phase of Benjamin's treatment. This will be an eight week regimen, consisting of two nearly identical four week stints. During the eight weeks, if my math is correct, we'll be at the hospital 23 times, give or take. Benjamin will receive six chemotherapy medicines during these eight weeks: Methotrexate (through four weekly lumbar punctures); Cytarabine, Cyclophosphamide, Vincristine, and Pegaspargase (intravenously); and Mercaptopurine, or 6MP (orally at home). He'll also have Zofran to help with nausea. At the end of the 56 days, another bone marrow aspirate will be collected and examined to determine Minimal Residual Disease (MRD). And it will be negative. 
Dr. Oshrine was incredibly reassuring. He rephrased the worry that Michael and I didn't speak. He said that while we all know we didn't get the news Wednesday that we wanted to hear, we can look at this in an optimistic light. Here's the deal: Benjamin has achieved what's called morphologic remission. This means there are no visible leukemia cells to a human eye looking at his marrow through a microscope. In numbers, morphologic remission is measured as 5% or fewer blasts. A decade ago, this was the only technology available for determining a future course of chemotherapy action beyond induction. Today, cytometry has evolved to measure cells per 10,000, or Minimal Residual Disease. We were hoping for <0.01 MRD so that we could continue on the standard chemotherapy track (which means less toxicity). But statistics have determined that children with a higher MRD than 0.01 at Day 29 have a higher chance of relapse on the standard track. So, even though 0.03 is still extremely low, Benjamin will get what he needs to eradicate the stubborn leukemia cells left in his marrow, and protect him in the long run. And we have technology to thank for it.
The entire Consolidation Phase is designed to suppress the marrow, and to suppress the immune system. We will have to be careful about exposure during the next eight weeks. I still like to think of it as the Strengthening Phase–we are rebuilding Benjamin's cells. There will be lots of bone broth and chlorophyll and nourishment and love during this phase. Always love.
It will be a stunningly gorgeous weekend here in Sarasota. We plan to enjoy it.