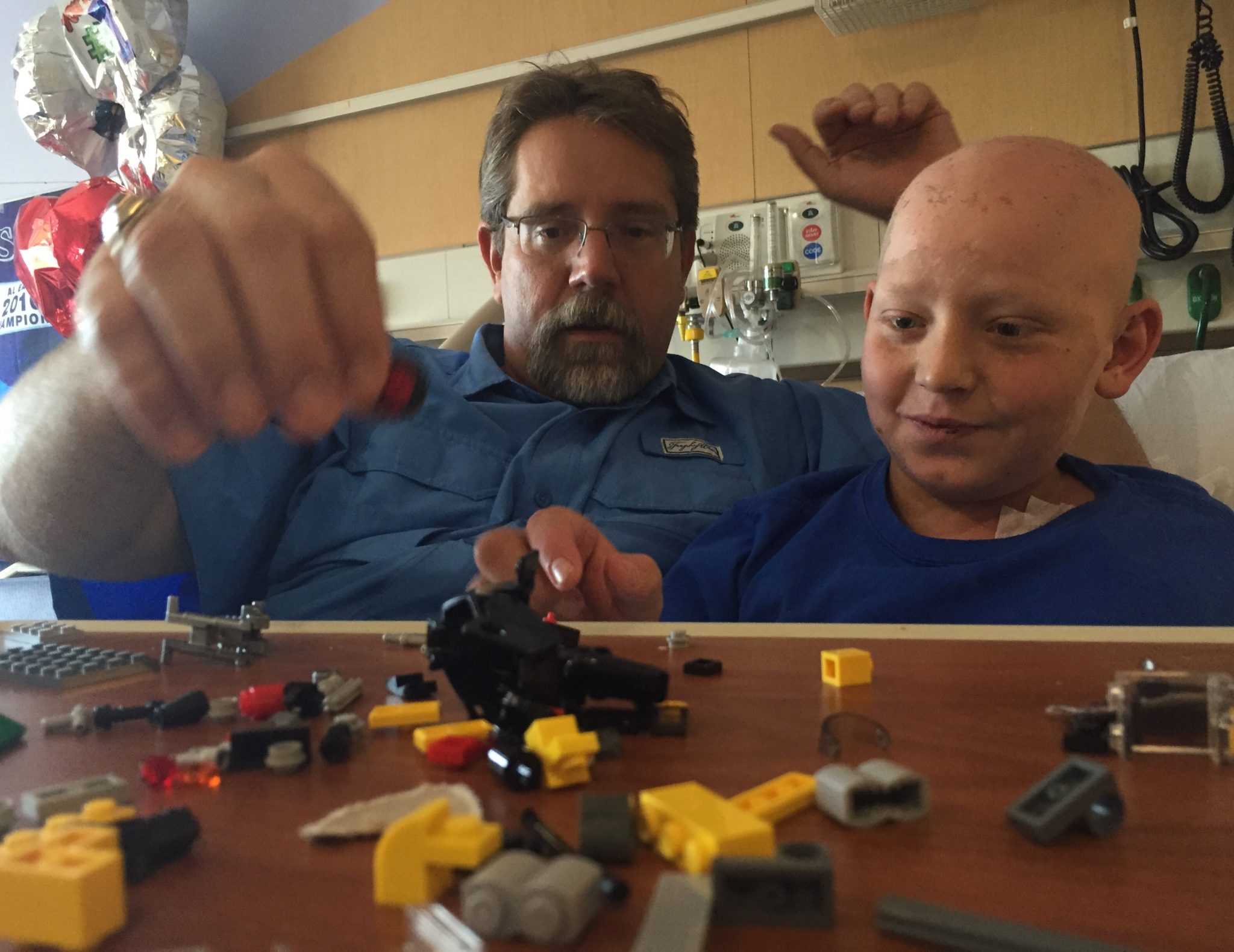 We've spent three full weeks in this little room. The lessons have been vast and varied, and they continue to come. Today I had to dismiss some very destructive thinking. It was hard work, but I was rewarded by being fully present for more sweet laughter than I've heard in weeks.
Our night nurse, while sweet as pie, was not the stealthiest. Benji's IV pump beeped a million times, and each time she came in to silence it, she made more noise than the pump did. Benji also had some pretty significant belly pain last night. His body, after all, was digesting its first full day of food this month. The pain makes sense. We were up at 2am for a warm bath, and again at sunrise for another. We tried to get back to sleep after bath number two, but it was time for Benji's morning blood draw. The ninja nurses can do this without waking Benji. Our nurse was no ninja.
We built Legos in the early light of the morning while Benji enjoyed another round of Fruit Loops. We received the sweetest message from Benji's little league coach; the team had put Benji's number on their hats before this morning's game. Such a kind gesture. Benji smiled so big when I told him.
Dr. Stapleton is the weekend oncologist. Isaac, our favorite physician's assistant, was also making rounds today. Dr. Stapleton came in first. She hadn't seen Benji since Dr. Oshrine solved the Methotrexate toxicity mystery two weeks ago. She seemed detached. I imagine as an oncologist this can be an effective self-preservation strategy, but it doesn't work well on the parental side of communication. I didn't discuss Benji's future with her. I kept our conversation to the bare minimum: I needed the okay to continue to decrease his Total Patenteral Nutrition (TPN) and pain medicine today. She approved, complimented Benji on his progress, and left.
When Isaac came in to see Benji, the conversation was completely different. Immediately it was clear that Isaac felt connected to Benji and invested in the decisions that needed to be made. We went over Benji's labs, which had my brain spinning in a very negative direction this morning; his white blood cell count and absolute neutrophil count (ANC) are higher than they've ever been. Isaac helped me return to logic. I know this spike is a result of the Neupogen. I know there is no proven link between Neupogen stimulation of the bone marrow and leukemia relapse. I know that there are no leukemia blasts in Benji's blood. I know the Neupogen was necessary, and that it would have been far riskier to leave Benji without neutrophils for much longer. Still, it was difficult to quiet the worry caused by such rapid cell growth. This was my challenge today.
We talked about the need for a meeting of the minds before moving forward with Benjamin's treatment. I told Isaac I'd emailed Dr. Oshrine to that effect. Isaac said they were considering contacting the director of the Children's Oncology Group protocol that Benji is on to ask his opinion on the best way to proceed. I strongly endorsed that idea. It's a tough decision with many variables: Benji's high risk status, his need for the remaining chemotherapy in this Phase, the amount of Methotrexate he has already absorbed, and obviously the damage his body has endured because of it. The more big brains brought in to weigh in on this one, the better.
Before Isaac left, he looked Benji in the eye and said, "I'm so sorry you had to go through this. You don't deserve this, buddy. You really don't." Benji heard the sincerity in his voice. A medical voice. It reached him deeply. After Isaac left, Benji cried, just for a moment. For the first time, he said, "I want to go home."
We took a nice nap before Michael arrived with Benji's requested bagels for lunch. Kathy and Gana took Banyan to his basketball game so that Michael could spend all afternoon with us, and Benji really enjoyed his time with his daddy. We took a lap around the seventh floor. We played jokes on the nurses. We played catch and had Nerf gun wars. Benji laughed so much today. I released my worry, which was not based in reality; instead I planted myself firmly in the moment, which was pure, full of joy, and as real as it gets.
Benji's blood pressure started trending back upward today. Our nurse kept monitoring him in case he met the threshold for a dose of Procardia, but he never reached the mark. She reminded me that Benji was more active today than he's been in weeks. He only took one nap today and moved his body a lot, and with far less pain relief than he's used to. He ate three solid meals and then some. He is doing everything he can possibly do to get the all clear to go home. I can't wait to take him there.