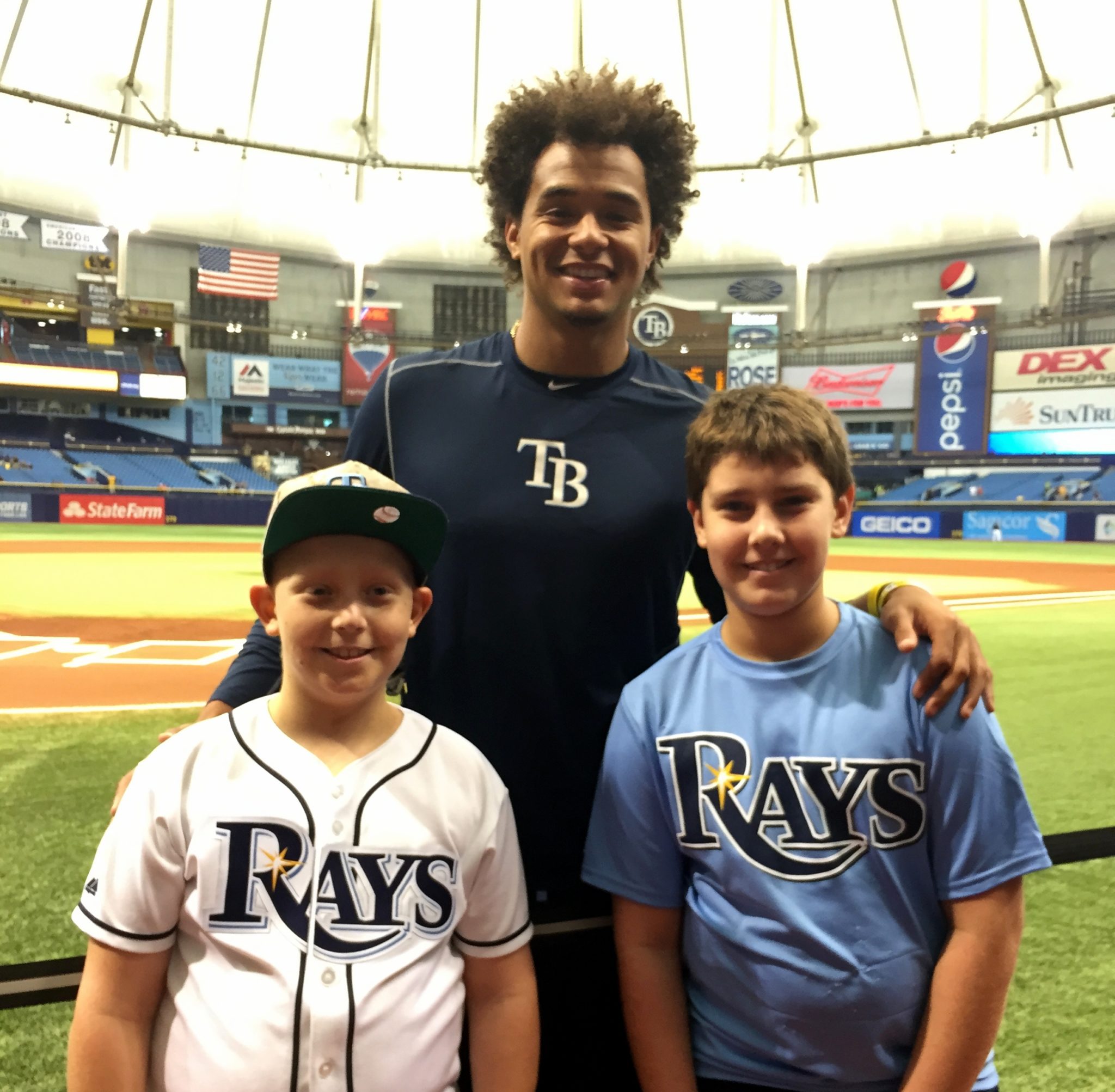 What an amazing day. I am just filled with gratitude for the people who made it happen. There is something about walking onto a baseball field that makes me feel like an eight year old kid again. I wonder if the professionals still get that feeling. I hope so.
Benjamin was made to feel very special today, as was his brother, and all of us. The boys played catch on the field as the paint was carefully sprayed onto the batters' box and the clay was raked on the mound. We saw the players stretching and taking media interviews. Best of all, Benjamin got to meet two of his three favorite players: center fielder Kevin Kiermaier, and pitcher Chris Archer. The Rays told Archer that he was Benji's favorite player, and he made a point to run over and shake Benji's hand. The Rays organization should be very proud of how involved they are with their community. I'm inspired by the time and care the players take to make children with cancer feel like part of their team, both in the hospital and on the field.
Banyan returns to middle school tomorrow and Benji and I will head over the bridge just after dropping him off. Provided he makes counts, Benji will get his second dose of escalating Methotrexate. It will be 50mg higher than the dose he had two weeks ago. He went to bed nervous about it. He knows it's the neon yellow medicine, the one that has always made him vomit. I told him we'd be ready with his "power three:" Kytril, Scopolamine and Marinol. It relaxed him to know we had a plan. I ordered more oils to make Benji's calming blend, and with them I purchased some peppermint. I'm hoping this helps with his nausea as the Methotrexate escalates. We'll have the oils before his third dose. Tomorrow Benji will also get a dose of Vincristine.
Even with the plan, Benji had a hard time falling asleep. He is sleeping soundly now. I hope he forgot about the chemo tomorrow. I hope he's dreaming of baseball.