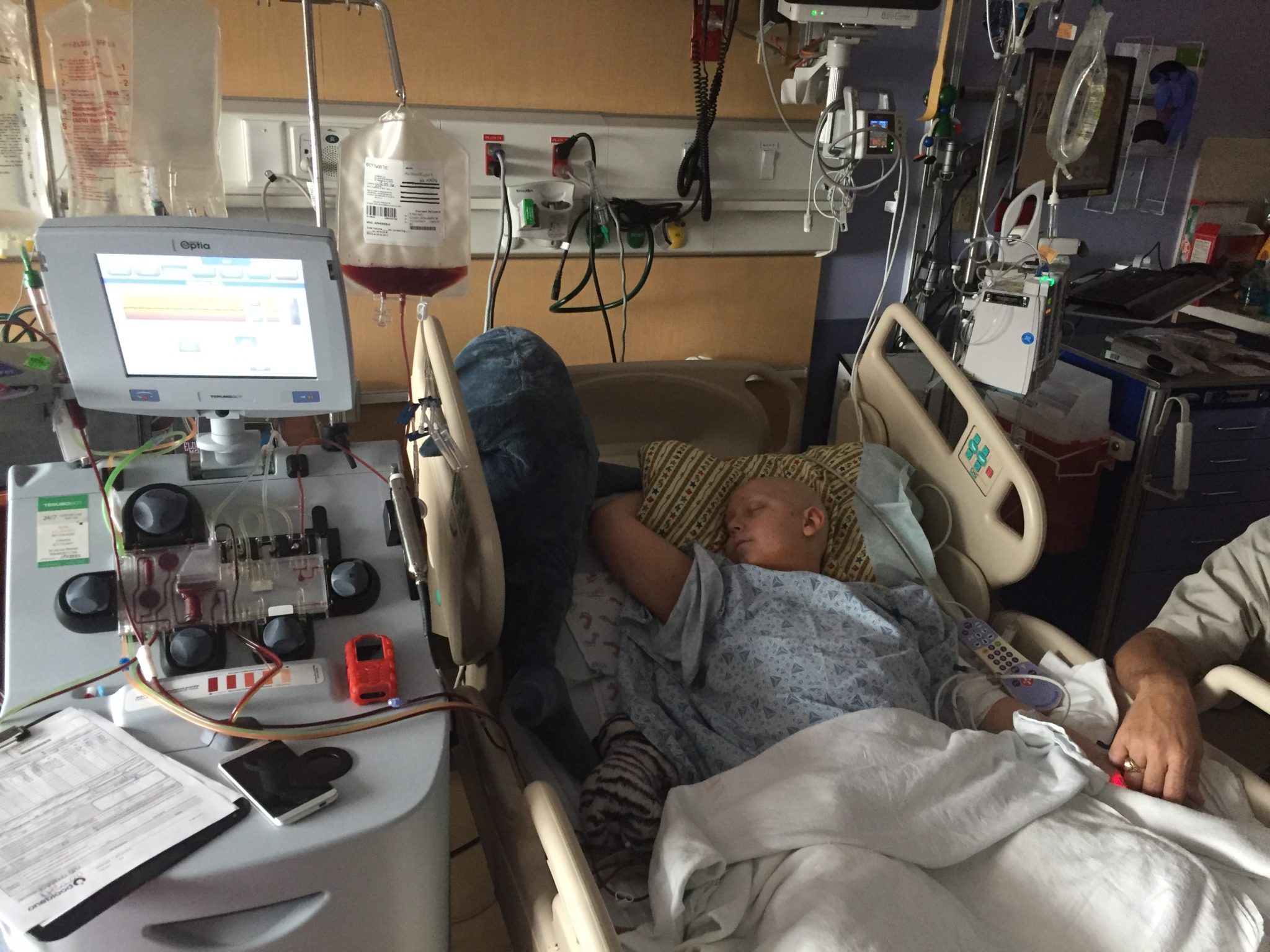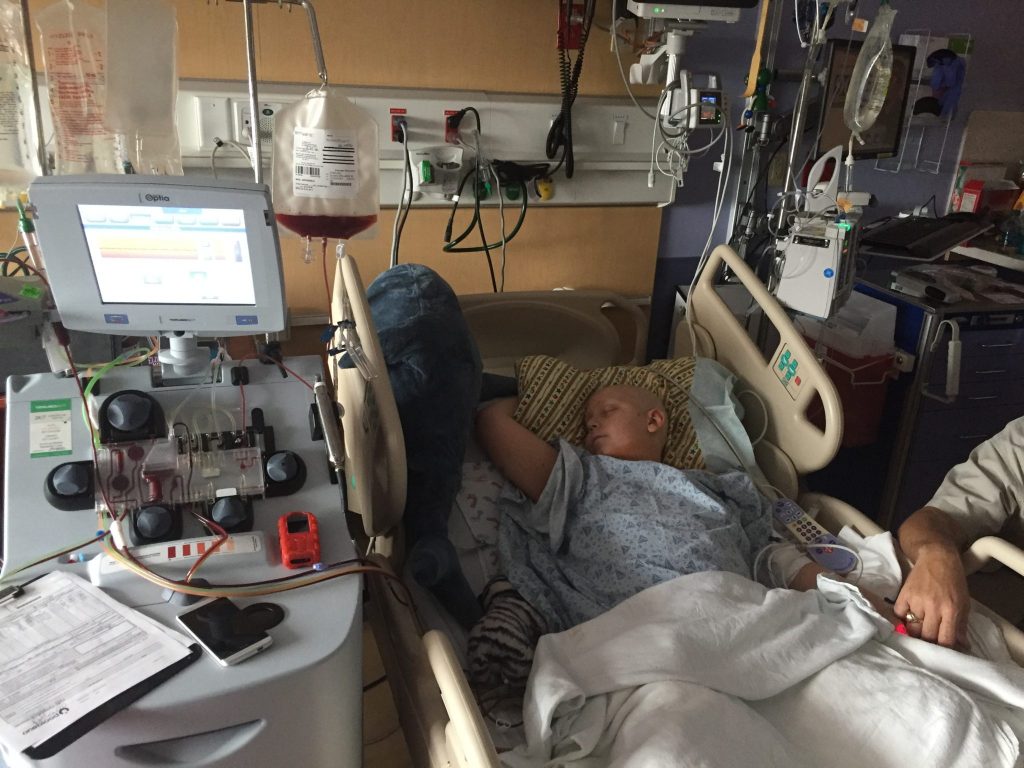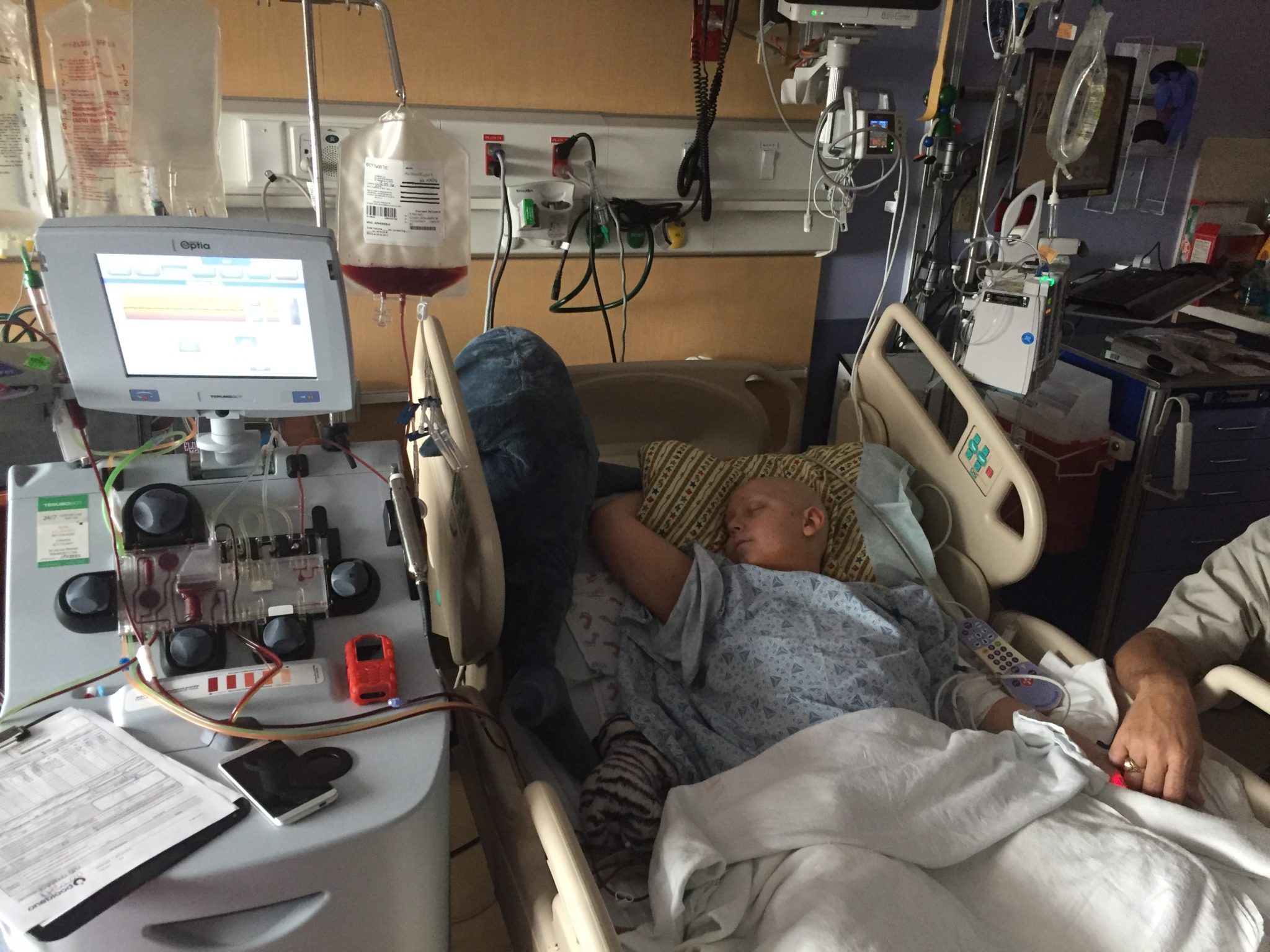 All of today's procedures went very smoothly. Benjamin is safe and sound, resting comfortably in his bed on the seventh floor.
Benjamin's scheduled 4am transfusion bumped his platelets from 3,000 to 18,000. It was the first success of the day. But his spleen pain worsened as the sun started to rise. He woke up to take a bath and requested heat pack after heat pack. The surgical team came to consult with us at about 6:30; by then Benji was quite uncomfortable, not only in his side but in his belly. He was begging for tummy medicine as we were taken down to pre-op. We settled on a Scopolamine patch, as everything else either had to be requested from pharmacy or taken orally. He tried to go back to sleep.
The surgical team works very quickly first thing in the morning. We met with an anesthesiologist, a nurse, and Benji's surgeon–who reminded us how risky the surgery was with low platelets (thanks!)–and before we knew it Benji was being wheeled back to the operating room. This time I couldn't walk back with him. Michael and I were stopped at the doorway to the sterile field. I saw the tiniest bit of fear, or maybe sadness, on his face. As soon as I saw it, it was gone. We kissed our sweet boy, told him to have a fun dream, and held each other close as we watched them take him away.
My stomach was in total disarray while we waited in the tiny surgical consult room. We heard two or three other parents enter rooms next to ours, receive their consults, and leave, each of them relieved that ear tubes were placed without incident or that tonsils were effortlessly removed. Finally the surgical fellow we met last week came into the small room and shook our hands. He said everything went well, and Michael and I relaxed. They placed the cathteter in Benji's right femoral vein. He bled only minimally; about 5 cc's. They used 7 of the 12 units of platelets reserved, which bumped his level to 22,000. We could not have asked for a better outcome.
When we were finally paged back to recovery to greet our boy, we were told that the transport team had already taken Benji upstairs. Michael and I exchanged an angry glance and got to 7 South as quickly as we could. We intercepted Benjamin in the halls, relieved to find him sleeping soundly on his journey back to his room. We let go of our anger and walked beside him.
Benjamin was in good spirits when he woke up, but he was experiencing a good bit of pain at the catheter site. He asked for medicine. The nurse gave him a low dose of morphine and we put on a Christmas movie. He was content and comfortable while the team from OneBlood set up the apheresis machine at his bedside.
I was mesmerized by this feat of human invention. The machine siphoned the entire volume of blood from Benjamin's body through his new catheter. His cells were then sorted by centrifuge, and the mononuclear cells, including his precious T-cells, were harvested. The rest of his blood was warmed and returned back through the catheter into his bloodstream. It was an amazing process to watch. It produced rhythmic white noise all afternoon. I am grateful for the brainpower that made this possible.
In order for Benjamin's blood to flow freely through the machine without clotting, he was given an intravenous anticoagulant. It contained citrate, and Benjamin could taste it. It made him nauseous. He was also starting to feel significant pain again. He asked for Kytril and more pain medicine, then he slept comfortably for the rest of the afternoon.
After the first full volume of Benjamin's blood cycled through the machine, the team did some lab work. Our nurse drew a calcium level from his port to be sure he was still in balance; apheresis depletes calcium, which is then replenished with fluids. Our nurse practitioner also came in to do a blood count from the collected sample. She used it to calculate how many cycles they would need to produce the amount of T-cells CHOP requires, should we enroll in their trial. The answer was four. Four complete volumes of Benjamin's blood. Seventeen liters. 
The apheresis machine continued its low hum for almost six hours. The finished product was a bag of nearly 300mL of Benjamin's mononuclear cells. They were placed in a cooler and into the hands of a courier to whom I wished godspeed. They were taken to Moffitt Cancer Center in Tampa where they'll be frozen and stored. When Moffitt received the collection tonight, they measured the exact number of T-cells in the bag to make sure the machine had gathered enough. It did. The harvest is complete.
We left the catheter in Benji's groin, where it will remain overnight. Even though we don't need to use the catheter for collection tomorrow, we need to wait and take it out in the morning. Its removal is the most critical part of the whole procedure. Pressure will need to be applied for several minutes, and platelets will be infused simultaneously. We need to be sure it is done while physicians, practitioners, and the surgical team is available.
Michael stayed with us all day. He left at shift change to go be with Banyan. I was feeling very good about the events of the day, and the hard work our sweet boy is doing in his body. I felt like I could exhale.
Benji woke up to urinate. When I was finished helping him, I tucked him back in, and noticed blood pooling around his port site. I called his nurse. While she was in the room, Benji said his legs felt "bumpy." He also became quite nauseous. She checked his port for blood return and checked the catheter site to see if it was bleeding. She took a set of vital signs. Everything looked perfect. We decided on Benadryl for Benji's nausea, and she increased the rate of his fluids to add pressure to his line. She marked the perimeter of blood at both sites, to keep an eye on things. There has been no more bleeding since. I think it was a result of his body moving for the first time in a while, combined with his low platelets.
The Benadryl helped Benji sleep for a few minutes, then he woke up with even more intense nausea and tummy pain. It had been long enough since his last dose, so this time we gave him Kytril. Just half an hour later, he vomited. A cool washcloth helped him get back to sleep, and there he stays now. He has had quite a Monday.
Even though the last couple of hours have been on the scary side, I am focusing on the success of this day. Benjamin's surgery was smooth, and his platelets held strong. His apheresis is complete, and his T-cells are waiting for him if he needs them. We reached this day without having to further deplete his cells with more chemotherapy. And for most of the day, Benji has been comfortable and calm.
So many people have focused their intention on Benjamin today, sending words of love and thoughts of healing. We are so thankful for such powerful collective energy. We are thankful for the physicians and nurse practitioners who coordinated this crazy day, often after hours from their own homes. We are thankful for the surgical team and the OneBlood team who conducted their procedures without harm. We are thankful for our sweet nurses who treat Benjamin with such kindness and skill. We are so thankful for blood donors, without whom today absolutely could not have happened.
Benjamin earns Beads of Courage for every act of bravery he completes, from doses of chemo to pokes to blood transfusions to nights in the hospital and everything in between. He has well over five hundred beads now. Today alone, he earned thirteen more.