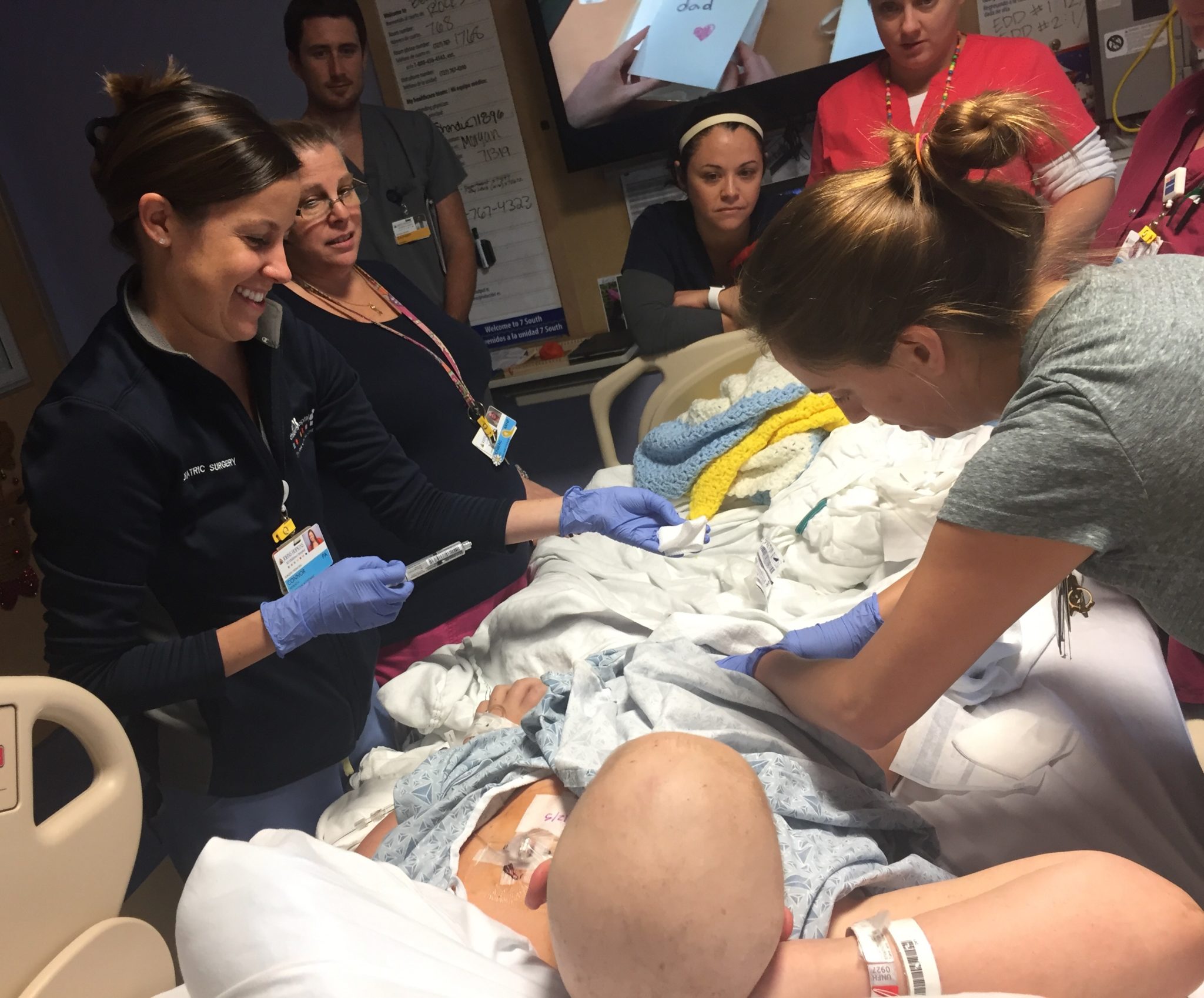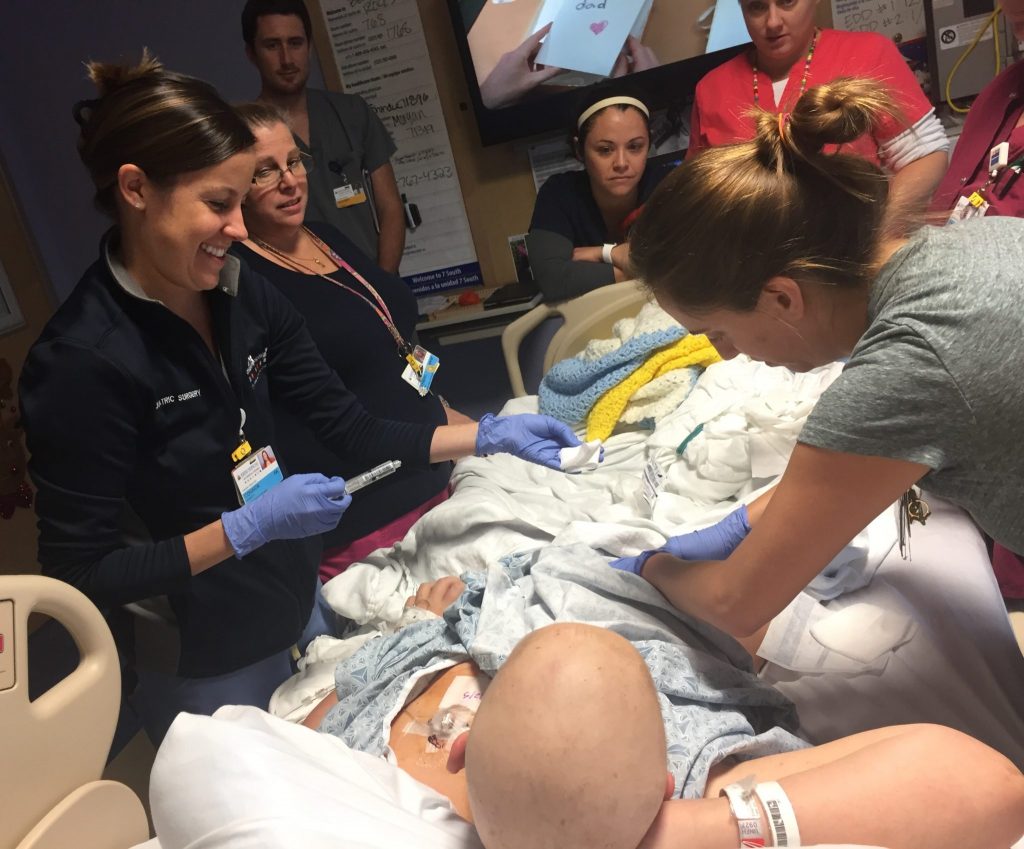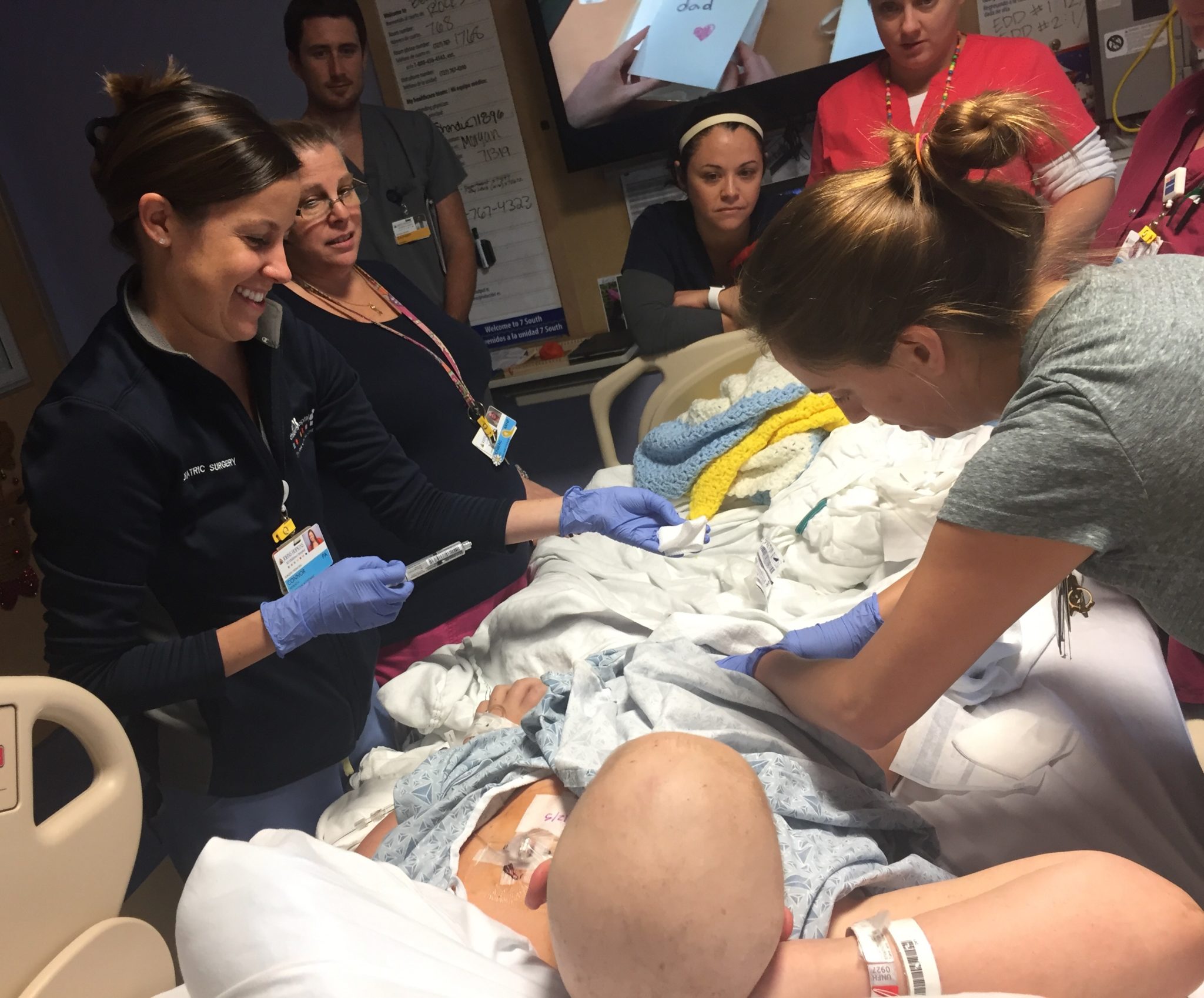 I am ending another long day with gratitude. There have been moments of exhaustion and moments of fear, but overwhelmingly, the things that could go well, did go well. On the eve of a brand new treatment for Benjamin, this is the wave we need to be riding.
Benji spiked a small fever at midnight last night. It was short-lived, but following a surgery into a major vein, we couldn't take any chances. Our nurse took a culture from Benji's port and called the IV team to take a culture from his catheter site. The nurses on 7 South are stealthy ninjas. The nurse from the IV team was not. She flew into the room at 1am, turned on the lights, and made a ton of noise. But she was gentle, and Benji slept through most of the sterile process.
Despite little sleep, I was up for shift change. I've learned not to focus on the numbers too much. But I needed to hear the plan for the day. Benji would be getting platelets delivered midmorning. The surgery team would be called to arrive near the end of the transfusion, when removing the apheresis catheter was the safest.  We talked about the pressure dressing that would be applied and the schedule for its removal. I couldn't help looking at the numbers during the nurses' report. I was hopeful that yesterday's apheresis might remove some of Benji's blasts, at least temporarily, but I was wrong. Benji's white cell count is up over 16,000, and 86% of those cells are leukemic.
Still, Benji remains clinically stable. When he's free from pain, he's happy and himself. He was nauseous when he woke up this morning, but it dissipated quickly and even made way for a small appetite. My dear friend delivered a morning smoothie at his request. He drank a few ounces and ate some bites of a muffin. It was a sweet sight to see.
As planned, Benji received a platelet transfusion, and the team from surgery arrived to remove his catheter. There was also a woman from the Interventional Radiology department present to coach our nurse and charge nurse on a new kind of dressing they would use to apply pressure throughout the day. The room was full of people.
Watching Benjamin prepare for the catheter removal was much like watching him prepare for a port access. He asked the team excellent questions about what it would feel like, gave them the inquisition on how many times they'd done this before, and settled into the work of finding his zen. He was afraid, and the team was patient. I put Elf on the television to try and distract him. The removal of the dressing around the site caused him quite a bit of pain, so we administered a low dose of morphine to help get him through the rest of the process. He did such a good job.
As soon as the tube was out of his body, the surgical team applied manual pressure to the vein for fifteen minutes. Benjamin was uncomfortable at first but his fear was gone, and he relaxed. Soon he was joking with everyone present. I was expecting a lot more blood. It was really quite minimal, and the team was pleased. When the fifteen minutes were over, the dressing was applied. It has an inflatable center so that a balloon of pressure can stay on the wound after the manual pressure has ended. It stayed on Benjamin's groin for the next six hours or so, with breaks in between.
I asked our nurse to check Benjamin's port from where it had bled last night. It looked as though the base of it was saturated with blood. She said she would defer to the IV team on the decision of whether to redress or reaccess it. Benjanin and I were both immensely relieved when the decision was unanimous to leave everything in tact. Another puncture at this point is the riskier choice.
Our nurse practitioner came in a little while later with a consent form for the Inotuzumab, outlining the agreement we are making on Benjamin's behalf with Pfizer for its compassionate use. She carefully went over each line with me. I felt my stomach lurching a bit while she talked. It wasn't the potential side effects; those I've heard before, with every treatment Benjamin has endured. It was the unknown. It was the acceptance of one more backup plan. It was the deep desire that Benjamin's cells have not mutated yet again, and that this medicine will actually work. 
I felt like collapsing when Michael arrived this afternoon. I caught a small nap, which I needed badly. Kathy and Gana brought Banyan to us and visited with Benji for a little while tonight. After shift change, Benji's pressure dressing was removed. I was so pleased with the way it looked. Michael helped me get Benjamin up out of bed for the first time since yesterday's sunrise. We cleaned his body and changed his linens, with Banyan's assistance. We got him comfortably back into bed. Benji and I said goodbye to our other half, then we watched Polar Express, a movie about believing in what you can't see.
We got an after hours phone call from our nurse practitioner tonight telling us that Benji's Inotuzumab had safely arrived in the building. I am scared, relieved, and grateful. I don't know how much longer we could have waited before intervening to get Benji's blasts down. Now, we won't have to. We can begin this new path tomorrow.