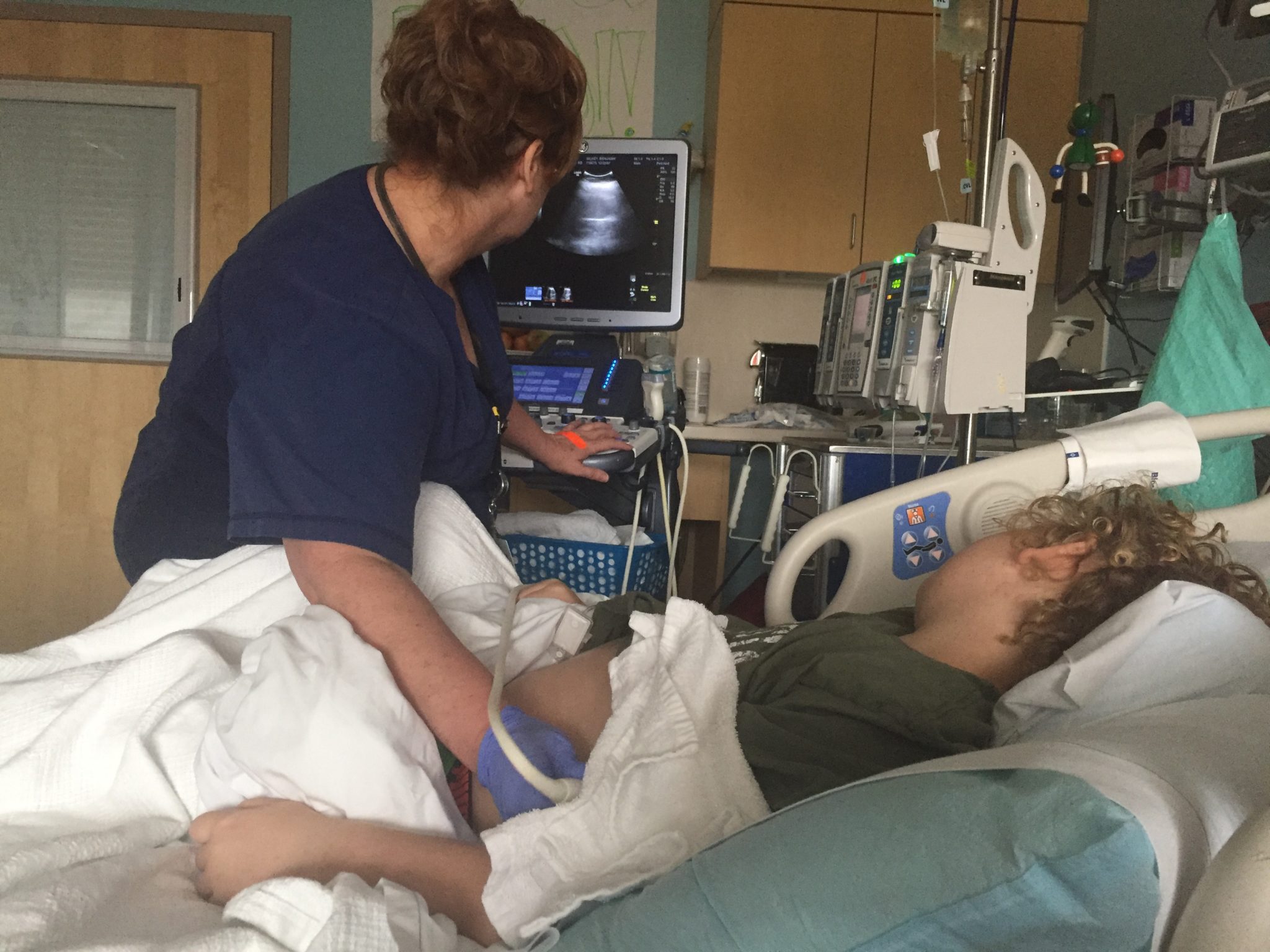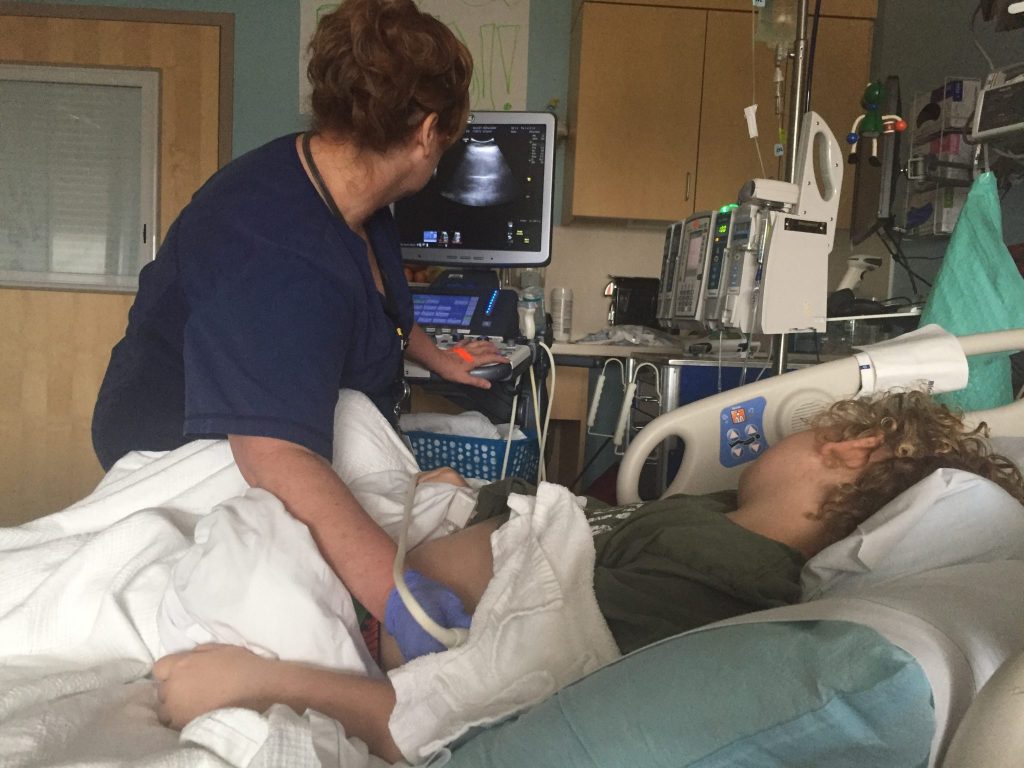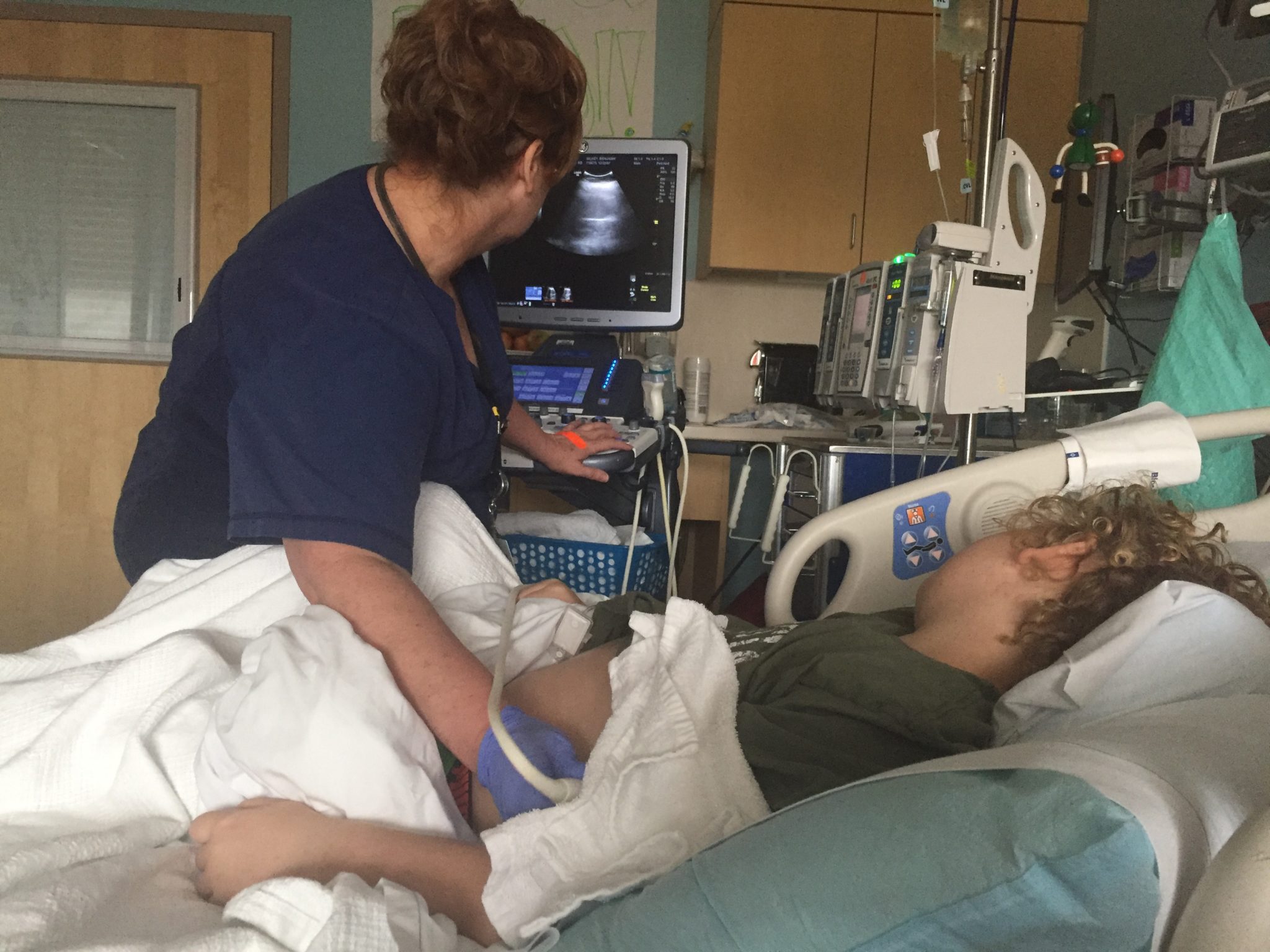 When Benjamin is in pain, everything seems so much harder. His spleen continued to agonize him throughout the night. It woke him up and made his eyes wide with fear. We both caught patches of sleep between low doses of oral morphine and hot bath after hot bath. The pain radiated into his left shoulder this morning, a normal referral for an enlarged spleen.
Benji's morning labs showed little change, but at least the change was in the right direction: white blood cell count down to 18K, blasts to 68%. His large transfusion of platelets yesterday was entirely absorbed, and the count fell below the transfusion threshold once again. Platelets were hung this morning before I made my first cup of coffee.
The new attending doctor is on rounds this week. He came in with Shari, our favorite nurse practitioner, while Benji slept. He suggested reducing Benjamin's platelet threshold to symptomatic, meaning they'll transfuse only for active bleeding. It's such a deviation from Benji's normal routine, but I understand the logic. He feels that if we continue to pour platelets into Benji's body, they will tax his spleen and subject him to reactions without much benefit. They also ordered an abdominal ultrasound. Shari warned me that the procedure would be highly uncomfortable for Benjamin. I approved a one time high dose of intravenous morphine to be administered prior to the test.
Morphine. I'm grateful for its effect. It's terrifying to have to use it.
The dose worked. Benjamin didn't wake up during the ultrasound. It was over within five minutes.
A normal spleen for someone Benji's size is 11 centimeters. Benjamin's is 18. It is loaded with leukemia cells and platelets. This was almost surely the cause of Benjamin's belly pain even before his spleen was palpably large. It's been described to us as a water balloon in the body. It has the ability to get quite large when it is overworked, and it can cause a lot of pain in the process. But in and of itself, the swelling is not harmful.
I got an email from CHOP this morning with the form to release Benjamin's medical records. I was confused by some of the verbiage: "I am not able to provide dates at this present time, as we still have to obtain and review records to assess eligibility for collection. We will be meeting as a team this evening and will discuss Benjamin's case. I will be reaching out to you tomorrow to provide more information."
The words scared me but I pushed through them. Of course they need his medical records first. I stepped out of Benji's room to find Shari and ask her to print the form for me. I signed it quickly, and she sent it back to CHOP.
The IV morphine kept Benjamin asleep well into the afternoon. Michael arrived before he woke up, and Dr. Oshrine walked in a few minutes later to discuss our plans moving forward. As always, Benji's favorite oncologist calmed us down. He said that the words in the email from CHOP were a formality, and that Benjamin's initial eligibility had already been verified based on Dr. Oshrine's medical summary and letter of medical necessity. His conversations with CHOP led to an estimate that Benjamin will begin the infusion of CAR-T cells in early January. This means that the harvesting and consultation should happen some time at the end of November. He was very pleased with this timeline and hopefully we will see this solidify in the coming days.
We talked about the level of chemotherapy Benjamin is getting and the blasts that persist in his blood. Dr. Oshrine reminded us that the treatment was intended to keep things at bay, but not eradicate the disease. He likes the way the numbers are trending. He is not concerned about Benji's spleen, except from a comfort standpoint, and has never seen one rupture from leukemia overload. He expects to see things improve over the next few days. He did seem a little unsure about the recommendation to only transfuse platelets based on symptoms. I wouldn't be surprised to see a new protocol in place tomorrow, especially with Benji's port due for reaccessing tomorrow night.
Our nurse began administering Benji's chemotherapy after Dr. Oshrine left. The taste of the Etoposide caused Benjamin to wake up and vomit, which caused even more pain in his side. Michael and I helped him take a long soothing bath and our nurse gave him fresh linens. Benjamin requested a dose of Benadryl for nausea between the Etoposide and the Cyclophosphamide. He fell asleep as the second chemo dripped. I followed suit, and took a much needed nap in Michael's arms.
We woke up from our nap when the door opened and a man with the kindest face imaginable walked in. His name was Dr. Dover. He was the director of pediatrics for Johns Hopkins and has been practicing hematology oncology for 40 years. Michael's client is the man's friend, and he had asked the good doctor to check in on us. His presence in the room felt almost magical, like a blessing. He sat with us quietly and attentively and offered to act as Benjamin's advocate, to communicate as needed with Benji's doctors here and at CHOP, many of whom he knows well. The more connections we can make in the name of Benji's healing, the better. He patted my hand the whole time we were talking. When he left, Michael said, "I think we just met the medical Santa Claus."
Benji woke up for a few hours this evening. He asked for more oral morphine and heat packs, but he was comfortable and calm. We watched movies and FaceTimed with Michael and Banyan until Benji was ready for sleep once again.
There is a supermoon tonight. As it rose in the sky outside our window, I imagined a conference table in a room in Philadelphia with a similar view. Around the table was a collective of people who would be discussing our son and his qualifications for their clinical trial. I wished them all clarity and compassion, and the intuition to feel a certain urgency and reverence about the boy who will be joining them soon.