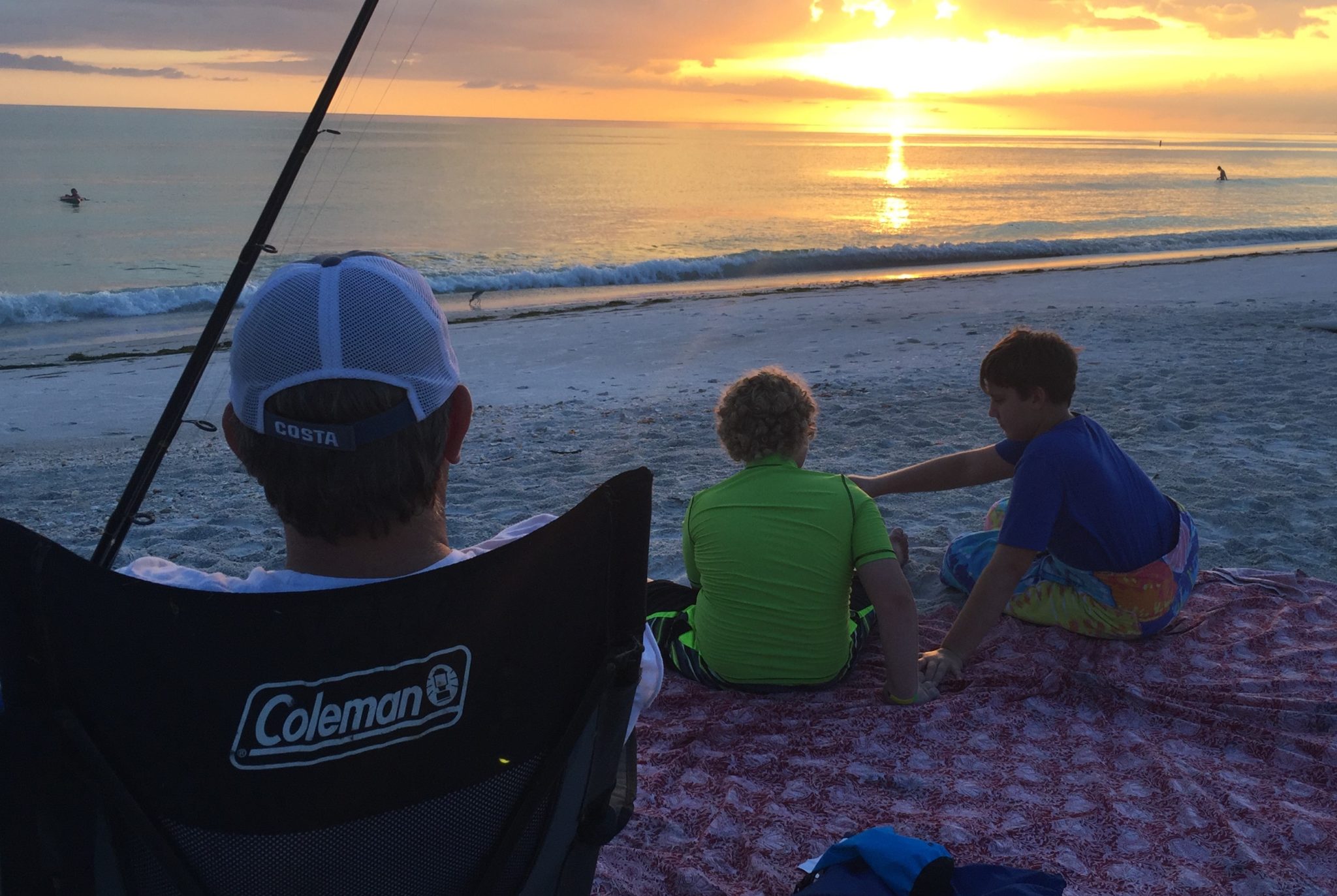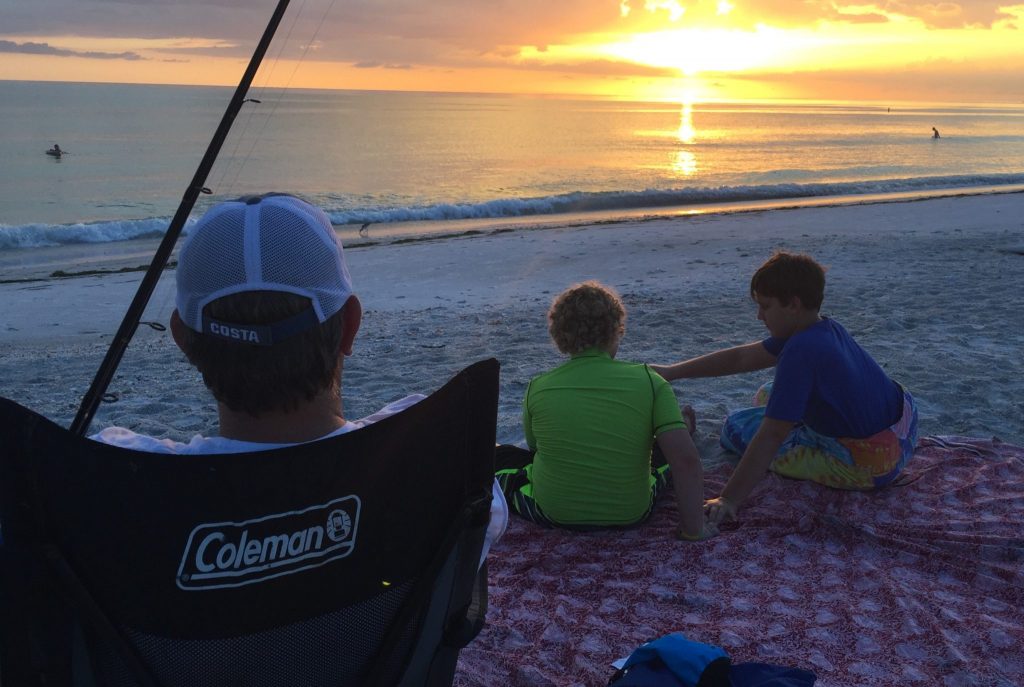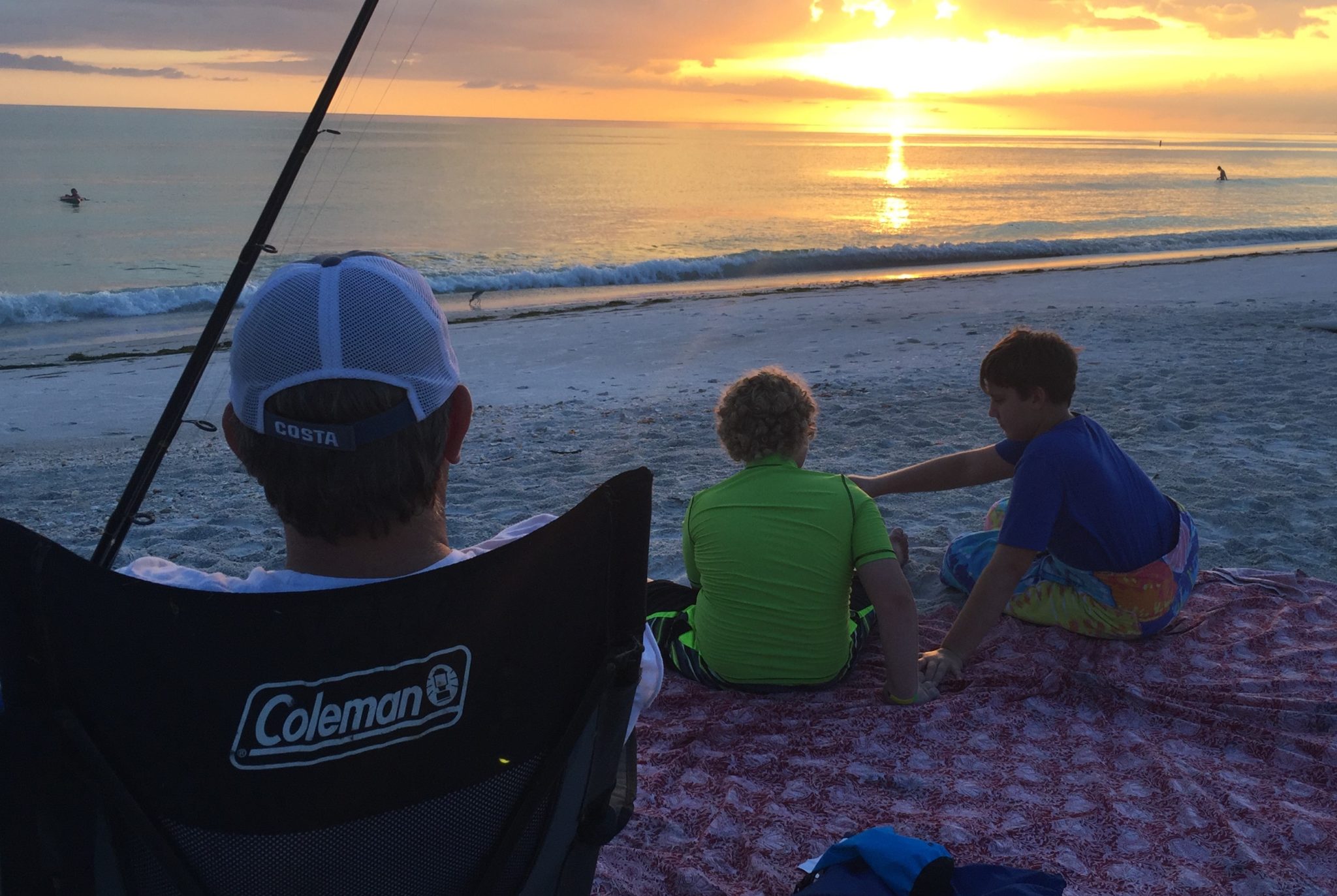 The boys both woke up in good moods. We were all together on a workday morning; a rare treat. We took them out for their favorite bagels before we headed over the Skyway. They were happily playing in the backseat as I reviewed my list of questions for the clinical genetics team. When we parked on the fourth floor of the parking garage at All Children's, Benjamin said his tummy hurt. I reminded him that he wasn't getting accessed today, no medicine, not even a finger poke. He asked me to stop talking about it. By the time we exited the elevator, it was too late. He vomited all over the sidewalk.
Michael took Benjamin to the corner of the parking garage, where he was sick again. Banyan rushed in to get water, napkins, and a custodian. I stood guard over the pile of vomit that was avoided sympathetically by at least a dozen people as they got off the elevator at the Outpatient Care Center.
Cleaned up, hydrated, and together again, we went to the fifth floor and the genetics department. Benjamin's name was called quickly. I was still filling out his paperwork. After the nurse took his vital signs, we were taken to an exam room that looked exactly like one of the exam rooms in oncology. It was only a few minutes before Benji made a bee line for the bathroom, with Michael's help, to vomit again. I made a mental note to give him Kytril every single time we come to the hospital, no matter the reason.
Dr. Crenshaw is the geneticist to whom we brought Benjamin when he was a baby, when we first noticed his cafe-au-lait spots. She is the one we sought out when he was diagnosed with leukemia and we wanted to rule out a connection. When his tests came back negative for Neurofibromatosis and Noonan's syndrome, nothing further was suggested. No relation was assumed. But I couldn't stop digging. In February, when I found the link between cafe-au-lait spots, the hypopigmentation on his leg, and the leukemia, I brought it to Dr. Oshrine, who ran it by Dr. Crenshaw. That's what prompted the genetic test. Everyone thought it was reasonable, given the research; still, I don't think anyone believed it would come back positive. It's that rare.
Benjamin has Constitutional Mismatch Repair Deficiency (CMMRD). It means that Michael and I each have abnormal copies of one of the genes–specifically the PMS2 gene–responsible for DNA repair. The fact that we each have the same abnormal copy of the same gene is quite literally a one in a million type situation. Then Benji inherited BOTH abnormal copies, which is even more rare; as of 2014, only 146 cases had ever been reported. We asked Dr. Crenshaw and her physician's assistant how many cases they have seen at All Children's Hospital. Zero. We brought to their attention a specialist in Toronto we found online. They are looking for specialists too.
The bottom line is that Benjamin is at an increased risk for several cancers. His DNA lacks the ability to repair itself completely. So when abnormal cell replication happens, other bodies with "normal" genes would handle the situation, and Benji's cannot. This deficiency was almost certainly responsible for his leukemia. We have no idea if or when a secondary cancer will occur, but we know he is at a much higher risk than most people for that to happen. So we are discussing what increased surveillance will look like; most likely scans and scopes for the rest of his life, specifically on his blood, brain, and GI tract. It is recommended that he have regular colonoscopies, endoscopies and brain MRI's, in addition to his regular leukemia bloodwork.
Because Michael and I are both carriers, Banyan also has a 25% chance of inheriting both abnormal copies of the PMS2 gene. The more likely and obviously preferable scenarios are that he inherit either one copy (a 50% chance) or neither copy (a 25% chance). He shows none of the outward signs that Benjamin exhibits, so we are holding big hope for the latter. I am refusing to contemplate anything else. We got the ball rolling today on Banyan's testing, which will happen as soon as the insurance process is complete.
Michael and I, by definition since Benjamin has two copies, each have one abnormal copy, or a variant of Lynch syndrome. This means that we too are at a higher risk of certain cancers, particularly colorectal cancers. We registered as patients today with Moffitt Cancer Center to be formally screened and to receive counseling on what our surveillance should look like. This will probably just mean routine colonoscopies, endoscopies, mammograms, etc., which are the same fun things we're facing in our forties anyway.
We requested a consultation with our primary care physician that will begin the process of referring Benjamin to the specialists he'll need to see for certain tests. Dr. Oshrine will coordinate all care between specialists, which is extremely comforting. We asked that during the remainder of Benjamin's leukemia treatment, if possible, that his colonoscopies and endoscopies be performed while he is already sedated for lumbar punctures. We have to consider the impact this screening will have on his quality of life, vs. how helpful it might be if something were to be detected early. We also moved forward and made an appointment with Florida's only naturopath specializing in oncology. That will happen in October. From now on, prevention is paramount, and we're hoping he can help us with that.
Dr. Crenshaw left us with no need for follow up until January. I wasn't sure whether to be comforted or frustrated by her department's lack of urgency. Michael reminded me that it wasn't necessarily urgency they were lacking here, it was knowledge. They have never seen this before. It's disconcerting to shift gears from coping with a disease that is considered common among childhood cancer patients, and therefore extremely well researched and understood, to one that is ridiculously uncommon. I told Dr. Oshrine about the Toronto specialist in a follow up email, and asked him to seek his counsel, which he did. He will report back to me.
Most of our conversations today were semi-private, between the physicians, Michael, and me, with Banyan and Benjamin content to play video games in the corner. We told our beautiful sons that there is no cause for concern today. The meeting was to discuss some genetic patterns that will help us make decisions to keep both of them as healthy as possible throughout their lives. This is the absolute truth, a truth that was delivered and received easily and without question.
Yesterday and today have felt very much like the days when we coped with the news that Benjamin did not achieve remission after Induction. It's not good news. But it existed, it was true, whether we knew it or not. Now that we know it, we can make better decisions for our family's care. We absolutely have to look at it that way. There is no other way, but through a grateful lens.
We cannot let this prognosis downplay the victory Benjamin is claiming over leukemia. When I walk by the stack of hospital pillowcases on my sewing table, poised for an end-of-treatment project, I cannot sigh and consider that he may have to go through it all again. We don't know what will happen, or if, or when. What we know is that he is claiming victory over leukemia. That has not changed.
We proceeded with our very normal evening. We went to meet-the-teacher night at Southside, and Benjamin chose his desk for third grade, right up front. He completed his first assignment. "I am excited about…" "I am nervous about…" "I wonder about…" "I can't wait to…" None of this changes. After Michael came home and the August thunderstorms subsided, we quickly loaded up to spend the last hour of daylight at our favorite beach. It was almost an unspoken need. Saltwater therapy.
Banyan took a long walk on the sand. Benjamin and Michael walked over to the rocks to fish. I paddled way out toward the setting sun, and stood quietly on my board while dolphins splashed around me. I turned around to paddle back to shore. Banyan turned around to walk toward the rocks. Benjamin and Michael put away their fishing gear. We all converged together at the moment the sun was dipping toward the horizon. The moment the clouds turned pink and the ocean turned charcoal gray. Each moment is all we ever have, any of us. I'm thankful for every single moment I have with these wonderful human beings who share this blanket on the sand with me.