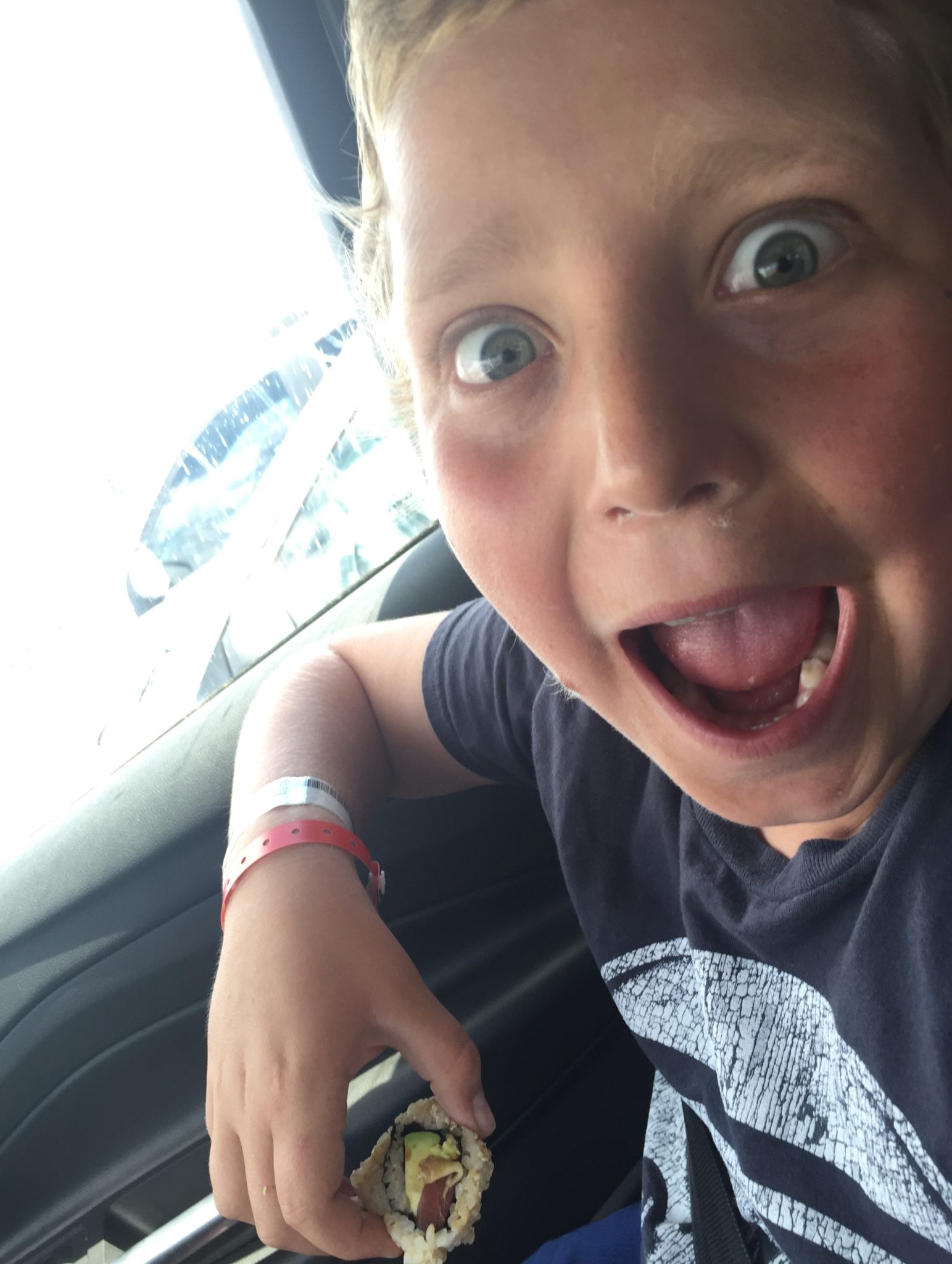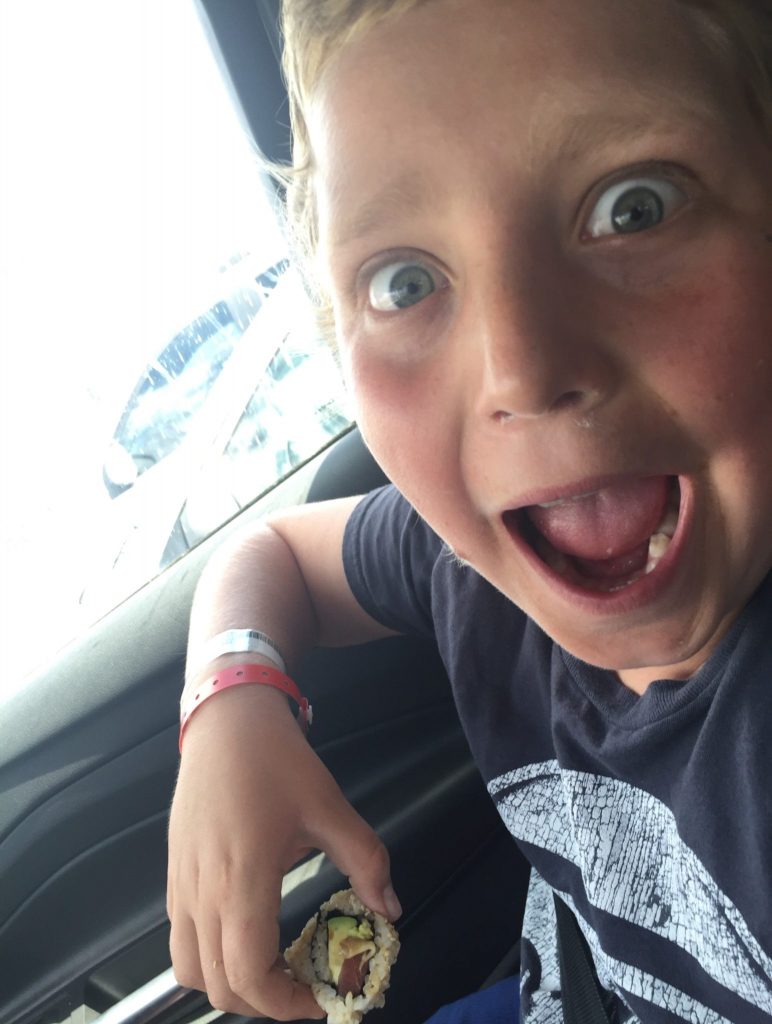 We did not cross the Skyway this morning. Our beloved bridge was closed due to fog. So after doing our civic duty at the polls and dropping Banyan off at a friend's house, we drove two hours instead of one to get to Benjamin's appointment at the All Children's Hematology Oncology Outpatient Clinic, circumnavigating the entirety of Tampa Bay in the process. But we made it safely.
I was so proud of Benjamin during his port access. His accesses have been bringing more anxiety lately, as they have been spaced farther apart and become less a part of his normal life. Today he was armed with a pep talk from his daddy and a stellar attitude. He only said once, rather quietly, "It's going to hurt!", then brushed his complaint aside. He didn't procrastinate when it was time to put on his mask. He held my hand and barely flinched when the needle went in. Blood return came instantly. He helped his nurse draw up the two vials, as per usual.
While we waited for Benjamin's counts to come back, we were entertained by some of our favorite nurses and child life specialists who stopped by to say hello and admire Benjamin's golden curls. Dr. Oshrine was our oncologist today, and we were both happy to see him. We talked about his new fatherhood, and he marveled at Benjamin's progress. The lab results came back while he was examining Benjamin. His counts were perfect. Platelets, hemoglobin, creatinine, even his ALT (liver enzyme) had improved. His absolute neutrophil count (ANC) was still above 2,000, however, so today marked the first increase in chemo dosage due to counts rather than size. This is always a tricky balancing act, getting just the right amount to suppress the cells while allowing the body to thrive and fight infection appropriately. Dr. Oshrine increased just the 6MP today. If counts are still high next month, he'll increase the Methotrexate as well. The Prednisone and Septra will remain the same.
Dr. Oshrine approved one supplement I'd suggested and took information on the second. He asked if we had any other questions. Benji asked one I was not expecting: "Can I eat raw fish yet?" We have avoided raw sushi (among several other things) since diagnosis, because Benjamin's neutrophils weren't adequate to fight a potential bacterial infection. Dr. Oshrine didn't hesitate. "During maintenance? Absolutely." Benji ended the examination with a hug for his favorite doctor. Our lunch plans had just changed.
We didn't have to wait terribly long for Benjamin's Vincristine to arrive. We declined premedication today, so the administration was quick and easy. Benjamin wasn't bothered by the taste of the medicine. When its ten minute drip was over, his nurse injected his Heparin to lock his line without him even realizing it. His needle was removed without incident, and we were free to go. On our way to the elevator, we stopped by the Infusion Center. Its big bay windows needed some rainbow stars. It was so nice to see some of our very favorite nurses again, and brighten the space that occupied so much of Benjamin's time during frontline treatment. We delivered seventeen stars in total.
By the time we picked up our sushi lunch, the Skyway was back open. I was so thankful. We sat in the parking lot of the grocery store and toasted each other with pieces of raw salmon. Benjamin devoured it, enjoying each piece more than the last. He actually said, "This may be the best moment of my life."
Benji fell asleep on the ride home. Before we picked up Banyan, I went to our local pharmacy to pick up Benjamin's new prescriptions which reflected his increased dosage. So began a four hour chase for tonight's 6MP. The importance of a competent and compassionate pharmacist is something I never thought twice about before Benjamin's diagnosis, and something I will never underestimate again. I am thankful for two pharmacists whose creative sourcing ensured that tonight's dose will not be missed. The 6MP chase also made me contemplate the latest studies I've read on the correlation between leukemia relapse and rates of nonadherence to home medications, which are disproportionately high in zip codes with high poverty. Today could have easily resulted in a missed dose had I not had the time or means to be persistent as hell.
Tonight, Benjamin will take eighteen pills: twelve Methotrexate, three Prednisone, three 6MP. Tomorrow, he'll begin the new supplement (here) to help his liver process the new dosage. As I was returning today's supplies to my hospital bag tonight, two books on my shelf caught my eye: A Prescription for Nutritional Healing, and Smart Medicine for a Healthier Child. These tattered pages were my bibles for remedies–conventional and otherwise–when the boys were younger. I haven't consulted them in a few years, and as I saw them tonight, I kicked myself. Sure enough, they each have sections on cancer, leukemia in particular, and I've already seen suggestions I haven't investigated. Those are next on my list.
We drove around an entire major water body to get to treatment today, and took a much longer route than we should have to get to medicine tonight. I'm fully aware that some people can't do these things. I'm grateful for the ability to take the long road. For health insurance, for the support of our family, for any means necessary. And for sushi. Always for sushi.