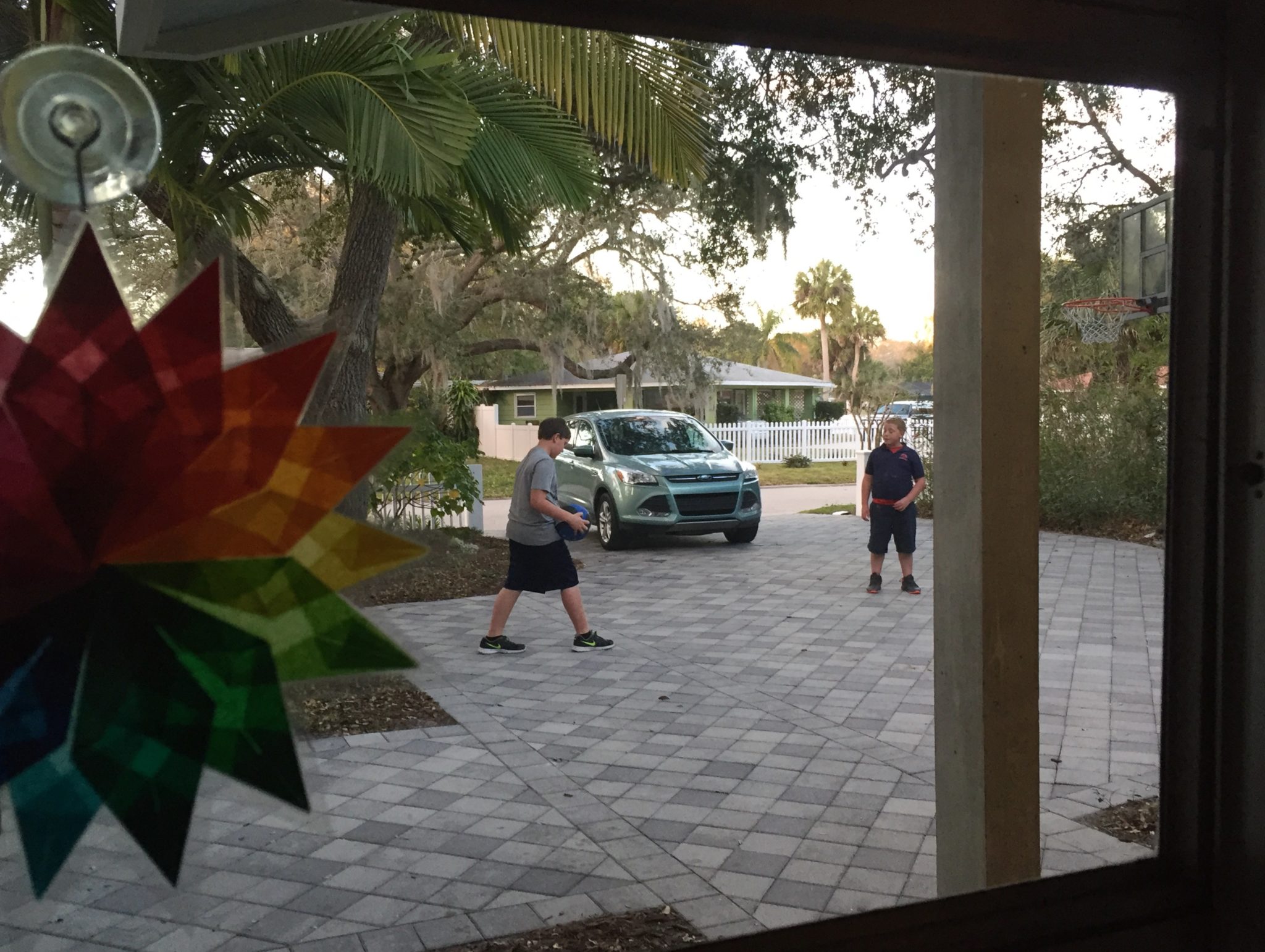 Benjamin didn't feel well when he woke up this morning. He couldn't describe to me why, exactly. He just didn't feel well, and I could tell. He wasn't exhibiting any symptoms of illness, barely even a sniffle (which every single elementary school student in the world has right now). Just off. I examined him. I offered, as always, for him to take the day off and stay home. He said no, and moved about his morning. I texted Mrs. Smith to let her know I'd be checking on him throughout the day.
Banyan didn't feel well either, and it wasn't a physical malady. He was mightily embarrassed that I insisted on a face-to-face with his math teacher this morning. I looked at my now-slightly-taller-than-me son with deep love and sympathy. Middle school struggles are no joke. There is so much new territory to navigate. I know how hard this must feel for him. But I also know we can do hard things. Guilt threatens me at times, when I wonder if Banyan's recent academic difficulties are an unfortunate side effect of our (necessary) proportion of time spent with Benjamin. Then I speak to other parents and get a reality check. I don't think this is cancer at work here. It's sixth grade. It's a big adjustment for most kids, a time when parents are supposed to step back and pre-teens are supposed to realize their own capabilities. Luckily, Banyan's family is full of excellent cheerleaders. We will be with him every step of the way, but he has to be the one to play the game.
A dear friend and I met for coffee today, and what a treat it was. She is a force in my life who I rarely see but whose presence is felt deeply. She is a phenomenal listener and a wise woman, and sitting on a trendy couch with her today invigorated me. She is also a writer. I told her I had been contemplating the public nature of this journal recently. Questioning it. Does it still serve me, and more importantly, does it still serve Benjamin, to hit "publish" every night? Do I feel the need to censor myself? To filter what I write? We talked about the newly diagnosed families that come here to find support and information and hope. I know that they are using the search feature more than anything else, but the fact that there is a "Day 405" is, in and of itself, uplifting. And one day, Benjamin will be able to read these entries, and gain a perspective he may not have now. But really, I think I continue because to stop writing would somehow dishonor the fact that Benjamin is still in it. There may be a day I decide to make my entries more private. But I must keep writing.
My friend was extremely supportive of Project Rainbow Star, and of the prospect of writing a companion piece for mothers of newly diagnosed children. Her encouragement felt so warm around my shoulders as I left the coffee shop. I made several phone calls to mobilize more volunteer starmakers. Then I bought supplies for after school Valentine making and came home to work for the afternoon. Before I did, I stopped by Southside to check on Benjamin. I signed in at the office and walked to the cafeteria where he was having lunch. I peeked in the window. I planned to only catch a glimpse to ascertain his status, but at the exact millisecond I looked through the window, he looked as well. He caught my eye and cocked his head, confused and smiling. I walked in. He felt fine. Mrs. Smith said he'd been a little more active than usual, actually. I was grateful to have checked in.
Homework, guitar practice, outside play, dinner prep, all of these things are huge blessings, when viewed through the appropriate lens. My God. At coffee I told my friend I'd felt desensitized to cancer a couple of days ago, and I realized why that unnerved me so. It's because cancer, as much as I wish it had never found us, enabled me to finally truly understand what living in the moment really means. When I can tap into that feeling now, I recognize it more quickly and give thanks for it more deeply. I try to make it stay. It's so much like meditation.
Tomorrow, Michael and I will cross the Skyway alone to discuss Benjamin's 24 day hospital admission for Methotrexate toxicity with the All Children's team. We will meet with the Patient Safety Officer, the Risk Manager, the Director of the Hematology Oncology Division, and Dr. Oshrine, to whom I will bring a gift for his imminent twin babies. I feel really positive about this meeting. I am prepared for it, with studies and photographs, but also with a clear heart. Benjamin's experience has created an opportunity for positive change. I know that what happened to him can now be prevented from happening to another family. It's the best possible closure from a horrible situation. I have high expectations.