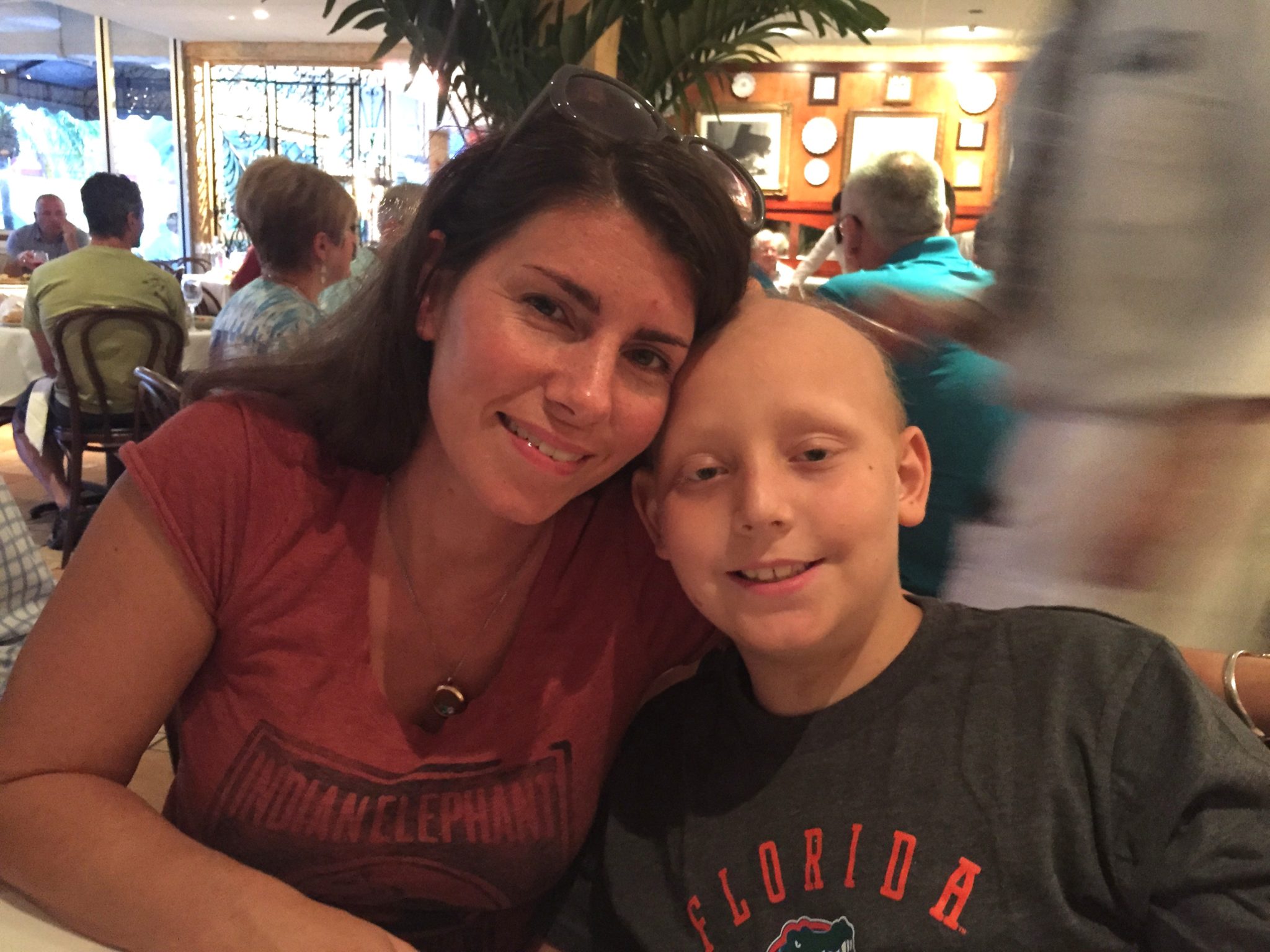 Benji was up and dressed for school early this morning. He was in a good mood and ready to go. He made himself an omelette, and then his tummy hurt–which made me consider his enzyme levels again. He asked for Kytril on the way to school. I gave it to him, but I began to wonder if I'm giving the antiemetic too frequently. This isn't nausea we're dealing with. I don't want Kytril to stop working for him like the Zofran did during his first bout with intravenous Methotrexate. He's going to need it as the Methotrexate escalates during the rest of this phase.
While the boys were at school, I enjoyed a conference with Benji's new teacher. I adore her. She is creative and compassionate, relaxed and understanding. I found myself again in that strange place of hearing myself talk about these last eight plus months as though from a distance. During our meeting, the school guidance counselor came in. She offered to set up a home visitation program again, but I am hoping we won't need it this year. Benjamin is able to go part time enough to stay caught up, and we have sweet neighbors that can bring home work when he's in treatment or not feeling well. Many materials are online this year as well. And November will be here before we know it, and with it, long term maintenance.
I thanked them both for the option, and told them that many school districts aren't as accommodating for Hospital Homebound students. I know how fortunate we are to be part of the Southside family. Mrs. Smith ended the meeting by delving deeper into Benji's interests. She loved hearing about his love of cooking, and wants to help him through his aversion to lengthy writing with prompts that involve food, recipes, and steps. Brilliant. I have no doubt he'll have a terrific second grade year.
Banyan is doing well so far in middle school. He has a good handle on the work and a great pack of friends he's kept from Southside. We have an open house there tomorrow night. I'm excited to walk through his classes; it'll be the first time I've been on campus since registration, but that's been intentional. Banyan needs this place to be his own right now. He had an assignment to choose three events in his life that have shaped him as a person. He was stumped on the last one, and I suggested Benji's diagnosis. He told me the whole grade would see this project, and he didn't want everyone to "know" right away. I completely understood. When Benji was diagnosed, Banyan carried a heavy weight through his fifth grade halls. He represented the family with cancer. People treated him differently. That's a lot for a kid to manage. Here, at this brand new school, he is just Banyan. It's hard enough to find your identity in middle school without a label. It must feel empowering for him to be able to choose how people see him now.
We enjoyed a nice family dinner in celebration of Uncle Bob's birthday. I gave Benji glutamine and milk thistle when we came home, and he drank a ton of water today. I researched quite a bit during school hours and will have plenty of questions for our doctor tomorrow.
Benji should have a complete blood count after getting accessed in the morning. This will give him clearance for the Methotrexate to escalate. It will be his second dose of the neon medicine during this phase. He'll also get Vincristine. I plan to give him Kytril and put a Scopolamine patch him on before we arrive. I'm hoping we can avoid the nausea this time, but history makes us prepared for the alternative. We'll go home after those medicines are administered and return Friday for Erwinia shots.
Breathing in. Breathing out. The end of each phase has been intense, and we are nearing the end of frontline treatment; five phases combined. I want to tackle these elevated numbers and detoxify Benji's body. I want to make it to long term maintenance with flying colors. We are so close.