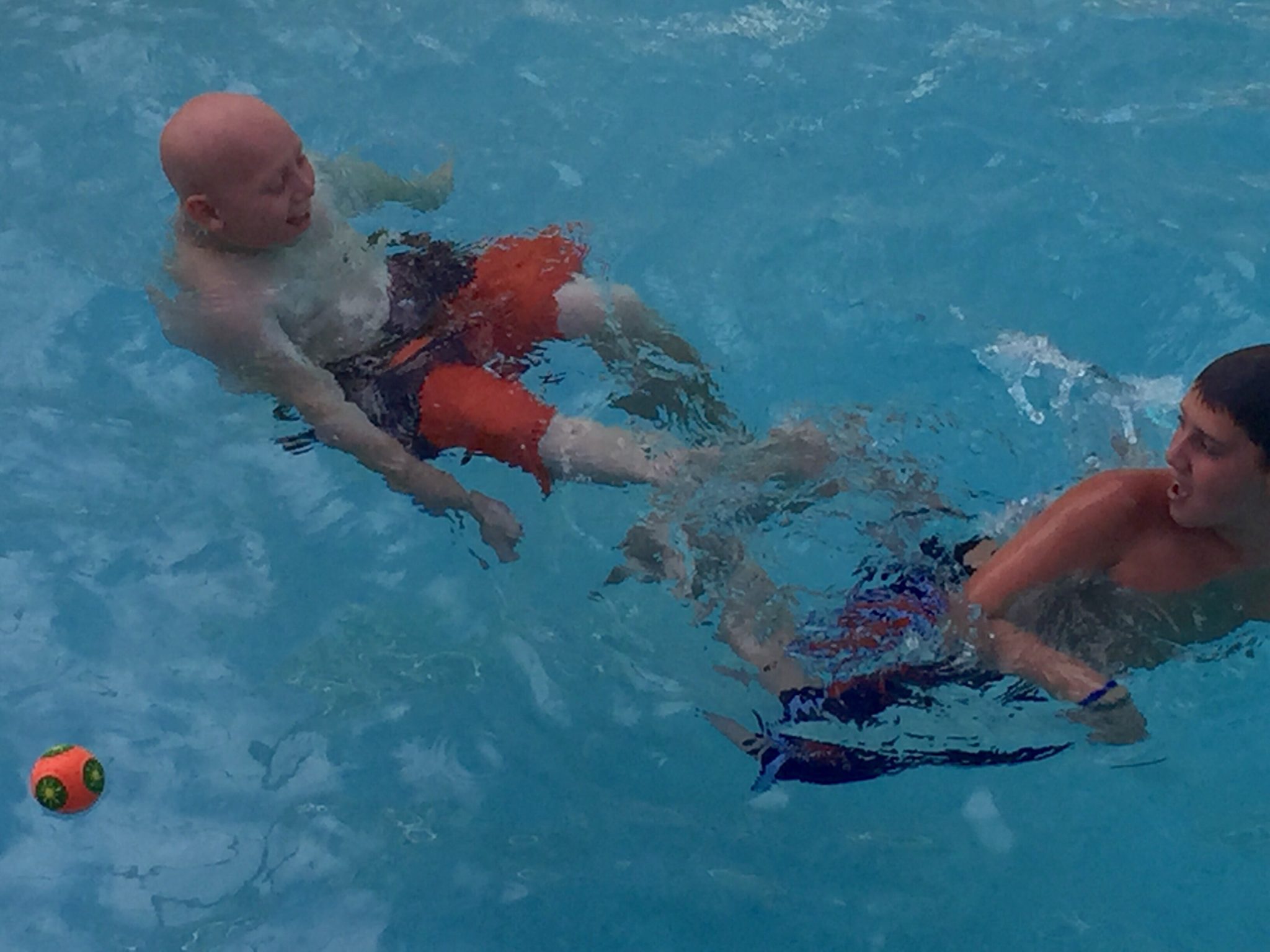 Benji's counts continue to drop. There are more bruises today, and he's still quite pale, but he feels terrific. He played with friends nearly all morning. He splashed and swam at full speed in his Grammy's pool when we went to have dinner with Michael's mother and sister. He and Banyan are playing and laughing together now. I know his hemoglobin and platelet levels are below normal. But it's not slowing him down.
School begins a week from tomorrow. This week, we will solidify the hospital homebound program so that I can homeschool Benjamin throughout the rest of frontline treatment. The first week of school alone, Benji has to be at the hospital three times. The next phase of treatment is no less intensive. So we will take things one day at a time, as we have been, and he'll go when he's well and not across the bridge. I'm hoping he can go for at least an hour or two on the first day, to begin the schoolyear with his classmates, who will share his nervousness. But I just don't know yet.
We are three quarters of the way through Delayed Intensification. Over the next two weeks, Benji will have twelve Erwinia shots and two intravenous doses of Vincristine. His counts will continue to drop. Transfusions are likely. Neutropenia is highly probable.
Banyan will join us tomorrow in the clinic. Benji will be accessed, he'll get a complete blood count and comprehensive metabolic panel. We'll meet with the oncologist, then we'll go to the Infusion Center for his Vincristine and Erwinia. He'll stay accessed all week.
I'm thankful that Benji had the chance to submerge his body in saltwater and chlorine this weekend. I'm thankful that he feels so strong and energetic. We don't know what to expect at the end of this phase, but we're ready.