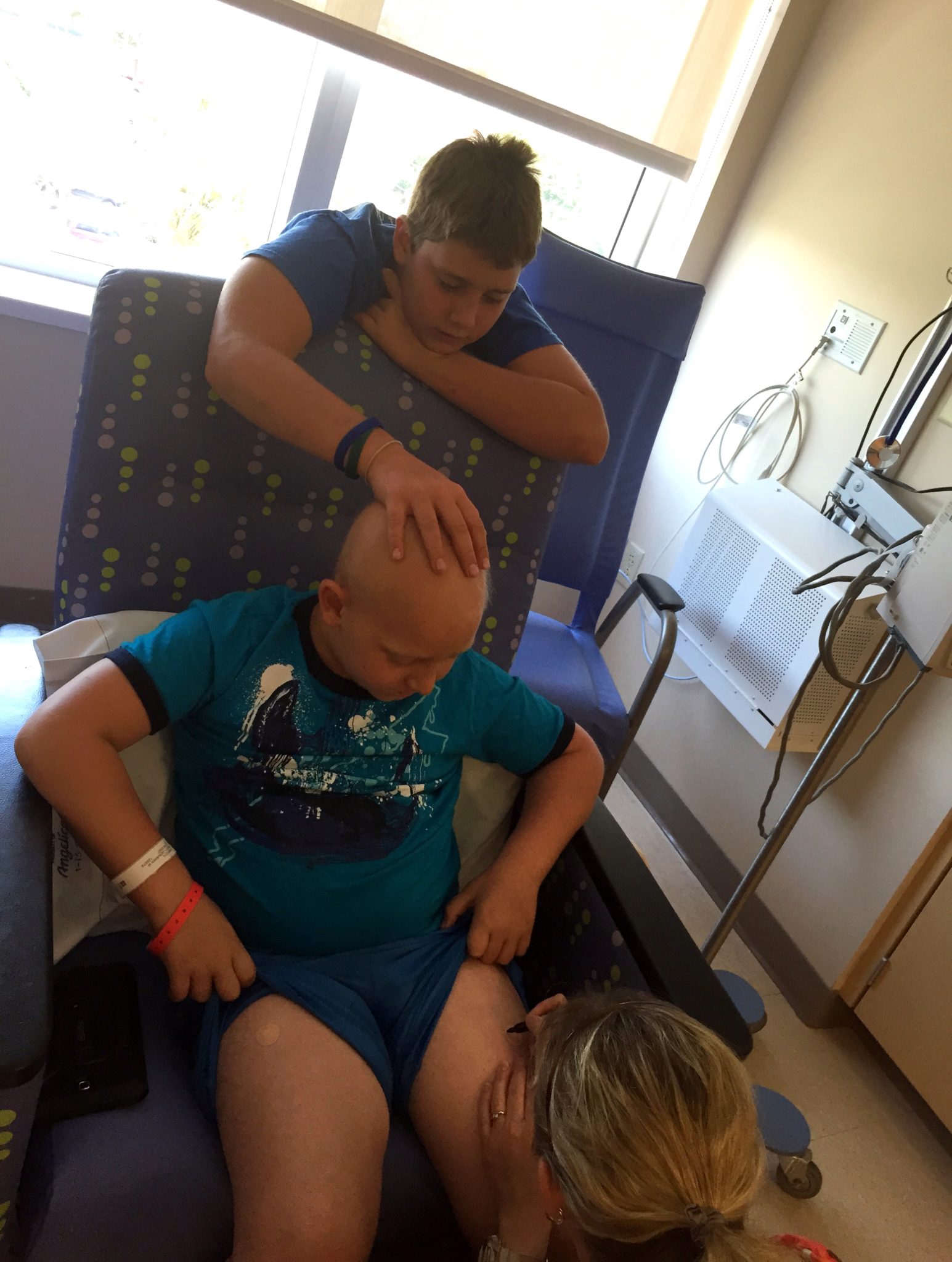 This blank space. The rain falling. The kava tea in my mug. All of these things will conspire to reconstruct the day, to paint it with peace and gratitude, and make way for sleep.
Benji woke up super early this morning to join Michael for his Monday breakfast meeting. This is a rare treat, and one of Benji's favorite things to do. Banyan opted out, savoring these last sleepy mornings of summer. He woke up as they were returning, and we all kissed Daddy goodbye. The three of us packed our things and left for Benjamin's appointment. Benjamin opted to take Kytril orally, but forgo a Scopolomine patch. He knows that Erwinia shots and Vincristine don't make him nearly as nauseous as the medicines he's had over the last two weeks.
Despite a rocky start to the day that found Banyan and me locking horns over personal hygiene (hello, middle school), I was so thankful he joined us today. He kept Benjamin entertained on the ride over the Skyway, and as we were waiting in the exam room. He helped me carry our bags, and was eager to fetch requests from the cafeteria. Most importantly, he had another opportunity to witness his brother's experience, his struggle, his triumph, his bravery. Respect grows deep in the walls at All Children's.
Benjamin used his oils while his port was accessed, flushed, and dressed. I am not an essential oils evangelist just yet, but I'm certainly a firm believer. His blood was drawn, the nurse's intake questions were answered, and we waited. Dr. Oshrine is on vacation, and although I saw Dr. Grana in the halls, we weren't on her docket. Instead, we saw a physician's assistant in whom I haven't enjoyed the greatest of confidence. She is a lovely person, but doesn't explain things to me in the way I need them explained. She has also omitted tests and procedures that other ordering physicians do not omit. Perhaps this is why I was inclined to question it when Benjamin only had a complete blood count done today, and not a comprehensive metabolic screen.
Benjamin's CBC showed dropped counts, but they weren't as low as I'd expected. His absolute neutrophil count (ANC) remains in the 800's. He's neutropenic, but not severely so. His hemoglobin is at 8.7, and his platelets are at 59,000; he'll get transfusions if they dip below 7 and 30,000 respectively. He'll get another CBC Wednesday, and again Friday, to see where we are. But these numbers don't show the complete picture. I questioned the lack of the metabolic screen because he'd just completed a two week stint of Thioguanine, which can cause liver toxicity. We did a screen at the beginning of the two weeks for baseline numbers. So why not today?
The P.A. explained that she was ordering the tests indicated on Benjamin's roadmap. Sure enough, I looked at the protocols and there was no screen on today's list. I am certain Dr. Oshrine has requested them on every other Monday we've seen him. It was an uncomfortable position for me to be in. Michael and I have put our faith in the Children's Oncology Protocols. I don't want to question them. That opens doors I like to have firmly shut. But if Benji has just finished a medicine that can cause liver toxicity, and now we aren't measuring his liver numbers, then how will I know?
I am grateful for The Binder. I can look back at the dates on which screens have been ordered and compare them with Benji's roadmaps. If they don't match up, I will feel confident in requesting a screen immediately, prior to the one scheduled at the beginning of the next phase of treatment. Until then I will continue to give him milk thistle, watch his body for signs of yellow, and remember why we have placed our trust in these protocols.
After our clinic visit it was on to the Infusion Center. Benjamin summoned his insane mind control and took his Erwinia shots like a Jedi. He is truly superhuman. Banyan was amazed, and went to get Benji a congratulatory hot chocolate. Benji also had an intravenous dose of Vincristine. We took several laps through the halls, visited with the Pet Therapy dog, and watched one of our favorite movies during the monitoring period that followed. It was time to go home.
Benji slept in the car, and played happily with Banyan and their neighborhood friends until dinnertime. When it was time for sleep, Benji was restless. He doesn't like the search for a comfortable sleeping position when his port is accessed. He started asking all sorts of questions again, about his port, and what would happen when they took it out, and about lumbar punctures and sleepy medicine and why he can't jump on trampolines right now. He told me he wasn't sure he remembered how it felt not to have his port. It has been nearly eight months, after all. It's an eternity for a seven year old child.
We have tomorrow off, and both boys have big plans. Regardless of our schedules and circumstances, we'll make the most of this last precious week of summer.