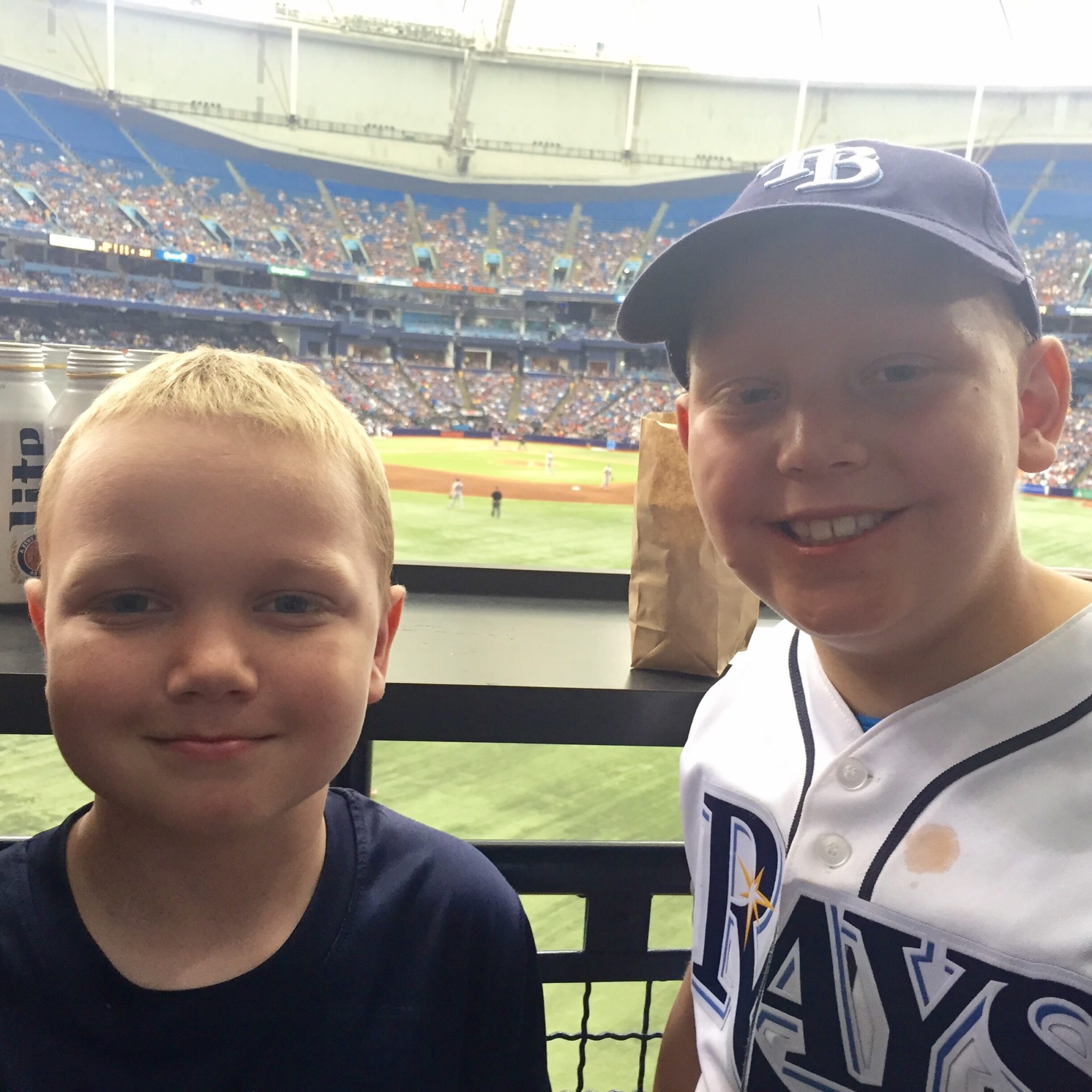 Today, while Michael and Banyan were taking in the beauty of Wisconsin's Peninsula State Park, Benji and I took in a baseball game.
When we first met Cody, Benji's friend who was diagnosed with acute lymphoblastic leukemia last August, his mother and I marveled at how similar our boys are. One thing they share is a love for baseball. They both play the sport and they both love the Tampa Bay Rays.
We've been trying to find a time that works within our schedules and their immunity counts to take them to a game, and today was the day. Benji was so happy to see his friend. Cody's hair has returned, soft and gorgeous.
The boys cheered, played games, ate hot dogs, visited the stingray tank, and chased mascots for autographs. His mom and I finally had a chance to enjoy a nice conversation without worry. There were a few squirts of hand sanitizer throughout the day and a dose of Kytril this morning, but for the most part, Benji and his friend were just kids at a baseball game today. We saw our favorite pitcher, and the Rays pulled out a 4-3 win over the Mets.
I'm thankful for this full summer weekend. Tomorrow Benji and I will head over the Skyway to begin the sixth week of Delayed Intensification. He'll have his port accessed, his blood drawn, and Cytarabine administered through his port. Then we will go to the Special Procedures Unit for his lumbar puncture with Intrathecal Methotrexate. If things works out, Michael and Banyan will arrive at the Tampa airport just in time to be at the hospital with me when Benji wakes up.
There will be four of us returning home.