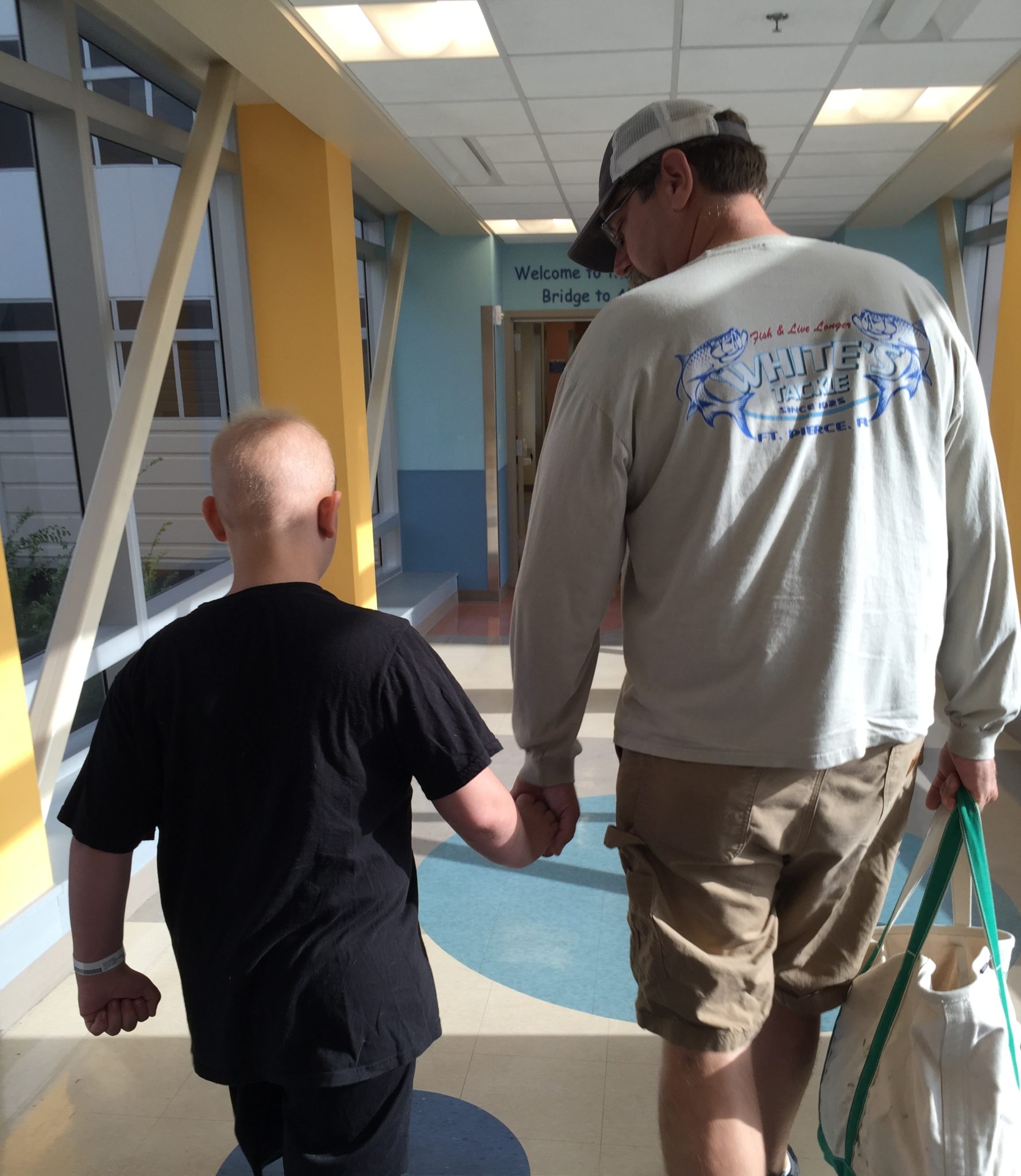 I couldn't sleep again last night.
One of the conversations I had with Dr. Grana yesterday was about a study linking a specific gene mutation to a higher incidence of relapse. Benji had shown that mutation early into his diagnosis, and we've known about it since February–the gene, combined with his failure to go into remission after Induction, are what kicked him into a higher risk regimen of treatment. But with all of the relapse happening to families in the online moms' group, last night this little gene sent me into a proper panic.
Michael told me very gently that he thinks I should take some time off from the moms' group. He can see that it's bringing me down. I had a nice long conversation with Cody's mom last night, and she wholeheartedly agrees. Cody is the little boy we met in the Infusion Center a few months back. He and Benjamin share the same diagnosis, risk path, allergies, interests, age, grade, hair color, sense of humor, and love of baseball and dirt bikes. Today marks a year since Cody was diagnosed. He is well into long term maintenance now and doing beautifully. His mom stays away from the online groups. Her philosophy is to live life as normally as possible and stay positive. She said we are not in control of anything but our own happiness, and if our kids see us happy, they learn to have less fear. She laughed at me for still carrying The Binder into each appointment. She urged me to leave it behind. I thanked her for her wisdom. I sincerely admire this woman. But I can't part with The Binder just yet. Far too often has it helped me catch mistakes, or helped me give the nurses information that I just wouldn't have had without it. I do think she and Michael are right about the moms' group. Unless I have a specific question or topic to research, I will steer clear for a while.
Despite the sleeplessness, I woke up easily, ready for another long day at All Children's. Benjamin couldn't eat this morning because he was scheduled for a lumbar puncture today, so I let him sleep until the moment we had to leave. Our dog really wanted to jump on the bed and wake him, but I kept him at bay. Benji felt nauseous when he woke up. This wasn't unexpected; both the Cyclophosphamide and the Cytarabine he received yesterday have made him nauseous in the past. We gave him Kytril, and he continued to rest in the car as we drove. There were deep blue skies today over the Sunshine Skyway. I was happy to have Michael by my side.
When we were on the north side of the bridge, Benji felt the urgent need to vomit. I was thankful that my friend Tracey, the Infusion Center nurse, gave me an emergency bag for the car before we left yesterday. Michael gave Benji the bag and it worked perfectly. A small gesture like this went a long way. Had Benji vomited on his clothing or in the car he would later be riding in, his discomfort would have been far greater as the day went on.
The Kytril had been in Benjamin's body for 29 minutes–a minute shy of the re-dosing mark–when he vomited. We weren't sure what to do. We weren't expecting a consultation with a physician today, as Dr. Grana wrote Benji's orders for the entire week at yesterday's visit, but we were thrilled when our nurse said Dr. Oshrine would be coming in to see us. Benji vomited again when Dr. Oshrine was in the room, making his decision a little easier. He wrote orders for Benji to receive a half dose of Kytril intravenously before today's chemo was administered.
Yesterday's conversation with Dr. Grana and last night's paranoia about genetic mutations left me wanting deeper reassurance, which is exactly what I got through our lengthy visit with Dr. Oshrine. He explained that the bone marrow tested mutations in only the leukemia cells, and once those cells were eradicated, the genetic mutation would be as well. I had thought that the genetic mutation was present in all of Benji's cells. Not the case at all. I was so relieved. I was also so grateful that Michael was there to hear the explanation. He remembered earlier discussions about this gene that I had completely forgotten, and was able to put today's revelation in context for me. He is able to see the big picture so clearly when I get trapped by the details.
Dr. Oshrine gave Benji a thorough check-up and answered more questions for us. He stayed for conversation, sharing plans for an upcoming vacation that led to a chat about bear sightings, hiking, and camping experiences. The four of us spoke as friends, including Benjamin, who feels like an equal when Dr. Oshrine is in the room. We are so grateful for his partnership in Benji's care. Before he left, he called in a prescription for another Scopolomine patch, which he highly recommended during weeks when Benji is getting so much chemo.
The nurse administered the half dose of Kytril, then began Benji's second dose of Cytarabine. When it was finished we went down to the Special Procedures Unit to wait for surgery. Benjamin didn't feel well, but he didn't vomit again. Soon, he was saying goodbye to Michael at the double doors, and I was holding his hand as they wheeled him into the Operating Room for his lumbar puncture with Intrathecal Methotrexate. The anesthesiologist said to the nurse, chuckling, "I don't know if mom's here because he's anxious (nodding toward Benjamin), or because she is." I held back my anger at his patronizing tone. I wasn't anxious, and I didn't want Benjamin thinking I had reason to be. "Neither," I said calmly. "I'm here to kiss my boy goodnight." And I always will be. Benji fell asleep holding my hand as the milky white propofol was pushed through his port.
Michael and I went to pick up snacks and retrieve the Scopolomine patch from the pharmacy. For the second day in a row, the copay on Benji's prescriptions was through the roof. I made a phone call to try and get this resolved. I'm confident that an easy resolution will come. With all business tended to, Michael and I could spend some time alone together, enjoying the comfort of each other's company. It wasn't long at all before our buzzer flashed and we were called back to greet a sleepy Benjamin. He rested a while longer while the nurse gathered a wheelchair and discharge papers. He slept nearly the whole way home.
Benjamin vomited twice before dinner. He was suffering a cruel combination of symptoms; this week's chemo was making him nauseous, yet he was hungry from an empty stomach and the residual effects of steroid week. I gave him Marinol and made a batch of his favorite split pea soup. The combination worked. He kept the soup down and a grilled cheese as well, and was able to take his nightly oral chemotherapy with no problems. While the soup was simmering on the stove, we sat together at the dining room table. That perfect light before sunset came through our windows and surrounded my boy. He looked so beautiful.
Tomorrow, Benjamin and I will have a shorter stay in the Outpatient Clinic, with only Cytarabine on his roadmap. I'm thankful we have his symptoms managed tonight. He's quite happy now. I may not be able to let go of The Binder, but I can let go of the worry. I look forward to a good night's sleep for all of us.