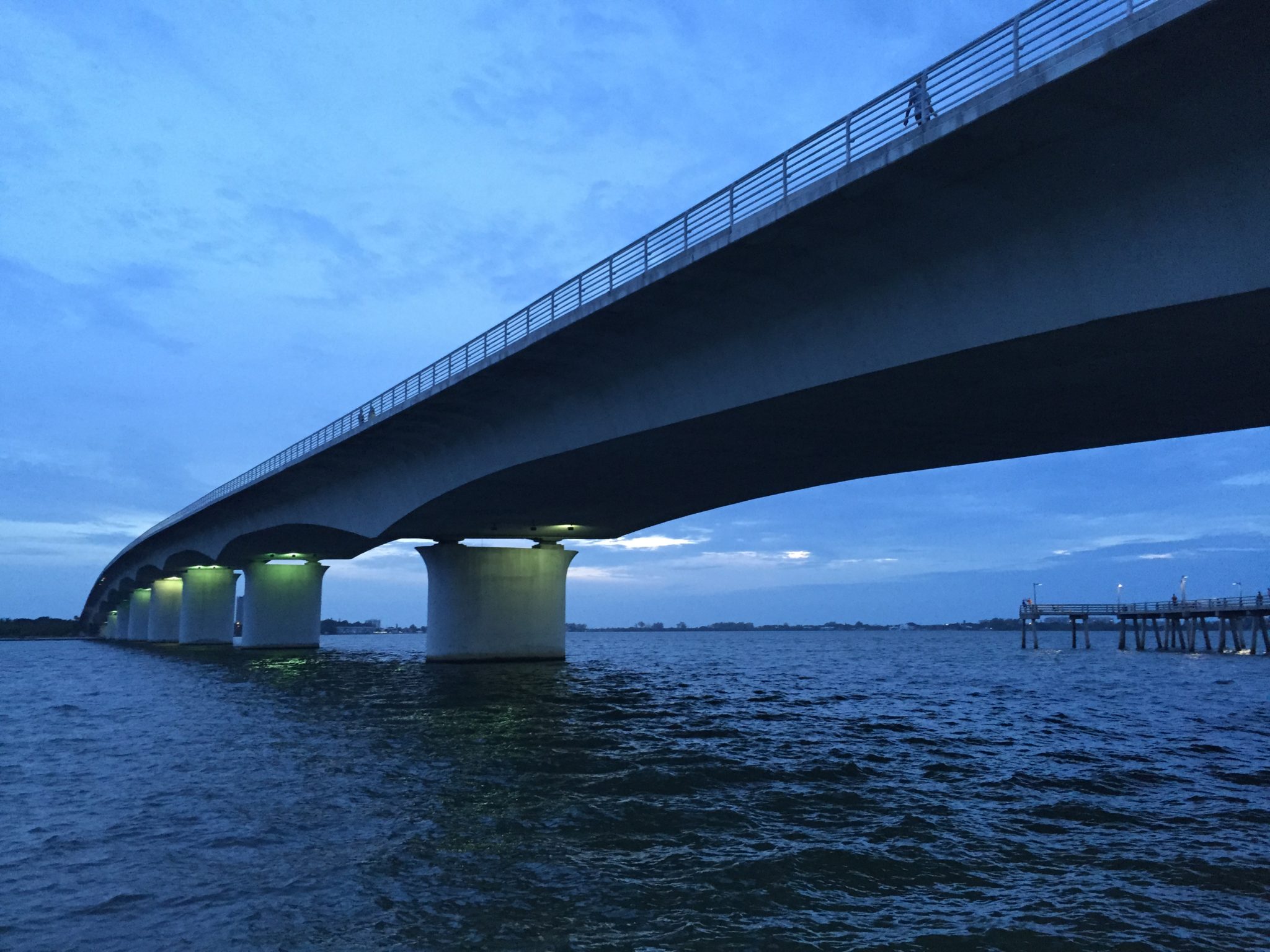 I couldn't sleep last night. It took hours before I finally slept and what felt like minutes before I started waking up over and over. As a result, I was on edge when I woke for the day. I couldn't quite shake the feeling.
After making Benji his first breakfast, my mom and I walked the Ringling Bridge. We barely missed the rain, and the wind was strong against us as we walked uphill. It felt great. She stayed through Benji's second breakfast and then his lunch before heading home. I'm so glad she got to see him during this break in treatment. I don't know what August will hold.
That's the crux of why I couldn't sleep, why I was on edge, why, after my mom left, I busied myself cleaning for the rest of the day–I don't know what to expect. I was trying to create control. After dinner, when my body was still tense, I decided to go back to the bridge. It is my church. It is my reset button. I could think clearly up there in the blue, with Lauryn Hill and Nina Simone singing to me. I let go of the expectation. I released the nerves and the worry. I do not need to control. I can't. This is a lesson I should have learned many times by now. I need to support, to advocate, and to love. That's all. I watched a huge, gorgeous spotted stingray gliding just beneath the surface.
As we move forward, I can protect my path with gratitude. Benji played with friends this afternoon, feeling happy and strong in his body. When he scraped his knee, I gave thanks that his neutrophil count is still high. A week from now, we will be entering the land of Neutropenia again. A scrape will be a much different scenario. I give thanks that my partner is patient and kind when I am nervous and tired. I give thanks that Banyan will be home a week from tomorrow, with many tales to tell. I give thanks that when I look at Benji, I see a healthy, vibrant boy with a sweet, fuzzy head that reminds me of his newborn days.
Tomorrow, Michael's sister will join us as we head over the Skyway to begin the second half of Delayed Intensification with a long day in the Outpatient Clinic. Benjamin's port will be accessed, and we will wait for blood counts before beginning the hydration process that accompanies Cyclophosphamide, which he'll get intravenously in the Infusion Center. He will also be getting his first of eight doses of intravenous Cytarabine, and he'll begin a two week round of oral nightly chemotherapy. The hospital bags are packed and waiting at the front door.
As Benji was falling asleep tonight, he asked how long he would be accessed. I told him four days. He breathed quickly and fought tears. It gets harder and harder, and he gets stronger and stronger. I am so proud of you. You can do anything. He fell asleep easily, and I think I'll do the same.