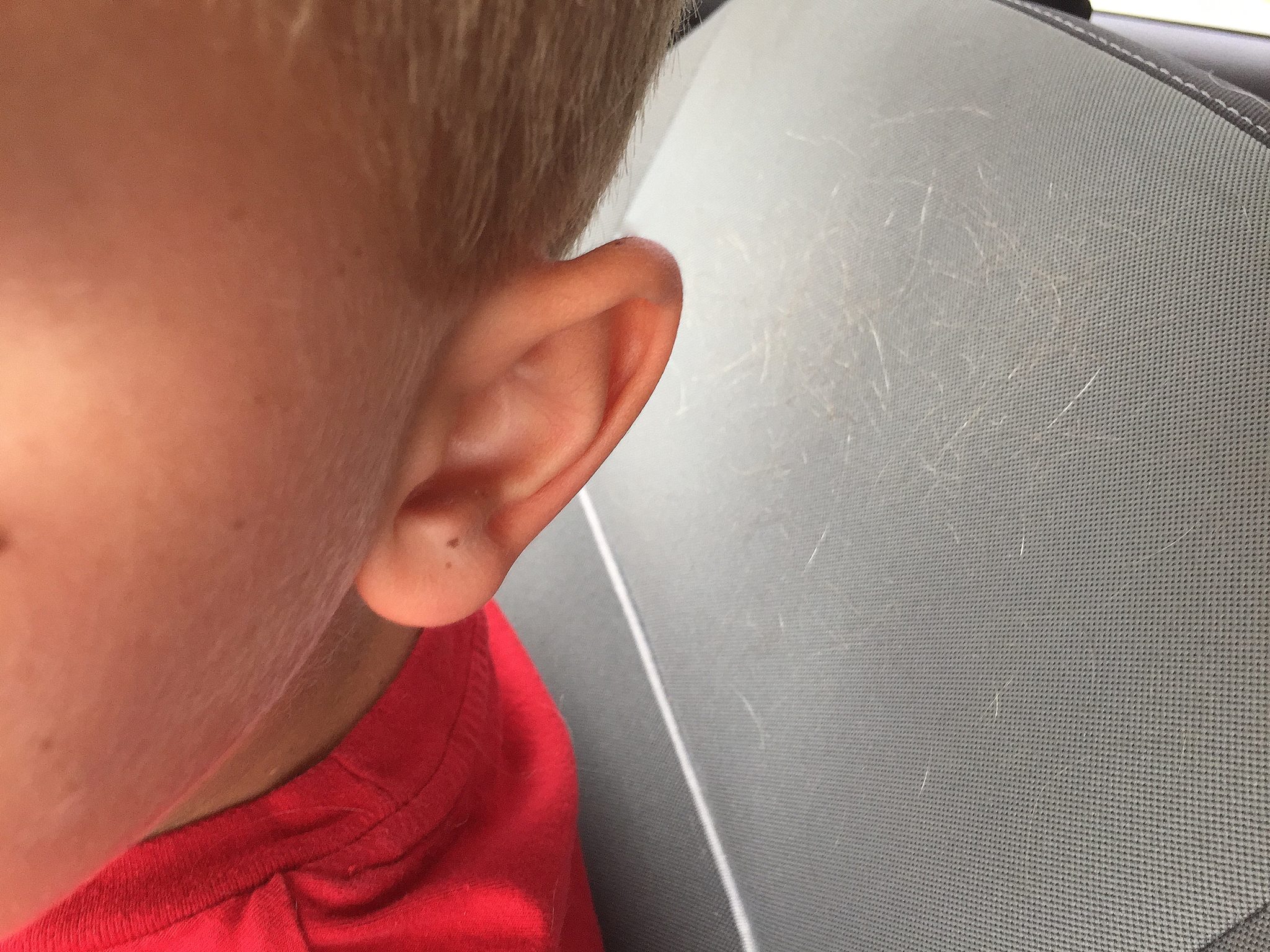 At 12:45am, I made toast with butter and honey for Benjamin, who woke up crying of hunger. At 6:45am, I made him tuna and egg salad sandwiches with mango on the side, another urgent request. At 7:30am, we were sitting at the dining room table. He was eating leftover ribs, and I was mixing up a recipe we'd found for homemade bouncy balls. I was wearing chemo gloves. This is how we began the day.
I was tired, but happy that Benji woke up with energy and interest in projects. It was somewhat short-lived, however. After his tummy was finally full, his exhaustion took over, and he went back to bed to lie down and watch television. By this point I had consumed half a pot of coffee, so I accomplished quite a bit of housework during his rest. When he woke, we packed lunch and headed north toward All Children's Hospital.
It was raining, hard. There was a high wind advisory on the Sunshine Skyway. Benjamin slept nearly the whole way there. All day today, on his shirts, on his seats, on our bed, there was hair. So much of it is falling out now. As he slept, and as the rain fell, and as Rose Bell played Amazing Grace on her fiddle through my speakers, I allowed the tears to fall too. It wasn't the loss of hair itself that clawed at me. It was the knowing that inside his body, cells are dying. Of course they are. That's the point. But if his hair is being attacked, what must the rest of him feel like? No wonder he's been so tired and so sore.
When we arrived at the Outpatient Clinic, Benjamin said he felt weak all over. It was the first time I'd heard him use that word. The medical technician and today's nurse both commented about his low energy. He bravely had his finger poked for his complete blood count, and we were alone for a few minutes. Then Dr. Oshrine walked through the door with a spring in his step. He said that today's CBC was the best he'd seen from Benji–completely and totally normal, and right where he needs to be. His spirits lifted Benji's, and they began joking with each other. Dr. Oshrine answered several questions for me. The Doxorubicin does have a peak effect a week or two after administration. We talked about the intensity of this Dexamethasone cycle. He wasn't surprised. He said that's why there is a week's break built into Delayed Intensification; at this dosage, two weeks straight would be too much for his body. I asked if the dosage would be the same during Benjamin's long term maintenance cycles. He looked it up for me, and I was relieved to see that the steroid switches to Prednisone during maintenance. Most moms report less intense side effects with this medicine. We spent a little more time looking at the road maps for this phase and the next one, then Dr. Oshrine gave Benjamin a brief check-up. We left less than an hour after arriving.
After dinner tonight, I walked the bridge. I didn't run. I needed the wind to wash over me. I needed to breath the salt air deeply into my lungs. I needed to notice every cloud. I watched the fish jumping out of the water, and thought of Benji's hair. When those fish aren't jumping, or the dolphins aren't playing, it's tempting to look only at the surface, and not think of what's going on underneath. But when things come up–or in Benji's case, come out–the world that's been hidden below must be faced: we are intentionally destroying Benjamin's cells, the ones we created in love. Of course we are. That's the point. It's a tough pill to swallow. It requires so much faith.
I couldn't wait to hug my boy when I came home from the bridge. His healthy vibrant cells will regrow with time, with strength, with wisdom, and with love, for his highest good. I know this is true.