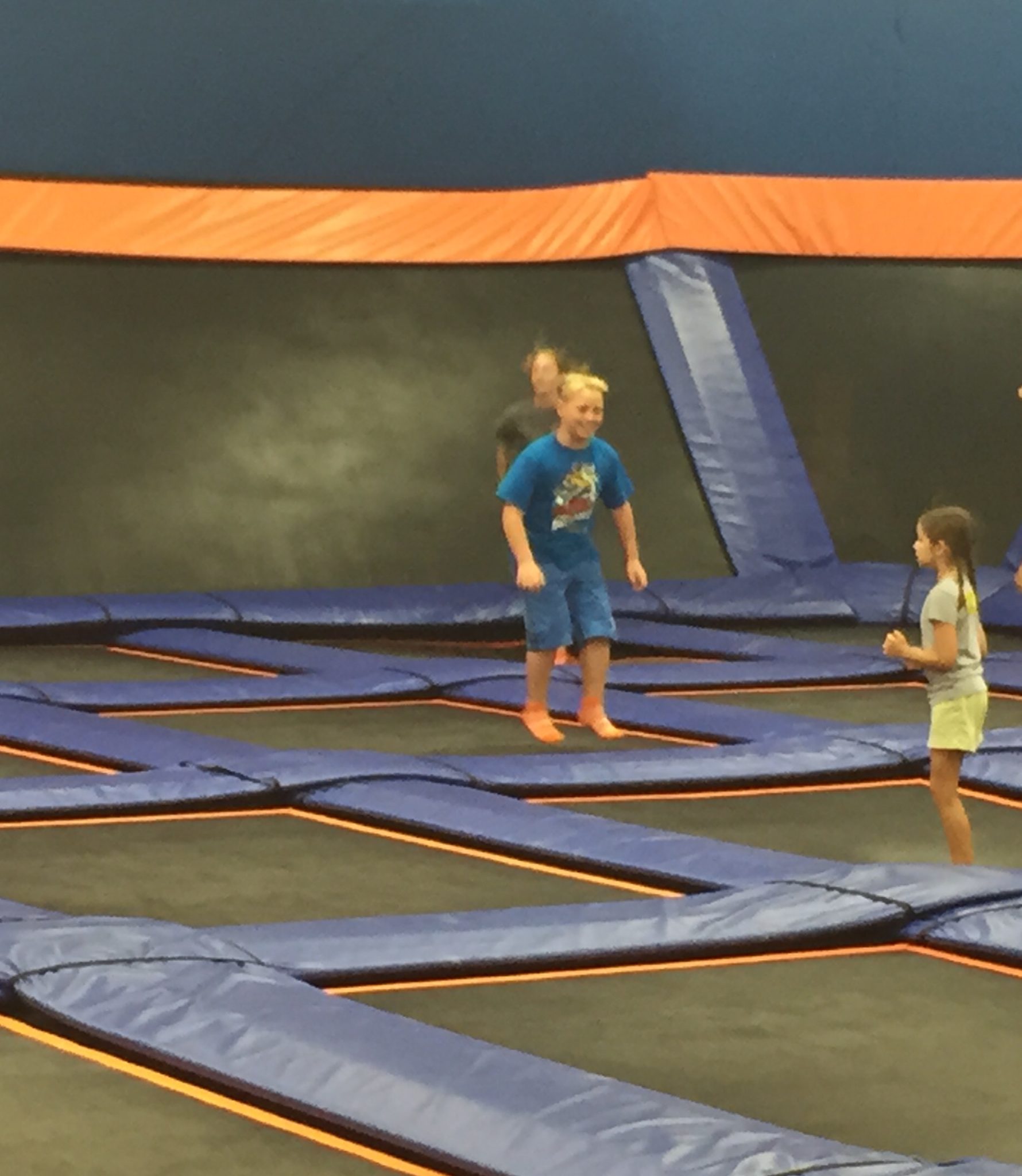 Benjamin has taken his last dose of Dexamethasone until long term maintenance. We won't see the steroid again any sooner than November, and I will not be missing it. I was so grateful to empty that pill box tonight. I had to remind myself to give thanks for the medicine and its role in Benji's healing. It has done its job. But now it's time to go.
After making breakfast(s), I took advantage of a break in the rain and walked-slash-ran the Ringling Bridge. I was rewarded with a glorious Sunday sky. When I came home, it was time for Benji and me to go to our sweet neighbor's ninth birthday party. This party has been a big deal to Benjamin. We weren't sure if we would be able to attend; it was at a trampoline park, and those kinds of places are determined by numbers, specifically absolute neutrophils and platelets. But since both were holding strong at last count, we went for it. Benjamin was tired, but very, very excited.
For a while, Benjamin had a fantastic time, jumping and laughing with the pack. But even with his multiple breakfasts and my emergency snacks, Benji's hunger was vicious. He could soon think of nothing else. I staved him off with an energy bar from the concession stand until it was pizza time. During his next big bouncing session, he and a little girl bonked heads–it happens–and it hurt him to the point of tears. I held him. He looked so tired. He was pale and flushed at the same time, if that's possible, and sweating profusely. He sat on a bench with me to cool off, and reached his hand up to feel his head. His hand came down with a clump of hair in it. He did it again with the same result. Sweat definitely seems to speed up the process. He dared not touch it again.
The combination of hunger, hair, and head bonk was too much. Benji just wanted to sit with me until it was time for pizza and cake. I tried to keep things positive, reminding him how much fun he'd been having, and how great it was that we were able to go. He just sat, disappointed, but mostly tired. I was proud of him. He listened to his body when it was time to rest, and he handled his feelings with stillness and patience. Once we were upstairs and he was eating pizza and fruit and birthday cake with his friends, his spirits lifted again.
It was raining when we left the party. The plan was to go home and meet Michael, then join Kathy and Gana in Osprey for a family dinner. Benjamin fell asleep in the car, and he went straight to bed when we came home. He napped for a while and woke up feeling better, so we loaded up our watermelon salad and headed south. Benji napped again in the car on and off. He had a few moments of perkiness once we arrived, but mostly, he was tired, and down. After he ate a little, he went to snuggle up in his Grammy's bed and watch television until it was time to leave.
Benji barely spoke on the way home. He was hurting all over. I gave him a detox bath as soon as we got inside, then we lay in bed together and read Roald Dahl's The Witches. When I got up from bed, where he was resting on my shoulder, there were blond hairs all over my shirt. I thought about the timing of things. If the Doxorubicin works like the Cytarabine and some of his other medicines do, then they react the strongest in the body at 7-10 days after administration. Benjamin's last dose of Doxorubicin was Monday, six days ago. This makes sense to me.
It was hard to see Benjamin so down for so much of the day, and hard to know he was hurting. I second guessed the trampoline park but only for a split second. He would have been far more down had he not gone. Many moms on the online group report soreness and exhaustion after a steroid week. This is normal. But it's still hard to watch, especially when it's so contrary to Benjamin's nature.
Tomorrow afternoon Benji has a routine clinic visit. A finger poke and a conversation with the oncologist and we'll be on our way. The effects of the Dexamethasone should last another week or so. We'll slowly start to see his hunger wane, his puffiness go down, his mood swings stabilize, and his color return. He's made it over one more hurdle with grace. One day closer.