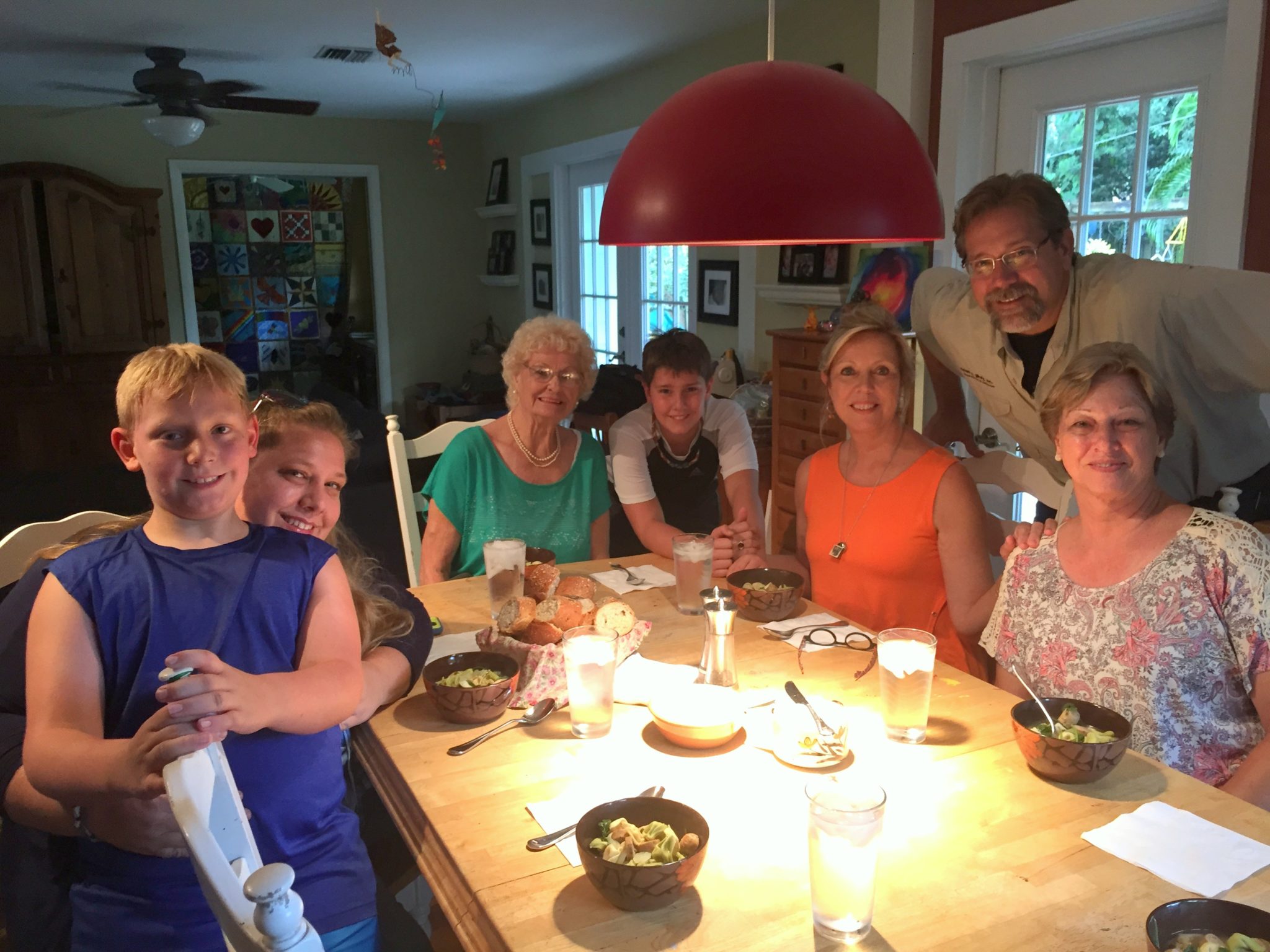 I'm grateful for a clean house and clean dogs. I'm grateful for the machines that are currently washing my dishes and my laundry. I'm grateful for old friends and delicious food. I'm grateful for normal summer sounds like sibling bickery and bouncing basketballs and Michael's truck pulling into the driveway. I'm grateful for oncologists who are partners, and who give it to us straight. I'm grateful for beautiful things that get more precious with time, like Sarasota sunsets and handmade quilts and great grandmothers.
Benjamin continues to feel better each day. We had a busy morning cleaning the house and taking care of our animals, then we joined our Georgia family for a gorgeous lunch before heading over the bridge. When we arrived, I noticed there were several visual references to a little girl named Sofia; a bracelet on our medical technician's wrist, a handmade card in the exam room, photos on the wall. I asked about her. She was being admitted for a bone marrow transplant today. It seemed like the nursing staff wanted to hold her up; to "keep her in the light," as a new friend would say. I am constantly reminded of how fortunate we are. I am keeping Sofia in the light today too.
Benjamin had a finger poke and a complete blood count. While we waited for the blood work to come back, I had a chance to have a nice long conversation with Dr. Grana. Delayed Intensification is Benjamin's next phase of treatment. It will begin July 6th. It is the phase designed to eradicate any remaining leukemia cells in the body. It will last for two months, the first month closely resembling the Induction Phase (the first phase), and the second month identical to one of the months of Consolidation (the second phase). We will be making many, many trips over the bridge in July and August. I have kept my worry about "what's next" at bay rather easily, as we are in this blissful break between phases, and we intend to enjoy it. But many moms online refer to Delayed Intensification as the worst phase for their kids. So I asked Dr. Grana directly what she thought I should prepare for.
Dr. Grana said the first month of Delayed Intensification shouldn't be too difficult for Benjamin–not "a walk in the breeze," she said, crossing idioms in her Puerto Rican accent, but not awful either. He will be getting Doxorubicin, a medicine we've never seen before. This is the one the moms' group tells me is most likely to make his hair fall out, though it's not definite. It also comes with some nausea, and it will have some colorful effects on his urine, which Benjamin is actually looking forward to. He will also be taking steroids in a higher dosage than ever before, so our kitchen will get lots of play.
The second half of Delayed Intensification will be a little less predictable. Dr. Grana told me that we should expect August to be a rough month. This part of treatment, much like Consolidation, is designed to suppress Benjamin's bone marrow. His counts will drop, and hospitalizations are expected. As I walked the bridge tonight, I thought about living in the moment, and why it has worked so well for our family. In the spring, I thought for certain that Benjamin would start second grade with his peers. I told many folks at his elementary school as much. Now, I'm not sure of that at all. I had a moment of sadness at the prospect of yet another nervous re-entry into a classroom, another hard thing for Benjamin to overcome. I let the thought go. I don't know what will happen in August. And if Benjamin has taught me anything, it is that he is extremely capable at overcoming obstacles.
Dr. Grana and I were wrapping up our conversation when Benjamin's blood counts came back. His numbers were terrific. His platelets and hemoglobin were within the normal ranges, and his absolute neutrophil count (ANC) is over 1,000. He is neutropenic but not severely so. He will stop taking his oral chemotherapy Sunday night, and his ANC will continue to climb next week, strengthening his body for what's to come. I talked to Dr. Grana about bacteria in the ocean, and whether a mosquito bite or an open wound should keep us away. I told her I was considering purchasing a home bacteria test. She told me to save my money, and to remember that saltwater heals. I love that woman. We will definitely be in the water soon.
When we came home, we welcomed Michael's mother, sister, aunt and grandmother to our table for dinner. This was a rare treat. All four women had a hand in the quilt our community made for us, and they got to see it displayed on our wall. Michael's grandmother saw that the wedding quilt she stitched for us thirteen years ago hangs behind our dining room table, where we are nourished. When we joined hands before the meal, Michael's aunt asked a special blessing on our family and on our home. It almost made me cry. It was such an honor to feed these people that have given our family so much love.
During the next eleven days, we will celebrate as Banyan turns eleven, and we will prepare for his third summer at camp. We will celebrate this generous number of days for Benjamin, whose body will recover and replenish. I believe this will be our longest stretch without a trip over the Skyway since Benjamin's diagnosis. I am giving thanks, and living in this moment.