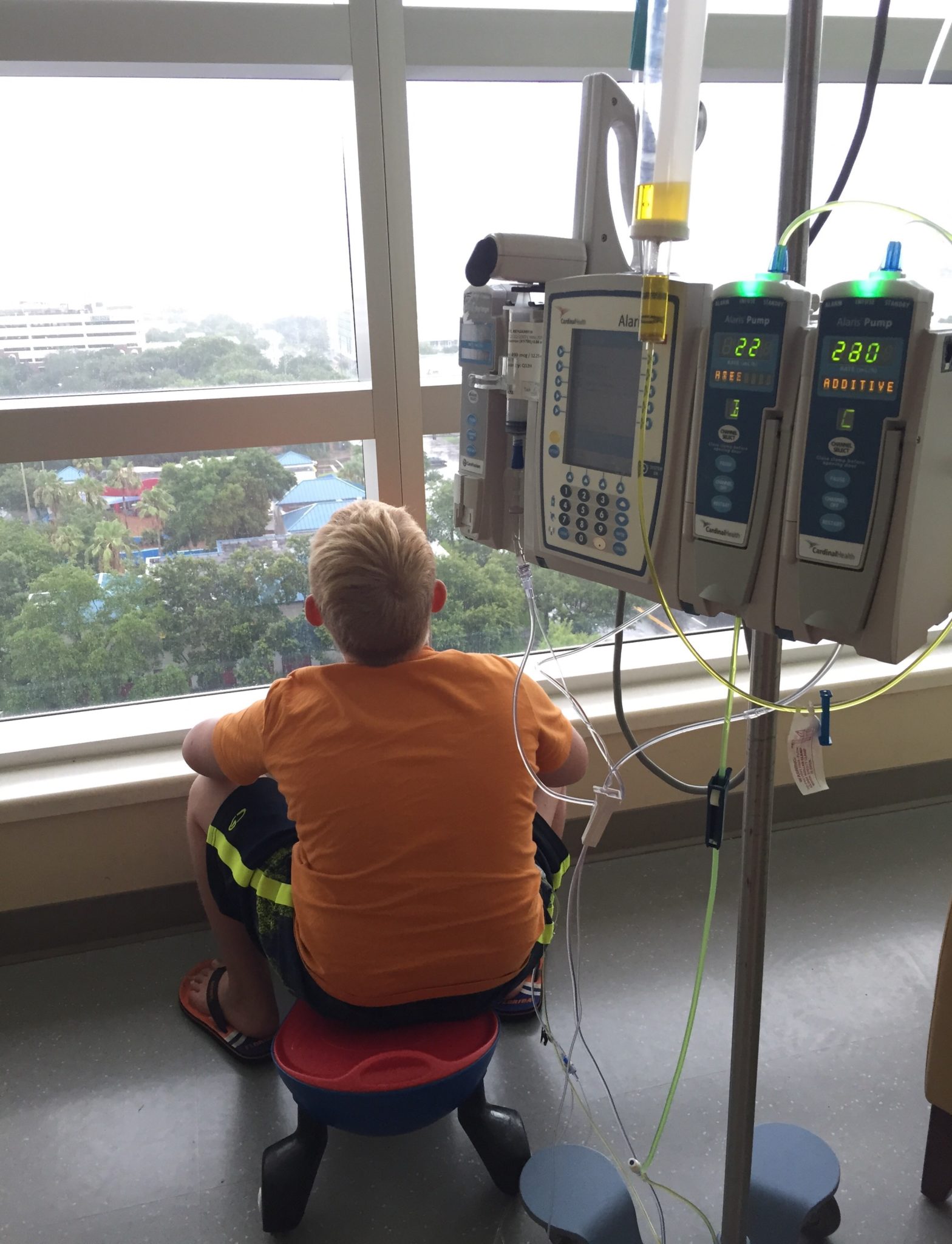 Today's pattern mimicked the second day of Benjamin's last hospital stay. He woke up and vomited twice within the first hour. I found myself grateful that we had family visiting last night, when his appetite was strong.
I called our sweet nurse in to request a dose of Marinol, the last in Benjamin's trifold arsenal of antiemetics. She was our nurse yesterday as well, and was there when we were enjoying our Greek dinner last night. She came in with the medicine and told me our dinner had looked so good that she stopped by the same restaurant on the way home to pick up a gyro. She was charting Benji's medicine and going on and on about how delicious the gyro was. I know she meant well, but all I kept thinking was, "You mean the gyro Benjamin just regurgitated??" He looked at me helplessly. I managed to muster, "I know, right? But probably not what Benji wants to hear right now," with a nod toward the bucket still in his lap.
The Marinol, once again, worked beautifully. Benji's nausea went away and his spirits were strong. We finished The BFG, and found a delightful animated film version circa 1989. His appetite was healthy enough for popcorn, but that was all he'd eat all day.
After our slow and snuggly morning in, we ventured out to get the methotrexate moving. We played several rounds of air hockey, borrowed the plasma scooter for some laps around seven south, and parked at the windows on either end of the floor to watch the rain. We looked at the names outside the doors. We saw two babies alone in their rooms. Benji said, "You know how there are kids here without parents? We should bake them cookies next time we come." Deal.
Benji wasn't feeling well again after so much activity, so we went back to our room. We were deep into a "Where's Waldo?" book when Michael and Banyan arrived with several thoughtful measures of comfort. Soon, Benji was ready for another lap. The boys went to play air hockey and I took a power nap on the recliner, one for which I was most grateful.
When they returned from their adventure, Benjamin's methotrexate drip was on its last few milliliters. Our nurse gently and slowly flushed Benjamin's line before and after drawing his blood to determine a baseline level of methotrexate that will need to clear before we can go home. He did well with the flushes, but vomited half an hour later when I tried to give him his glutamine. Once again, it was Marinol to the rescue. This time it didn't increase his appetite, but I'm hoping it continues to stave off the nausea for the rest of the night.
Michael and Banyan left and I drew Benjamin a bath, relieved that I remembered our Epsom salts with frankincense from home. We avoided another flush by keeping him hooked up to his fluids, putting Press 'n Seal over his port, and me holding his line up and out of the water.
It's the little things that get me. Benjamin was just sitting there in the tub, staring at the water. He didn't feel well at all. His spirits started to rise when I tossed him the ball that Michael had brought. He was having fun playing with it, until he leaned over too far and I had to remind him not to get his port wet. His entire demeanor fell again. For a moment, he was just playing with a ball in the tub. I had to take that away.
When Benjamin got out of the bath, I wrapped him in a towel, and he put his head on my chest and exhaled into me. We stayed that way for a long time. That's when the tears came. He didn't see.
Benjamin's baseline methotrexate levels were the lowest they'd been, at 41.94. He'll begin taking the rescue drug Leucovorin tomorrow, and his blood will be tested around noon and then again at 6pm. If those levels are less than one and then less than 0.4, we head home. If either level isn't met, we stay.
There was a full rainbow over the bay at sunset tonight. We all sat by the window and watched.