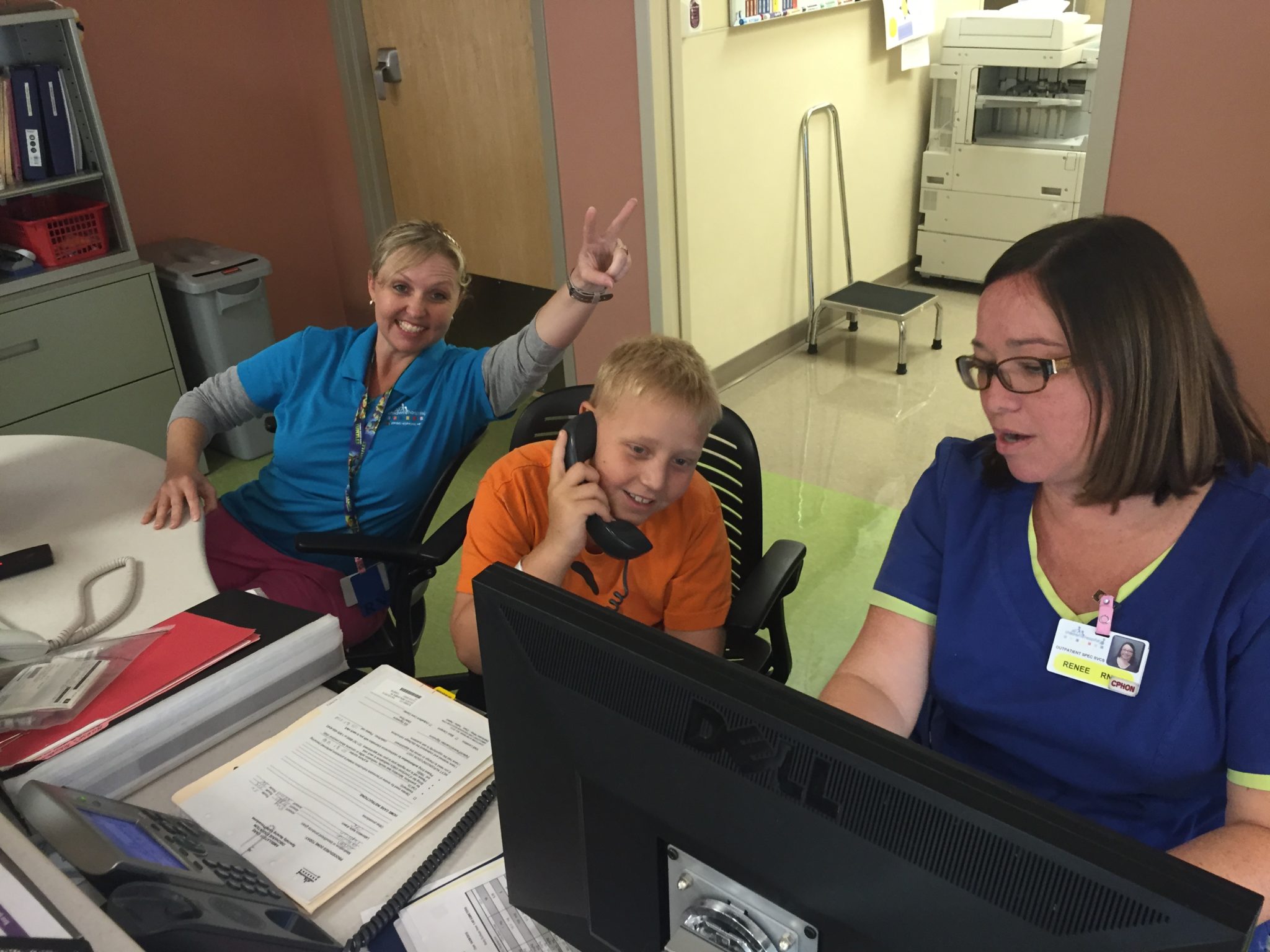 The mood in my car was light and joyful as we headed over the Skyway this morning. Benjamin and I were both excited that his dressing would be removed and his port deaccessed today. Of all of the dreadful parts of leukemia–hospitals, chemotherapy, needles, side effects–the annoyance of tape on skin is something I never would have imagined could cause so much heartache. Goodbye, dressing. We will not miss you this weekend.
Benjamin's platelets got a huge boost from Wednesday's infusion, coming in at a healthy 96,000 today (normal range is 150,000+). His hemoglobin has been strong all week, between 8 and 9, so no red blood needed. And at first, when I saw today's absolute neutrophil count (ANC), I was elated–735! Then I looked back at the numbers from the week and realized that I had somehow miscalculated the ANC from Wednesday. I thought it had been 280, which would have made perfect sense. But I had moved the decimal space two numbers instead of three. It was 2800.
As strong as this number sounds, I was worried. It's abnormal. Michael was worried too, when I told him by phone. I was glad it was Friday, which means a consult with the oncologist. I was also glad to see Dr. Oshrine. I grilled him about this ANC spike. What does it mean? Is the chemo not working as well as it should be? Why wasn't it suppressed Wednesday? Isn't it still a little high now? Could he be fighting an infection we're not seeing? Would it be prudent to do an additional blood chemistry or peripheral draw to screen for bacteria? Dr. Oshrine must have told me twenty-seven times not to worry. He said that at this stage, they worry when counts are too low for too long. He agreed that the 2800 was odd, "perplexing" actually, but he assured me it wasn't a red flag for anything that may be going wrong. No infection, no indicator of efficacy. Just another unpredictable blip in the pattern, and apparently it's not uncommon.
I posted about this anomaly in the online moms' group I've grown to depend on, and was instantly relieved to see that this happens with many, many other kids during Consolidation. I am really trying to learn not to have any expectations, but based on the experiences I read in the group, and Dr. Oshrine's forecasting, I wouldn't be surprised to see Benji's ANC drop way back down again next week. So heading into the weekend, we will accept this 735 with gratitude, and enjoy knowing that Benjamin's body can fight infection a little more powerfully than it could have a week ago.
After our consult, we waited for shots. And waited. And waited. I was watching the clock; I'd moved Benji's appointment to the morning, rather than the afternoon, for two reasons. First, I knew there was chance he'd need blood product, which takes much longer than just the Erwinia shots. I wanted to be sure we'd have time if we needed it. Also, the boys' school has a special tradition of placing permanent tiles on the walls with each fifth grader's handprint when they graduate. This afternoon, Banyan would place his handprint on his tile. I hoped I'd make it in time, but I wasn't counting on it. The clock kept ticking.
The Infusion Center has to get all medicines delivered from the lab. The needles took a long time to arrive, and when they did, they were the wrong size. Hence the waiting. But our amazing nursing team kept Benjamin entertained, playing games with him, letting him "work" behind their desk, showing him the light they use to find stubborn veins, and doing their Friday dance with extra flair. These women are angels.
Finally, his shots were delivered. Benji was amazing. He remembered to breathe this time, and watched the whole process. He shook the pain off immediately, and requested specific band-aid art from the nurses. He inspires me.
After the hour of vitals monitoring that follows Erwinia, Benjamin's dressing was carefully removed, his port was deaccessed, and we were free to go. As we left, we saw his new friend Cody in the waiting room, ready to head in for treatment. We chatted for a little while, specifically about the phase that waits for Benji after this one–Interim Maintenance–which is the one Cody just put behind him. It includes hospital stays. We'll be ready. I am quite thankful that these two have found each other.
On the way home, we continued listened to our new audiobook, Wonder. It's about a boy who was born with facial deformities who is going to school for the first time. There were lots of mentions from the main character of hospital stays, of wanting to fit in and be normal, of feeling like other kids are talking about him behind his back. Benji listened with rapt attention. It's a fantastic book.
We swooped into Sarasota just in time. Grammy took Benji for a quick sandwich while I ran into Southside, hoping I wouldn't miss the tradition. Banyan was the last kid in fifth grade to make his mark. He had waited for me. After he signed his name on his tile and ran to join his friends on the playground for Fun Friday, I got in my car to meet up with Grammy and Benji. The tears came without warning.
I have the most wonderful children in the world.