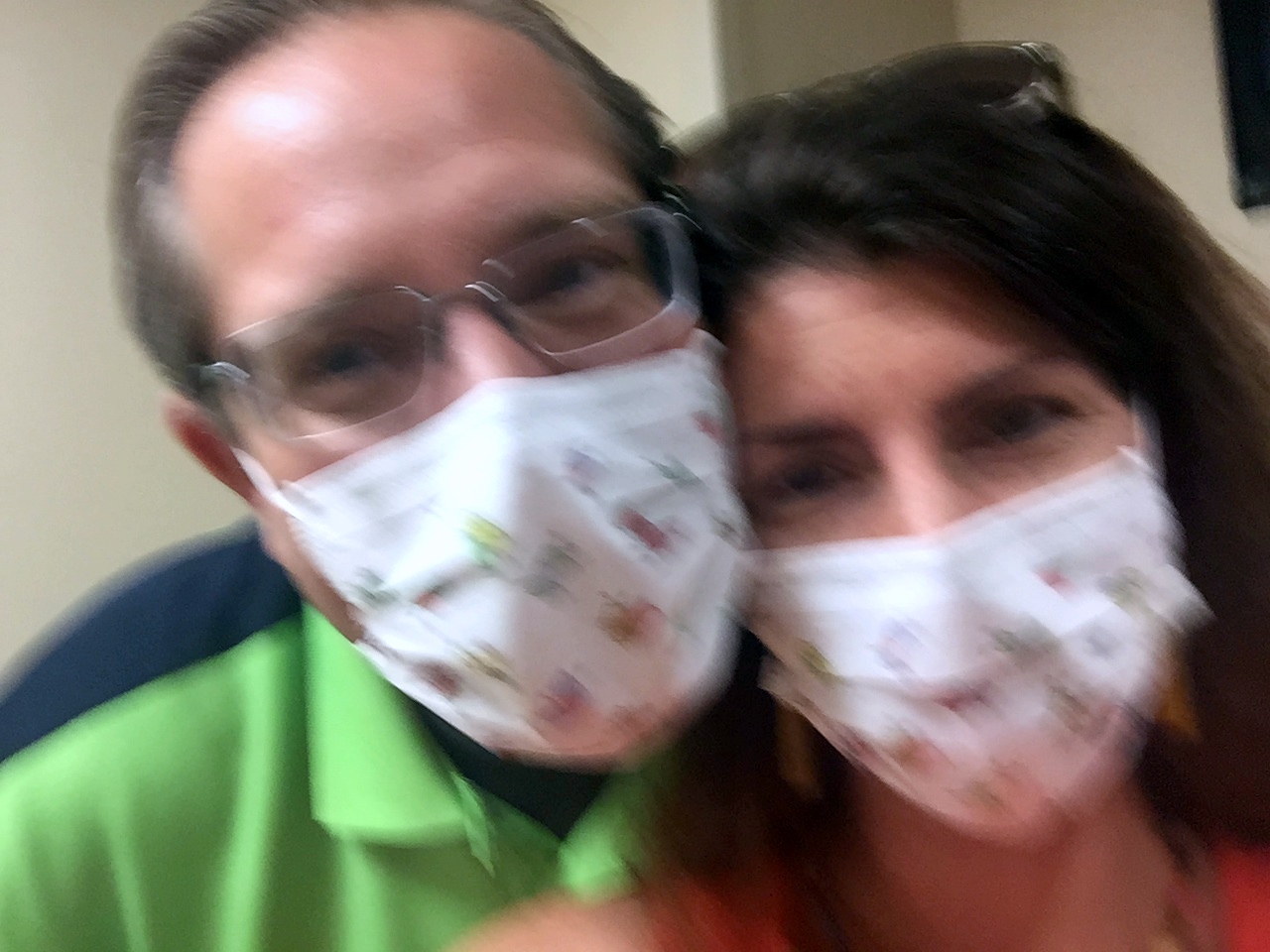 I know this photograph is blurry. I don't care. It's the only one Michael and I took of ourselves today, on our thirteenth wedding anniversary, standing with Benjamin as he had his port accessed for yet another week of chemotherapy. I will treasure this shot. I am so grateful for my husband, a partner in the truest sense.
Benjamin's counts surprised us a little this morning. The physician's assistant we saw on Thursday predicted a larger drop in absolute neutrophil count (ANC) than in platelets and hemoglobin; instead, Benji's platelets have dropped significantly, to 46,200, and his hemoglobin is down to 8.38. We saw petichiae and watched his color get paler over the weekend, so these numbers made sense. But we weren't expecting his ANC to hold so strong. It's at 449, showing just a nominal drop over four days.
At first I was a little worried. I had to ask–does this mean that last week's Cytarabine isn't working as effectively as it should be? Not at all. The number could easily drop further, but holding steady just below the 500 mark is a great place for Benji to be right now. He's severely neutropenic, so the medicine is working to suppress his marrow effectively, but he still has precious neutrophils to fight infection. There were a few more sniffles today but no fever. We'll take it.
We saw Dr. Oshrine today. He explained that when patients are getting Erwinia shots, the oncology team gives platelets sooner than they normally would, to give the body a better chance at healing and clotting from the needles. Usually the protocol is to transfuse at or below 10,000. Because Benji starts Erwinia again this week, they'll transfuse at or below 30,000. This will likely be the case on Wednesday. His hemoglobin protocols are the same; red blood transfusions happen at or below 7.
Benjamin was absolutely amazing during his shots. I wondered if the "time off" from them may have built up any fear, or resistance. He took them without protest, without flinching, without a sound. He holds his breath and scrunches his face up, but he watches the needles go in every time. When he finally exhaled, we took a few laps around the Infusion Center, and sat back down for schoolwork and the hour of vitals monitoring that follows. During the last fifteen minutes, he got his dose of Vincristine intravenously. He'll have this again next Monday. Tonight he also took his last 6MP pills during Consolidation. We are in the homestretch of this phase. I'm trying to stay present.
Michael is a (brilliant) landscape architect, and one of his maintenance crews was at our house this afternoon when we came home. The crew leader and Benji have always had a special bond, formerly predicated on leaf blower chases and cool power tools. Now, they share something much deeper. Adam also had leukemia, diagnosed two years ago. On Friday, his port was surgically removed. He is cancer-free. Benji saw his bandage and talked to him about how the removal felt, and which medicines gave Adam the worst side effects. I am so thankful for people in Benji's world who are looking at this experience in their rearview.
Michael and I were offered childcare tonight for an anniversary dinner. We declined, opting instead to snuggle in and watch college basketball with the family we've created. There's no place I'd rather be.