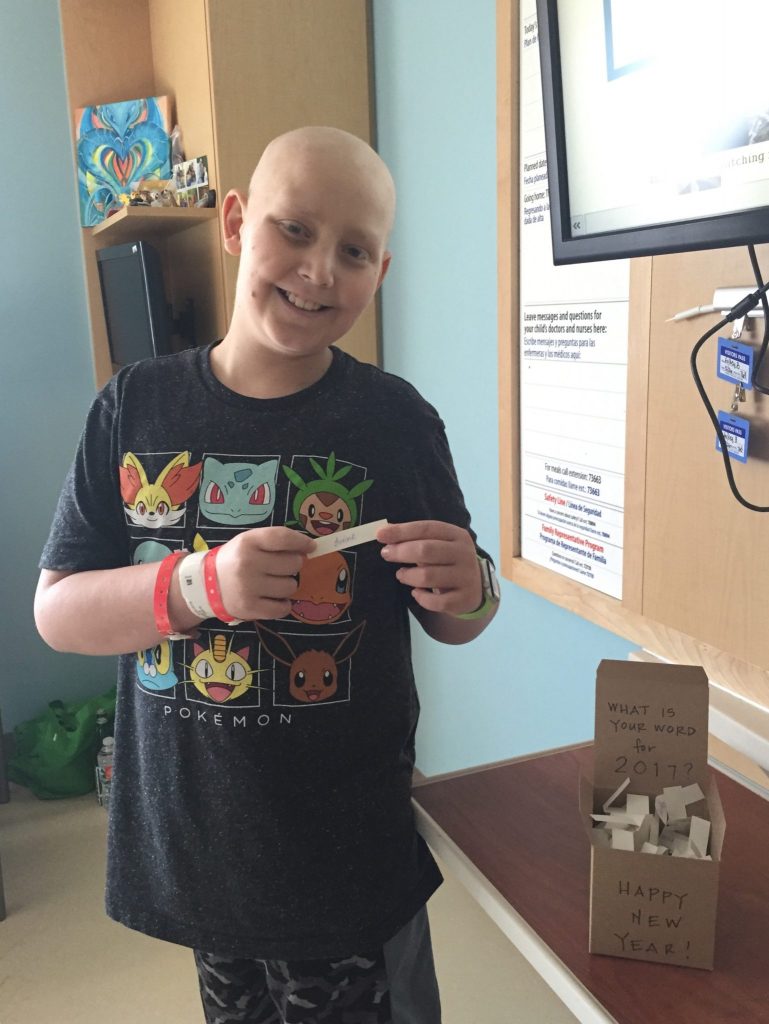 Benjamin began this New Year with a strong and happy day. He got plenty of sleep last night. He only complained of tummy pain a couple of times, and mildly. His appetite continues to increase and he is slowly gaining weight again. His lab numbers are holding very steady, including his blast percentage (12), and he hasn't needed a transfusion since Wednesday. Things feel so much easier when he feels this good.
The inpatient team is helping try and transition Benjamin to outpatient care when the time is right. Now that his nausea is gone (thank goodness), he can take pills again with ease. Every medication that can be given orally has been switched and removed from his intravenous regimen. He is only on IV fluids at night now and drinking plenty during the day. I am hopeful that in the weeks ahead this week, perhaps when a plan is in place, we will be spending some time at home.
Michael spent all morning washing the clothes and blankets and stuffed animals that were in our C. diff contaminated room. When he arrived this afternoon he had a suitcase of freshly laundered and folded things with him. There is so much we don't have to worry about because of how well he takes care of us. Banyan didn't join him today; he was with a friend who took him fishing on his kayak. It makes me so happy when Banyan gets the time and space he needs to just be a twelve year old kid.
On most New Year's Days, we can be found at home, celebrating our abundance with the family and friends we love. Obviously we couldn't do this today, but we decided to carry out one of our favorite traditions from these annual gatherings: the Word of the Year. At our New Year's Day parties, we fill a jar with words, and our guests take one into the year ahead. I found an old list of words on my phone and added a few to it, then cut them out and put them in a box. Throughout the day we offered the words to nurses, family and friends, both here and online. It felt good to share this ritual with our people, even if we weren't sharing our home. The words hold a special kind of magic for me.
Benjamin wanted to pick the words from the box. Before he pulled each one, I would tell him who it was for. Most names he knew, but some he did not. I'd give him a summary of how they fit into our lives. When I mentioned that one woman had lost her husband this year, Benjamin asked immediately how he had died. He tried to make his voice sound casual. He is increasingly curious about death. It's understandable, especially considering his living arrangements. In the room two doors down today, an adolescent boy was surrounded by a huge, overflowing family in tears. They encircled his bed, they filled his room, they lined the halls. Hospice care had just been called in. We know way too many families who have had to make this decision. Benjamin didn't know the specifics, but he felt the energy. It's impossible not to.
Before we opened up our word box to others today, we took Words of the Year for ourselves. For the second year in a row, Michael's word is STRENGTH. Benjamin picked EXCITEMENT for Banyan. My word is ACCEPTANCE. And Benji, who pulled the first word of the year, chose DIVINE. Four more appropriate words I could not imagine.
Happy New Year, friends and family. We love you all.