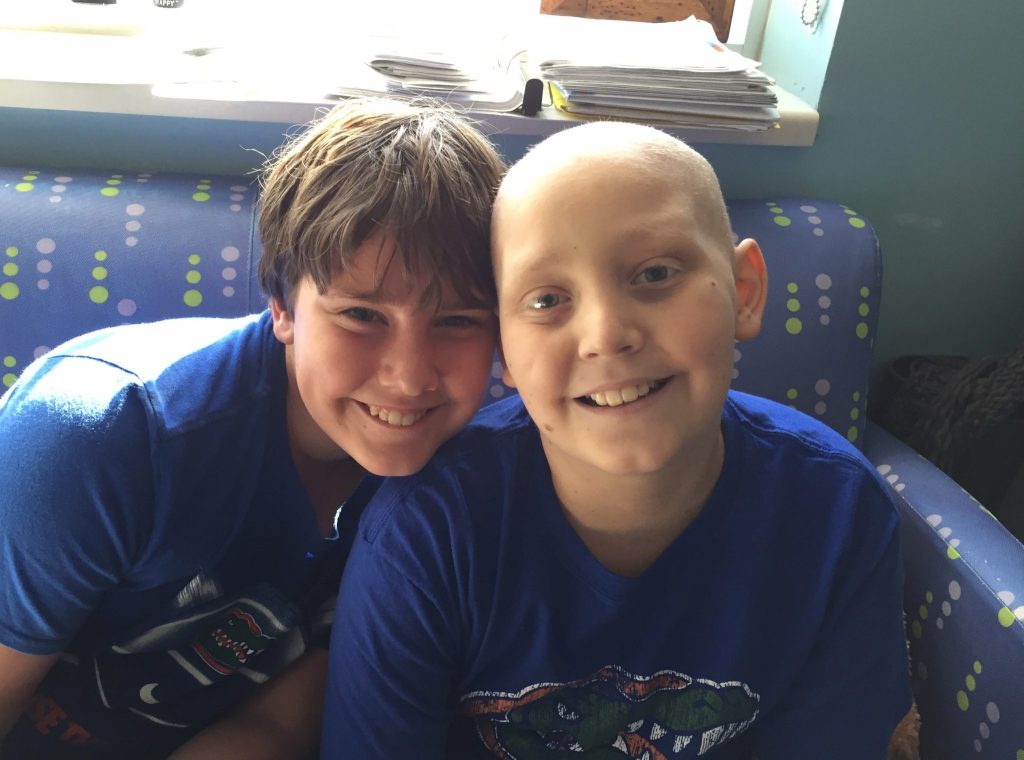 Today was relatively quiet on 7 South. Benjamin and I both slept in and woke up feeling refreshed. His lab numbers were a little discouraging; his blast percentage was up to 34% (a huge jump from yesterday) and his platelets were down to 6,000. But we've learned our lessons well. We know to look at the boy, not at the screen–and right now, the boy looks fantastic. We also know that one day does not make a trend. The actual trend we shouldn't lose sight of is that Benjamin hasn't had a transfusion since last Wednesday. That's a big deal, in my opinion.
During morning rounds, the attending physician told me that Dr. Oshrine had asked her to send him Benjamin's flow cytometry report. He's not back until tomorrow. It was impossible not to read into this communique, as fruitless an exercise as that is. Michael believes that Dr. Oshrine has an answer from CHOP and is waiting to discuss it with us in person. This may be true. I know we will know more tomorrow. I am trying hard not to think too much about it.
Benjamin was due to have his port reaccessed today, but we decided during rounds to postpone it. If the plan Dr. Oshrine lays out before us includes transitioning to outpatient care, it makes sense to wait so that Benji isn't accessed more than necessary this week. Postponing also means he can possibly avoid an extra platelet transfusion. It was a good decision, one Benjamin obviously strongly endorsed.
Kathy and Gana brought us a New Year's toast of sparkling cider this morning, and Michael and Banyan brought football food to watch the Gators play in the Outback Bowl this afternoon. Benjamin had a very healthy appetite today. At halftime we walked around the unit and spent some time in the play room with the Xbox. Benjamin felt really good today, all day long. With things beautifully stable, I decided to take a long walk alone before Michael and Banyan left. They have to resume work and school tomorrow. It will be a strange day; back to normal in many ways, so far from normal in others.
I don't know what we will learn tomorrow. I don't know if CHOP has made a decision or what that decision might be. I can't know these things. My word of the year is acceptance, and I will do the best I can. Benjamin is so strong and so solid right now it's impossible not to be filled with hope.