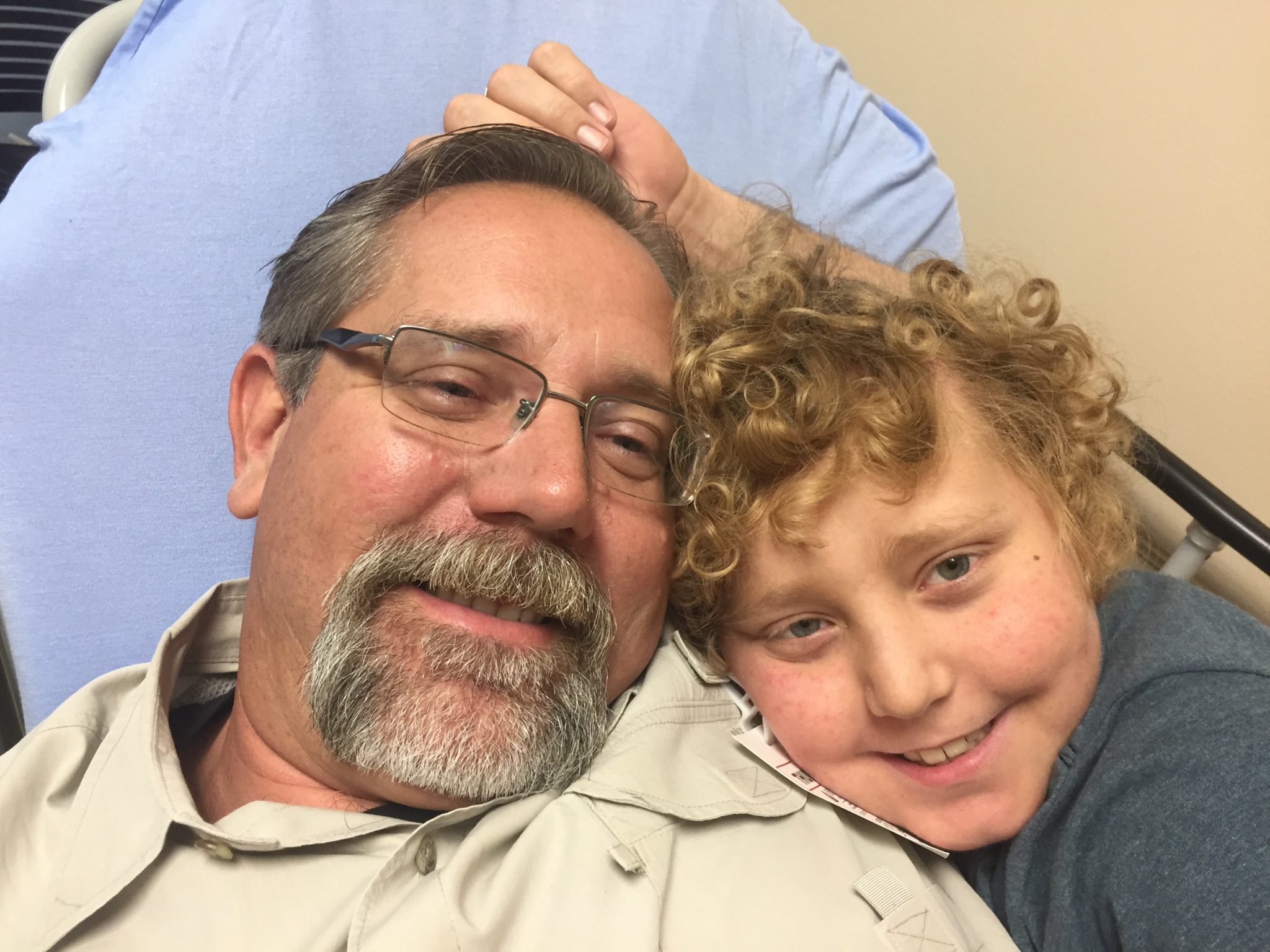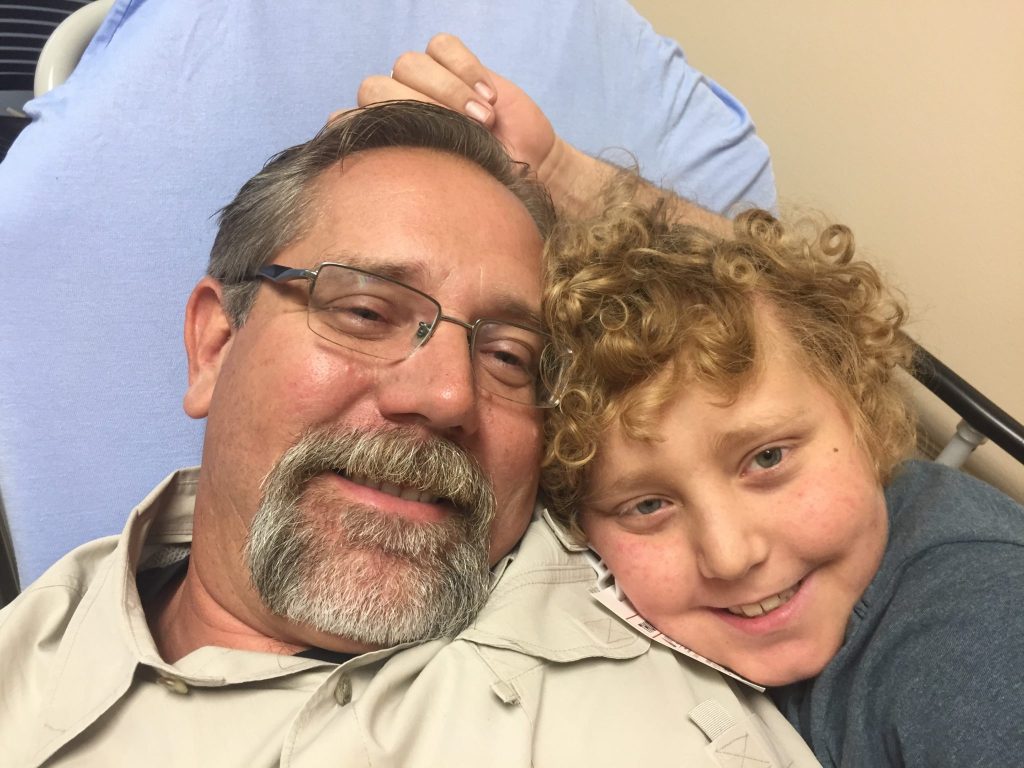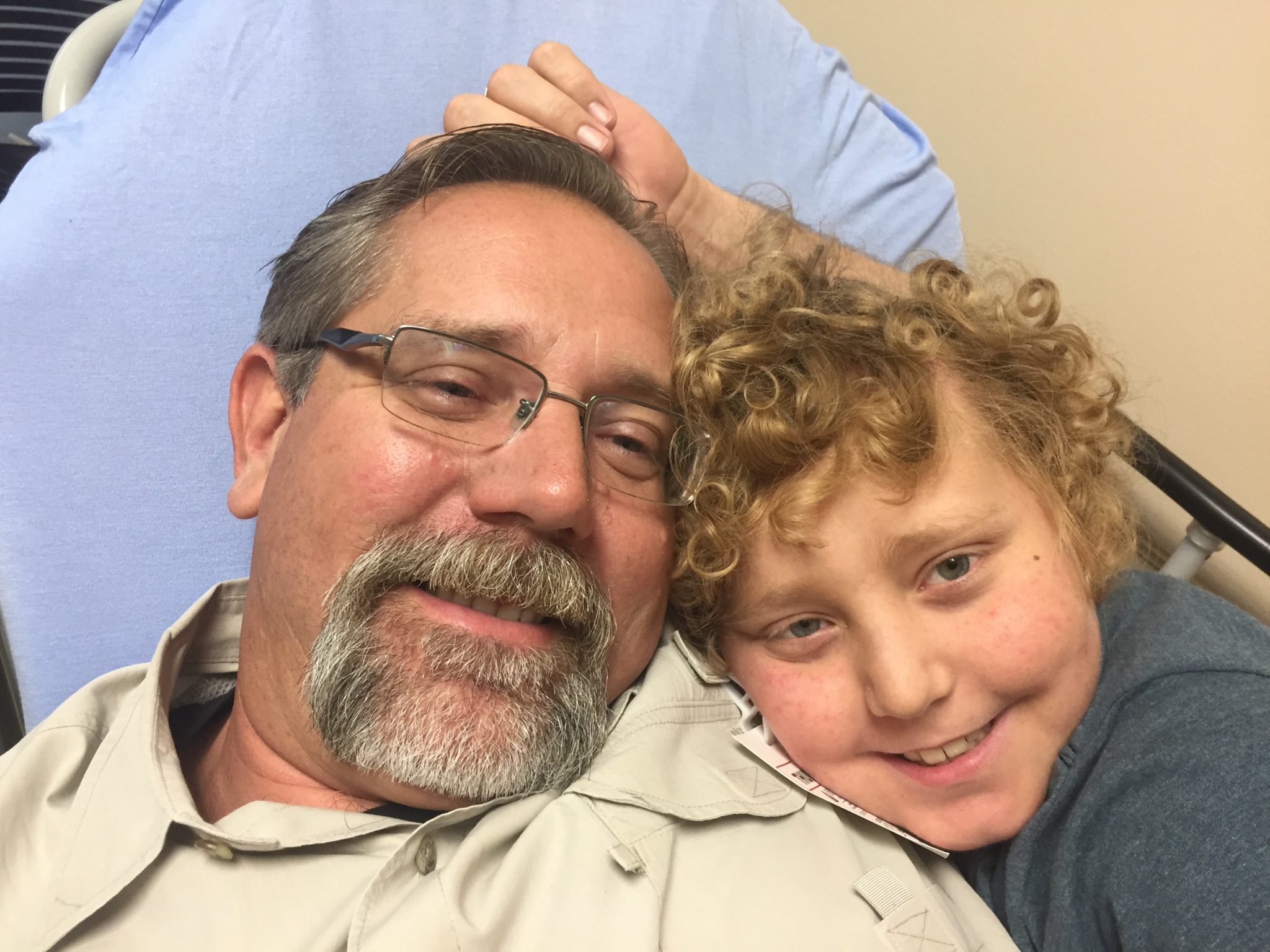 At the end of days like this, when I come to this space, I find an exhaustion that permeates everything. I want to collapse but I need to sort things out. I can't imagine how Benjamin feels. He continues to teach me how to handle this–with patience, bravery, humor and grace.
Banyan was up and dressed at sunrise when I returned from a long overdue and very therapeutic bridge walk. He thoughtfully and quickly ate his breakfast before Benji woke, then tiptoed in to snuggle his brother until the last possible second. We let Benjamin sleep until the moment he had to plod his way sleepily to Michael's backseat. We dropped Banyan off at school, gave Benji Kytril for his nerves and put numbing cream on his chest, and headed north over the Skyway.
Benjamin's bravery was called upon right away in clinic. We expected his ANC to be high enough to move forward with his bone marrow aspirate, but we knew there was a possibility it would be lower and we'd have to postpone. So Benji had a choice: draw blood with a finger poke (which he MUCH prefers), or go ahead and get accessed and assume the aspirate would happen. A finger poke was the easier and more comfortable choice, but Benji knew the chances were good he'd have to be accessed anyway once his lab results were back. So he told our nurse to go for it. Super brave.
Things just feel differently in clinic than they do upstairs. Benjamin was nervous, but less so than he was during his admission. Our nurse had no problem finding the perimeter of Benji's port and accessing it perfectly the first time, with complete blood return. Her success worked wonders for his confidence. She drew his blood and sent it off to the lab.
We were scheduled to see Dr. Grana this morning, with the disclaimer that Dr. Oshrine was seeing only transplant patients. We politely requested to be added to his roster. Benjamin is in the on deck circle for transplant, after all, and we needed to talk to our guy today. Michael delivered this request firmly but diplomatically. We had a big decision to make with the suggestion of the Broviac implantation prior to Blinatumomab.
Dr. Oshrine suggested we wait until immediately prior to transplant to place the Broviac. He didn't want to risk so much time with the Broviac exposed to the possibility of infection. He wants the Broviac to be as clean and perfect as possible when it is called to do its biggest job: transplant healthy bone marrow into our son's body. This all made perfect sense to us. I told him we agreed, but appreciated the 7 South nurses contacting us with such a forward thinking idea. The nursing staff has to handle things from such a different perspective. They are often the ones who can make a patient's experience more comfortable, and should be involved in most practical implementation decisions like this one.
While Dr. Oshrine was talking, the results of Benji's blood work came back–partially. They looked great at first glance. Benji's platelets have increased to 78,000 and his hemoglobin is at 9.7. Both of these numbers are signs that his marrow is making its own cells again. His white blood cell count spiked significantly since our discharge, which raised concern with me. But the other numbers were so encouraging that I accepted the explanation that the spike was due to the formation of new neutrophils. We asked what his ANC was. The differential isn't back yet. I really hate those words. Michael and I shared an expression we've shared far too frequently lately.
The reason the differential wasn't back is because it was sent to pathology. Again. Benjamin's blood revealed over 8% blasts today. The pathologist felt confident these were leukemia blasts, and not the recovery kind we'd hoped for last week. Dr. Oshrine reiterated that it is difficult to discern the identity of these cells with certainty, and that the bone marrow aspirate would give us much more definitive data. It doesn't quite add up. It seems that Benji's marrow has recovered enough to produce new healthy cells, and there is a population of leukemia cells that is also increasing.
I am hopeful, of course, that the blasts aren't what they appear to be. Optimism used to come so naturally to me. I have to work a little harder now to get there. There have been so many punches to the gut lately. I reminded Dr. Oshrine that Benjamin started long term maintenance one year ago today. This is not where we thought we would be on such an anniversary.
Benjamin's ANC wasn't back yet, but given his white blood cell count, the number was somewhat irrelevant in Dr. Oshrine's decision to move forward with the bone marrow aspirate. We know there is an adequate sample of cells to sort with flow cytometry now. Our doctor needs to know what he is treating. If these are indeed leukemia blasts in Benjamin's blood, then it would stand to reason that the marrow is more infected than we'd hoped, and that reinduction therapy was ineffective. Of course speculating now is of zero benefit. We won't get the results of Benji's aspirate until tomorrow afternoon or Monday.
We asked Dr. Oshrine anyway, with this new information, if there was a percentage of infected marrow that would cause him to deviate from his plan to begin Blinatumomab next week. He said that if Benji's marrow was 100% infected, he would reconsider. But those platelet and hemoglobin numbers show us that at least part of his marrow is functioning properly. Later, we learned that Benji's ANC was 2330. I felt reassured. Those are cells that aren't leukemia blasts, and it means that his risk for infection right now is manageable. All good signs.
We made a plan to continue Benji's Dasatanib through Monday, to come to the clinic Tuesday afternoon, and to be admitted that evening, with the intention to begin the Blinatumomab early Wednesday. We took our paperwork down to surgery and waited for a super long time. Michael and Benji had an epic staring contest. They filled the room with laughter. I gave thanks for my husband today more times than I can count.
Benji finally got called back. I was relieved to learn that Dr. Mayer was performing Benji's aspirate. It was Dr. Mayer that extracted the bone marrow last April that revealed Benji's remission, and I felt a twinge of optimistic superstition today. But when she saw me in the hall outside the surgical room, she gave me an uncharacteristic hug. Clearly she had heard the news of today's blood draw. I know she was genuinely concerned for us, but it was far too sympathetic a gesture for my liking. It didn't feel hopeful and it took me off guard. The lump in my throat hasn't dissipated since.
I held Benji's hand and waited for the telltale yawn that meant the propofol was doing its job. I kissed his thinning curls. I thanked the anesthesiology team and Dr. Mayer. I found Michael, who had collected our pager, and we took a walk to the cafeteria for coffee and a rice krispy treat. All of these things felt very routine. I hate that feeling, when I realize how normal this has all become for us. Benjamin has been under anesthesia twenty-four times. He is eight. That is crazy.   
We saw Dr. Mayer again while we waited outside the SPU. She was leaving the unit, meaning Benji's aspirate was finished, and he was in recovery. She was on her phone, but when she saw us, she looked up, smiled and said, "We were able to collect. Hopefully it looks okay."
Michael and I were kind of dumbfounded. The last time we saw Dr. Mayer leave a bone marrow aspirate with our son–last April–she was downright giddy. She said then that Benji's marrow felt like the marrow of a normal child. And now–hopefully it looks okay? What does that mean?
When Benji achieved remission, I remember easily visualizing his marrow in its vial, perfect and free from leukemia. This time, after hearing Dr. Mayer's words, it was nearly impossible for me to hold the vision. Instead I saw a spongy, infected, stubborn sample, and it was extremely difficult to erase the image. I feel guilty writing these words.
Benji was in a significant amount of pain when he woke up. He winced in the wheelchair, and getting him into the truck was no easy feat (again, so thankful for my husband's strong presence). We situated him in a reclined position in the front seat with a blanket. By the time we got home, he felt much better. Banyan took the bus home from school and arrived just minutes before we did. It was a happy reunion. Banyan wanted to take care of his brother right away.
For dinner tonight we were fed the most delicious chicken pot pie on the planet, homemade by a sweet friend. Benji rested comfortably and Banyan kept him company while Michael and I prepared for a huge surprise for our boy tomorrow. There were so many opportunities for fear and doubt to stifle our hope and joy today. It will be a challenge to keep the fears at bay. But this weekend is our last together for at least a month, and it belongs not to leukemia, but to us. We are going to watch one of Benjamin's wishes come true. We think he's due.