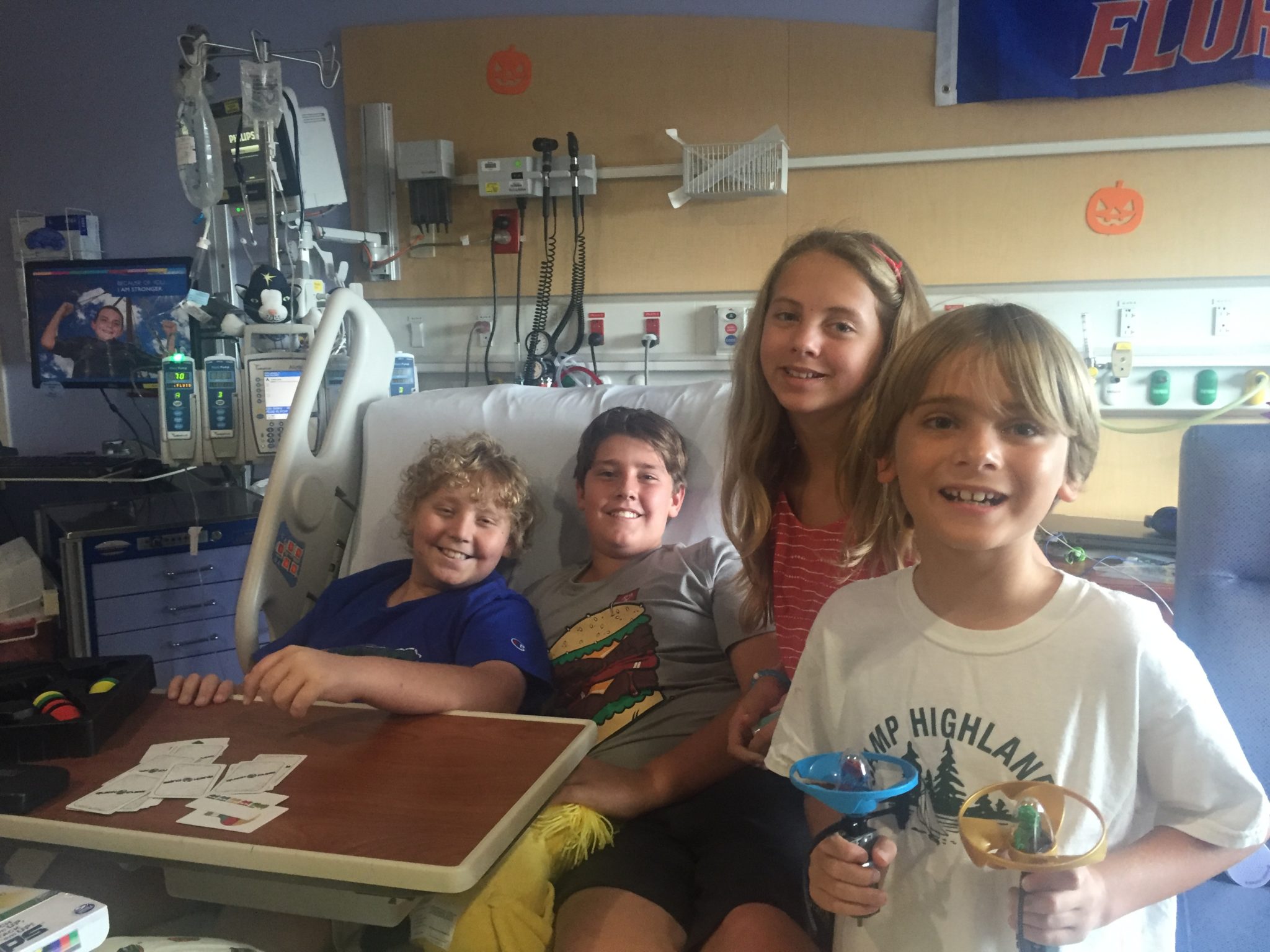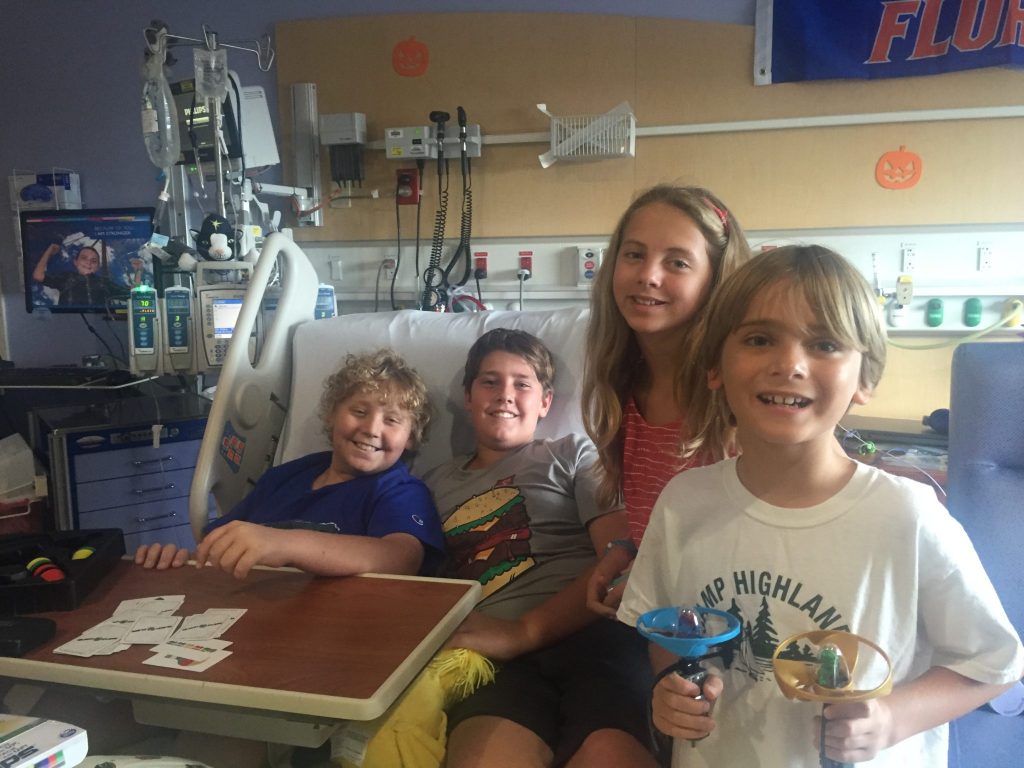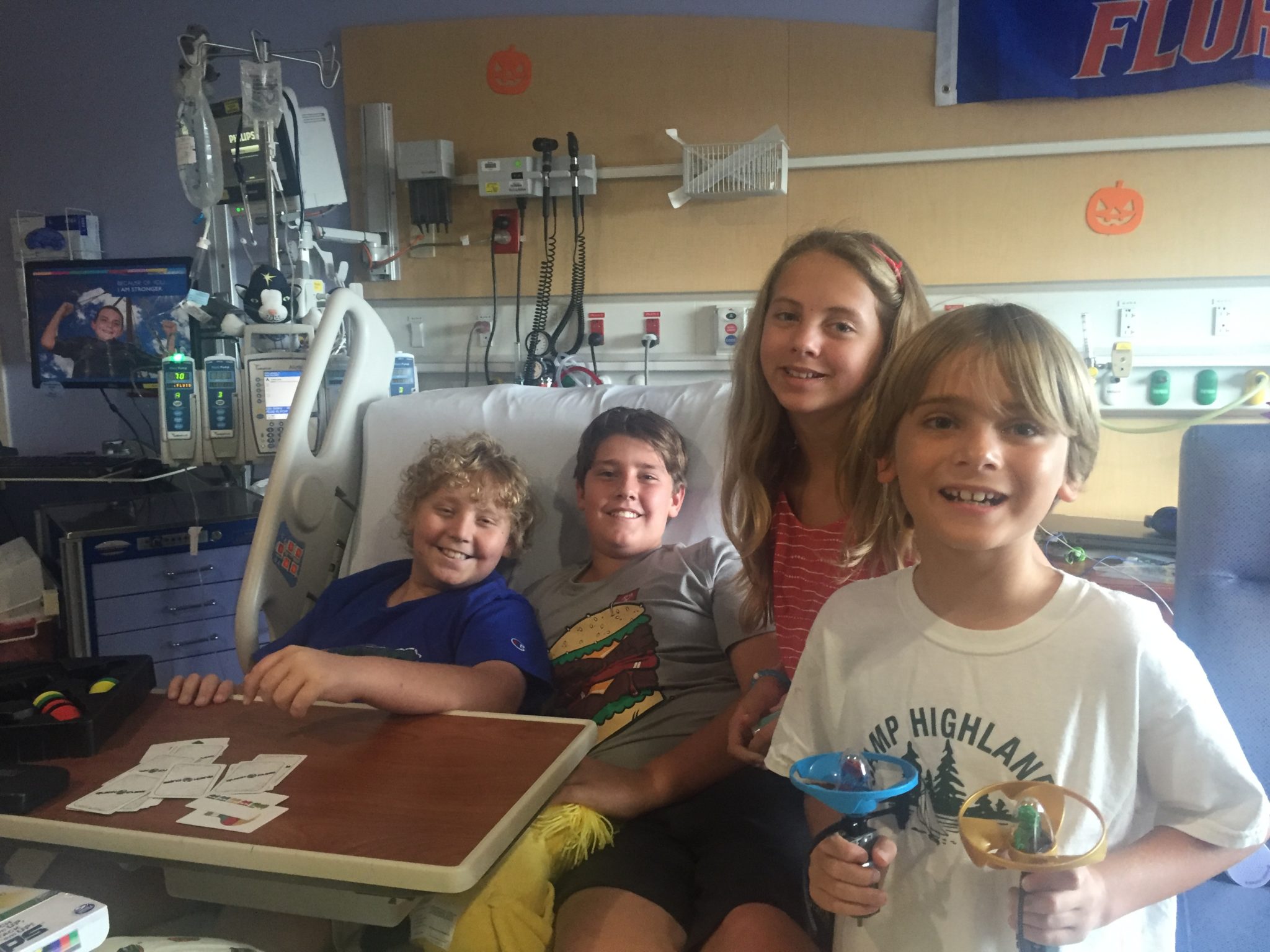 Benji woke up feeling happy. His daddy and brother were on their way to see him, and his body felt good. Our favorite nurse was back at morning shift change, and friends were coming to visit later. He just had one piece of uncomfortable business to take care of today: his port reaccess. The rest was smooth sailing.
Yesterday's platelet transfusion boosted Benji's count to 37,000. His hemoglobin has dropped to its lowest since his relapse, down to 7.1. He will likely have a red blood transfusion tomorrow. His absolute neutrophil count (ANC) dropped a little more to 230. So tomorrow he could start Mycafungin as well.
Dr. Wishnew was on rounds this weekend. I asked her about Benji's potential neuropathy. It's possible, she said, especially considering the amount of Vincristine Benji has had recently, but she described the motion of the feet to watch out for as more of a flopping, rather than a flat footed walk. It didn't seem to bother him much today. We'll keep an eye on it.
I also spoke to Dr. Wishnew about the Erwinia shortage. They are upset about it too; the last thing our doctors want is to compromise the care their patients are getting. It doesn't look like my friend will get her medicine Monday.
I couldn't give it up today, it was like all of my anger was funneling into this one channel, and the journalist in me couldn't stop. This so easily could have been Benji, and I asked myself what I would do then. At every chance I was researching and sending emails, to the FDA, the Children's Oncology Group, the distributing company, anyone I could find. I found text that confirmed the pharmaceutical company knew about the impending shortage yet planned on sending only the standard amount of inventory to their distributor. And I learned why a complete round of Erwinia shots cost almost as much as our house (and Benji has had six rounds): the top five executives of the pharmaceutical company that distributes Erwinaze made a combined $23.5 million last year. My friend is making a few business hour phone calls in the morning. If she doesn't get the answers she needs, we'll have to take things to the next level.
At noon, Benji was deaccessed, and freed for nearly two hours from his tubes. He took a long relaxing bath. We walked the halls on a Pokémon hunt without the IV pole. Benji and Michael built Legos, and the boys played video games. It felt so nice to have our little family together again, with no masks and no tubes, relaxing like we would on any other Sunday.
Our nurse came in to prepare Benji's body for reaccessing. Our dear friends were set to arrive at the same time, so Banyan waited in the hall for them to make sure the process wasn't interrupted. We all put on our masks and hairnets, Benji removed his shirt, and the nurse cleaned his chest. Michael stood to his right and kept his attention focused. I held his hand. He was so brave during accessing. Unfortunately, the needle only yielded partial blood return. Benji was in pain.
The sight of Benji's frightened eyes over a mask that blocks the rest of his face from view is an image that will probably stay with me the rest of my days. It's such a helpless feeling. I have no idea what it feels like to have a port, or a needle trying to enter it, or the sting of saline fluid mixing with blood.
The blood return was not sufficient. Our sweet nurse was so gentle and kind with Benji. She gave him the option of being deaccessed and reaccessed again, or calling in another nurse to help her try and maneuver the needle. It was an easy choice for Benji. He did not want to be reaccessed again. So another set of gentle hands came into the room and onto his chest, and soon, with love and skill, the needle was in perfect position. The blood return was complete and immediate. And Benji's breathing slowed. Take a deep breath right into your heart, I said. You did it.
The whole process took nearly half an hour. Our sweet friends were very patient. Banyan brought them in after Benji was dressed and hooked back up to fluids. It was so nice to see them, and for the boys to have their buddies there to play with.
While Michael was still with the boys this evening, I ran out to the grocery store to grab dinner and a few things for the week. It felt so nice outside. Michael called while I was shopping and said Benji had experienced another diarrhea episode. It was isolated, thankfully. No testing followed. It certainly seems like his body is purging that which it does not need.
We've been in this room on the seventh floor for three weeks. Tomorrow is Day 20 of Benji's reinduction. It's also another just another Monday. We'll get back to doing schoolwork and taking care of business. Time has taken on a strange property up here, in this little room, with autumn beginning to happen outside. It's preparing us gently for the months to come.