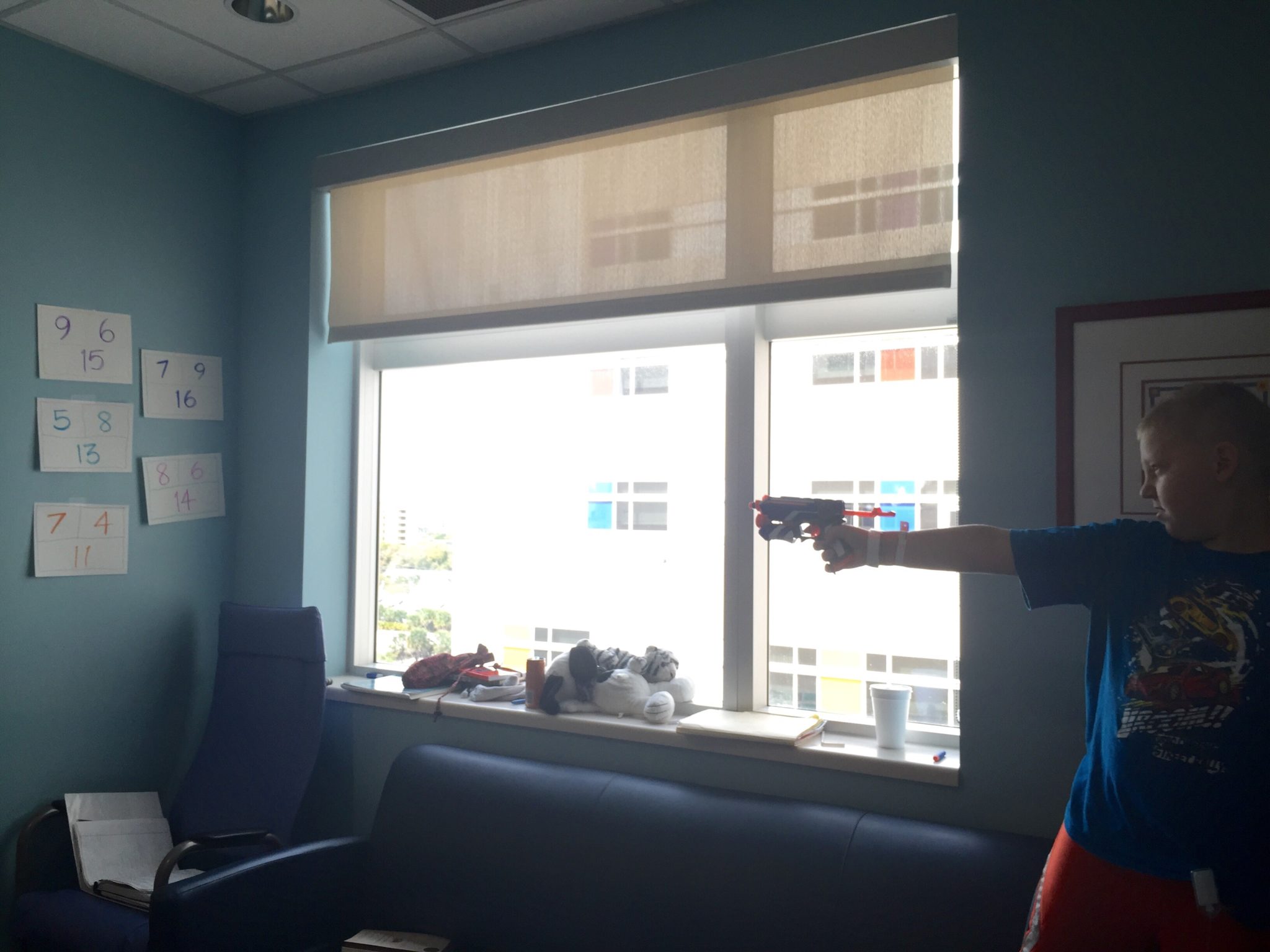 Benjamin's blood counts this morning showed a rise in hemoglobin and a steady platelet count, both strong signs of an upward swing. His absolute neutrophil count (ANC), as expected, continued to go down. For reference, a normal ANC is 3,000 to 5,000. Benji's ANC is 60 today.
Our morning shift nurse taught me something new to watch for on the blood counts: Benji's mono leukocytes, or immature white blood cells, are on the rise. At first this freaked me out, because "immature leukocytes" was the red flag on Benji's initial bloodwork that led us to leukemia in the first place. In an otherwise healthy body, immature leukocytes can indicate new growth of cancer cells. But in a body whose blood cells have been intentionally suppressed, as Benji's have, the presence of immature leukocytes indicates that new healthy white blood cells are reforming, and getting ready to rebuild his immunity. So this rising number on Benjamin's blood count this morning is a good sign, and means his ANC should follow suit shortly.
We also learned that Benjamin's Erwinia-asparaginase chemotherapy will begin tomorrow to replace the PEG-asparaginase that his body rejected. We thought we'd have almost a week to prepare–this isn't the case, but with good cause. Benjamin's treatment is dictated by the Children's Oncology Group (COG), the largest network of pediatric cancer researchers in the world. Dr. Mayer reported Benjamin's allergic reaction to COG immediately, seeking the most evidence-based course of action for replacing the offending medicine in his treatment plan. Their recommendation came through email this morning: Erwinia-asparaginase, given intramuscularly (shots), beginning 48 hours after the allergic reaction.
I thought I'd have several days to research this new medicine, when I only had several hours. My biggest concerns were (and usually are) about toxicity. Benji got half of his dose of PEG before it was pulled from his IV tube. I wanted to know how that half dose, with its long half life, would impact the efficacy and toxicity of the shots to come. Ultimately we have no choice but to trust these COG recommendations. We will just work to protect the organs it will impact, and detoxify the medicine from his body as he heals. It's all we can do. And, always, we give thanks for the brilliance that brought this medicine to us in the first place. We can't lose sight of that.
Benji doesn't know yet that he'll have to have shots in his legs, and lots of them. I didn't want to insert worry into his day. After yesterday's events, it was clear he needed a day of fun and silliness. When it was time for "school," he wasn't about to do worksheets. So we got creative. We wrote in our journals together and shared stories. We had reading time, side by side. We used fact family "targets" and a Nerf gun for math. And the rest of the day, we played.
Benji really wanted to move his body today. It's challenging when we are confined to this little room. We'd heard that Child Life had stationary bikes at their disposal; after some finagling, we now have one in our room. It's wonderful, and will prove even more valuable after the shots in Benji's legs tomorrow. Movement afterward is important for circulation.
Michael picked Banyan up early from school today and brought him over the bridge. The four of us spent a somewhat normal afternoon together, doing homework, tossing the football, watching a movie. Benji's hardest time of the day is when those two leave. I remain grateful for the healing happening here, but it will be so nice to be home again, all of us, together.