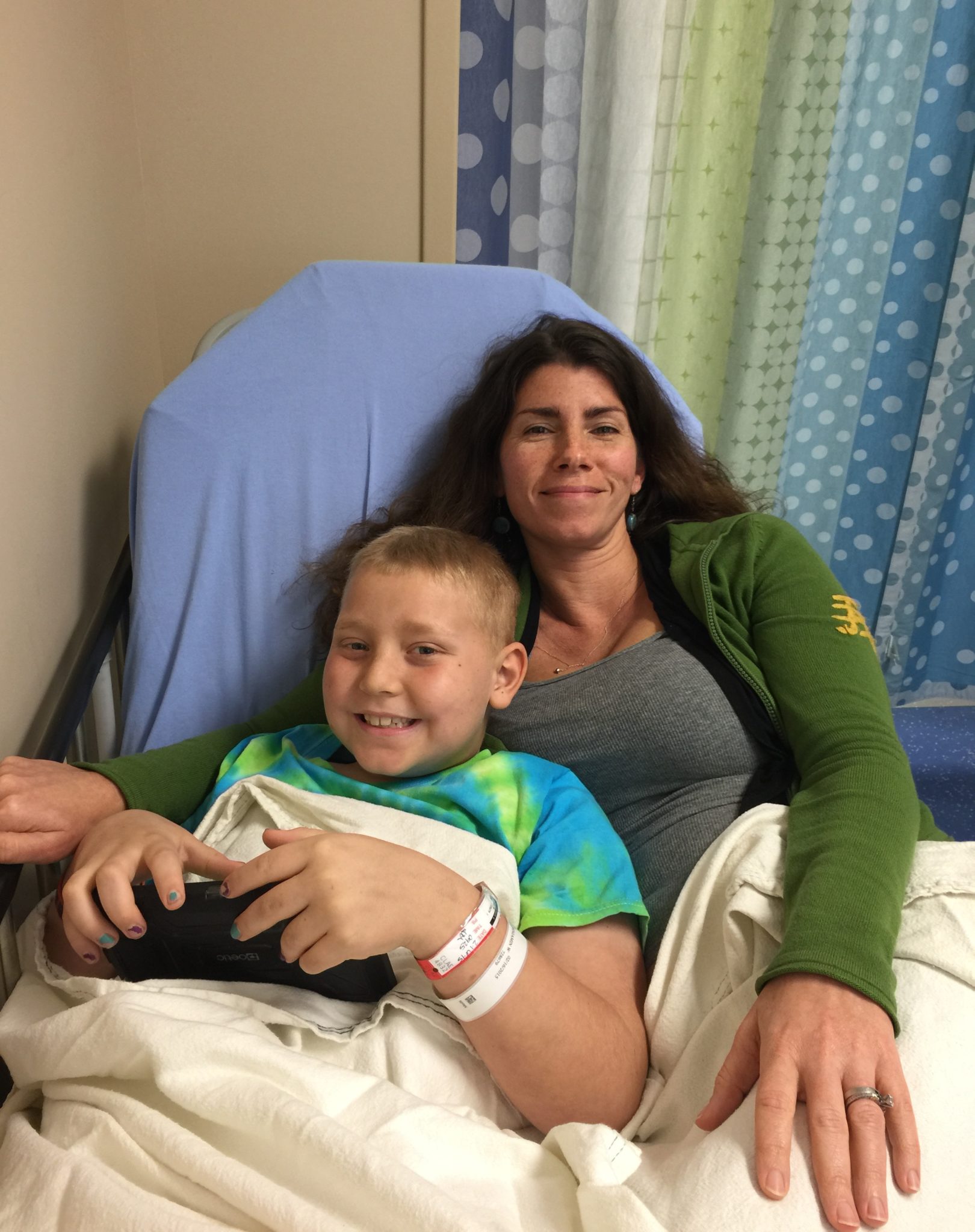 It was a beautiful morning to take a family trip over the Sunshine Skyway. We remain thankful for the healing it brings, and even more thankful to head back over it at the end of a long day.
We were told with near certainty that Benjamin will need a blood transfusion–red blood to be specific–later in the week.  This is expected during the Consolidation Phase. It's a result of one of his chemotherapy medicines, Cytarabine, and it means the medicine is doing its job: suppressing the marrow and reducing counts. His platelets are normal, but his hemoglobin and absolute neutrophil count (ANC) are low, so we are on high alert for the week, watching for things like headaches, dizziness, lightheadedness, rapid breathing. We'll be even more careful with hygiene and food preparation. And even though bacteria is the greater threat to neutropenic kids, we are going to do our best to minimize his risk of viral exposure over the coming days and weeks. A fever now is a guaranteed hospital stay.
I had a lot of questions for the oncologist and the nurse today, mostly derived from things I've read about in the moms' group I've joined. We have two different medicines coming up next week, and we want to be prepared. All of my questions were answered easily. Benjamin was given his Cytarabine in the clinic, but not before he flushed his own port proudly while big brother watched. We were given our paperwork to head over to surgery for Benjamin's lumbar puncture and Intrathecal Methotrexate.
Once again, Benjamin the Brave took charge of his own care today. When the anesthesiologist came in to ask if we had any questions, Benji was the first to speak. He asked if they could "put the stickers on" (the ones that measure his heart rate) after they gave him his "sleepy medicine," so he didn't have to feel them. The anesthesiologist agreed. I feel such pride when Benjamin speaks up for himself in this kind, clear way. This is a skill far too many people lack when navigating Western medicine, and one of many empowering abilities he will carry with him from this experience.
Michael and Banyan kissed Benjamin goodbye, picked up our restaurant-style buzzer and went to the surgery waiting room. I walked with Benji to the operating room and held his hand as the white milky propofol dripped through the tube into his port. He went straight to sleep. I turned around as I left to look at him once more, and saw his body twitch, just for a second. I wonder if this twitch is what prompted the anesthesiologist to give him a little more propofol today. We were called back to his recovery room after an hour, and he was groggier waking up than he's been after any of the other lumbar punctures. He was pale, and hooked up to electrolytes–also a new development. Most disconcerting was that he didn't want to eat or drink anything, after not having done so all day.
The nurse was unfazed. She said his blood pressure was low during the procedure so the doctor ordered hydration, and that it's totally normal for the anesthesiologist to adjust propofol dosage based on his desired level of sedation. I had nothing to compare this to–I instantly felt remiss in not having asked for and recorded the dosages of his anesthesia thus far. It's the only medicine I haven't quantified in my binder. I requested them from anesthesia and should have them tomorrow. We don't want to overlook any potential side effects, especially now that he's getting it weekly.
Benjamin's hunger finally came back as we were wheeling him out of All Children's Hospital. He wanted a burger. We found St. Pete's best, and had a lovely late lunch for four before heading home. I gave Benjamin his oral chemotherapy early, then he played football in the street with Banyan and our neighbors for at least an hour. Three different kinds of chemo in one day–one oral, one intravenous, and one intrathecal–and the kid can still throw a perfect spiral.
Tonight before bed, we had a little scare. Benjamin said his eyes felt like they did when he got the sleepy medicine, and that his brain felt swirly.  His port remained accessed tonight, but we knew there was no trace of propofol left on the cap to his tubing; we specifically requested the nurses change the cap today, because they didn't last week. I almost called the clinic after the swirly brain comment, but Michael reminded me what the doctor had said about the signs of low hemoglobin. His symptoms tonight fit that bill perfectly. Our instincts said that sleep is what he needs most, and sleep he's getting now, peacefully, as our new gifted oil diffuser sends detoxifying frankincense throughout the room. We'll be back up at All Children's tomorrow.
As we snuggled into bed, Benjamin was full of questions. "How will they take out my port? I'll be ten, like Banyan, when they take it out, right? Will there be blood on it? Is there blood in my bones? After they take out my port, can I play football the next day? Can I eat breakfast tomorrow?" It was late, and I knew he needed sleep, but I answered every one. I told him how proud Daddy and I were of him speaking up for his body today, and that we would always answer his questions honestly. He has a right to know everything he wants to know. And when he doesn't want to think about it, he has a right to play football in the street with his friends.