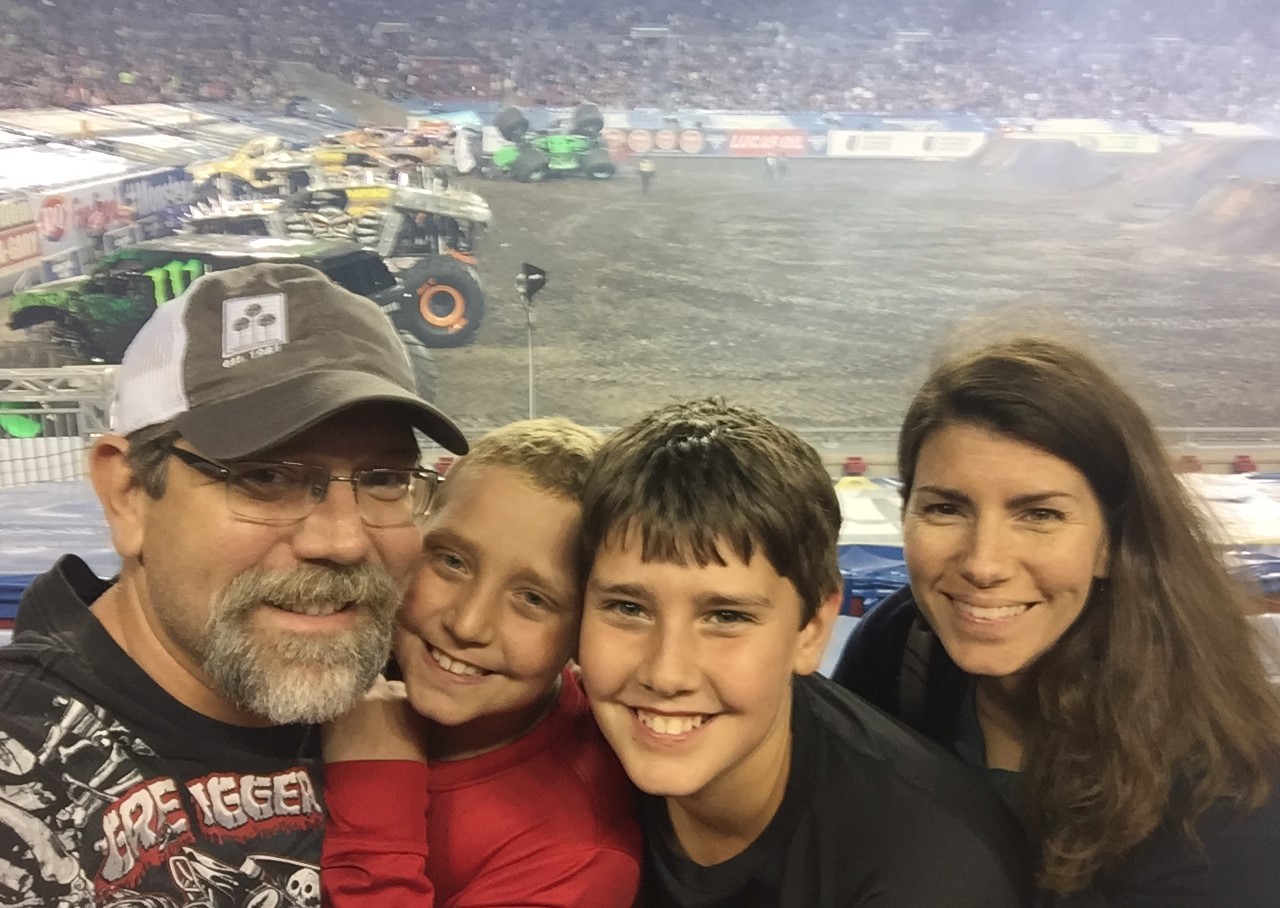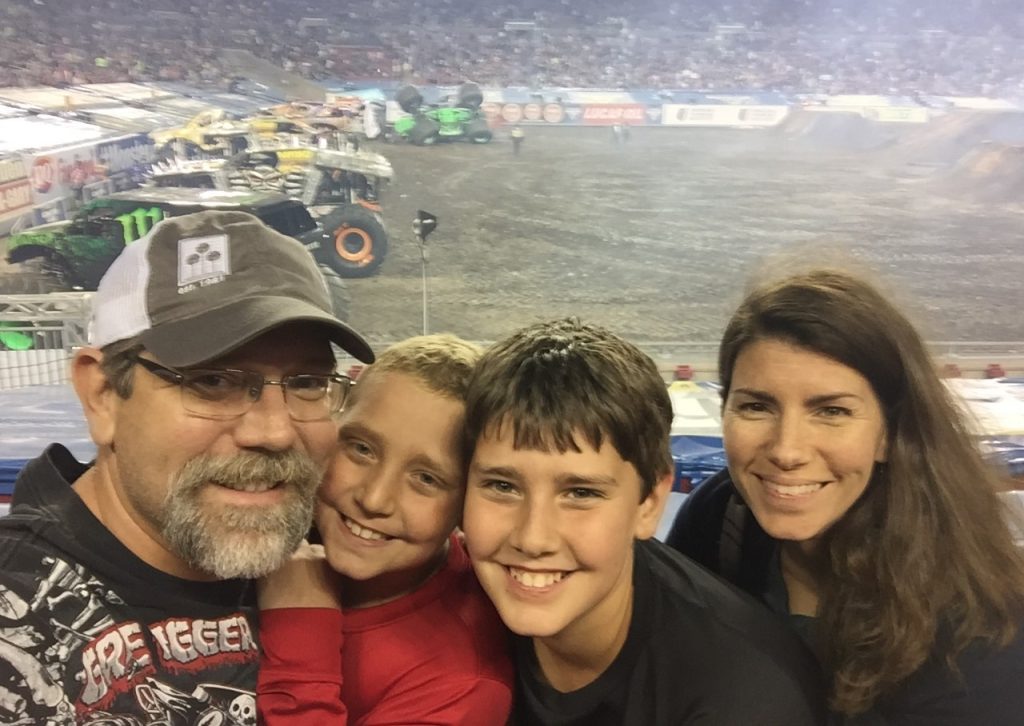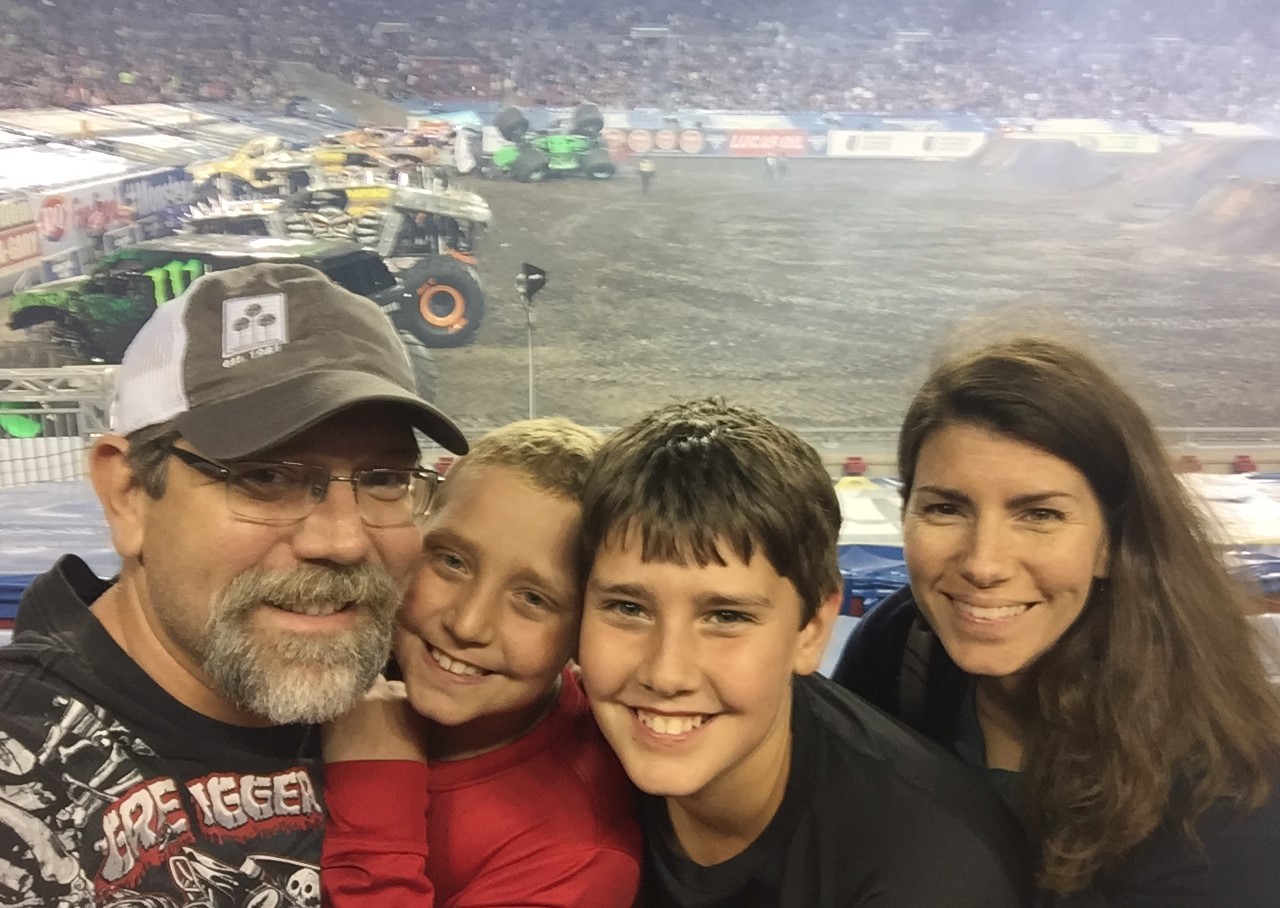 It was a gorgeous, sunny morning in Sarasota. Benjamin made his famous cheddar scrambled eggs for us for breakfast, then we met Kathy and Gana at a new sports field to watch Banyan play his first flag football game of the season. The sunshine illuminated Benji's golden wavy hair. I texted his buddy Cody's mom and told her how remarkable it was that Benji's hair is coming back in exactly in the same color and texture as Cody's did during his first cycle of long term maintenance.
Banyan played enthusiastically in a losing effort. We grabbed a bite after the game and came home to rest before taking the kids out for a major surprise: Monster Jam. One of Michael's suppliers had gifted him four tickets just yesterday. We decided to accept them, gratefully. Why not? 
Before we left, I was gathering research and my meal plan to go to the grocery store, and stumbled upon a post in my newsfeed. It was from a different online moms' group I'm in, one that focuses on integrative care. It gave me pause. The post was discussing the importance of a strong immune system rebuild after treatment:
The reason they 'pulse' chemo in maintenance is because they figured out years back that leukemia has a habit of going dormant, sometimes for very long periods of time, even years. Chemo only acts on rapidly dividing cells, right? If leukemia is dormant, not replicating, chemo won't affect it. Researchers figured this out and added maintenance therapy to 'catch' cancer cells coming out of dormancy. The REAL problem with leukemia is that no child is ever completely cancer free at the end of treatment. These cells hide inside the CNS, inside the bone cavities, inside the testes, inside the eye, and are not detectable via MRD or anything else. What one HOPES will happen is that the child's immune system will see these leukemia cells when they come out of dormancy and go after them. And that is the key to lifelong remission. My child had dormant cells for at least 7 years, and perhaps she was killing them as they began to replicate, but at some point she did not. The DNA of this relapse was the EXACT same leukemia. So when I am urging parents to please, please get your kids healthy, go check their immunity, find a functional medicine doc, research herbs and supplements that can help maintain remission, this is why. Their immune systems are TRASHED after chemo, and most of them are also kids who have vulnerable immunity to start with. That's how they got cancer and your neighbor's kid did not.
I have never heard this theory explained quite like this. It makes sense to me, but I'm not sure I'm ready to believe it completely. I will definitely be bringing it up with Benjamin's team. I do believe that the strength of his immune system is paramount, now and forevermore.
Needless to say, I was a total germaphobe as we entered Raymond James Stadium to watch the ridiculously huge trucks jump ridiculously high, often to their own destruction (and massive audience encouragement). There were people everywhere, in close proximity, many coughing and sneezing. I used our homemade hand sanitizer on everyone repeatedly and barked at Benjamin not to touch this or that. Once we settled into our amazing third row seats, we thoroughly enjoyed ourselves. The boys watched the trucks, cheering when they would flip, or wreck, or do donuts. I watched their faces, hoping to permanently freeze the sparkly moments into my memory.
I wonder if any of the other 65,000 fans in the stands took chemo pills in their seats tonight? Benjamin did so with a smile. We timed it just perfectly, and were able to buy them an ice cream on the way home.