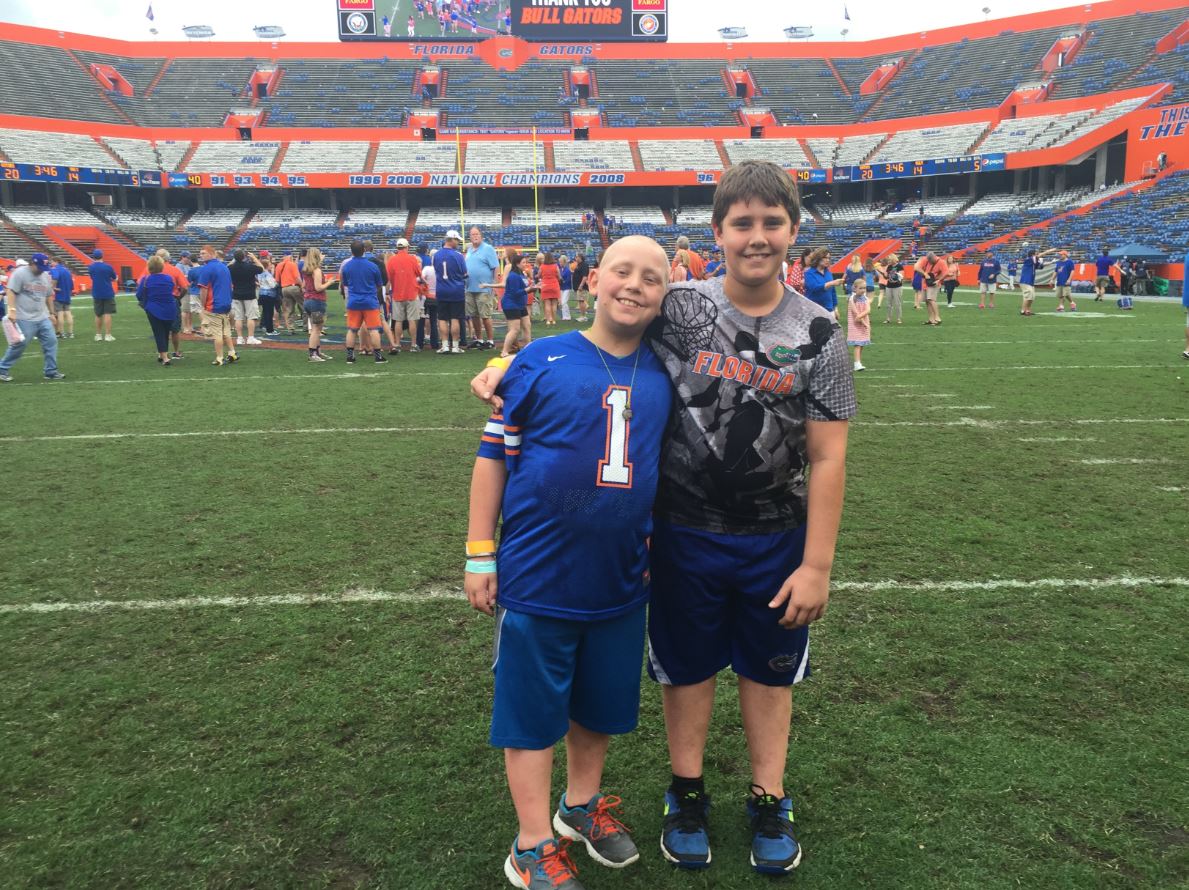 On Saturdays in the fall, University of Florida football is somewhat sacred in our family. This morning we woke before the sun to hit the road north to Gainesville to catch our second Gator game of the season. It was also just the second time we've left town, except to go to All Children's. We packed lightly, without hospital gear or worry. I had Benji's oral chemo in my purse; otherwise, no western medicine left our cabinet. I brought some essential oils and a thermometer and we hit the road.
We were treated to a pregame tailgate with some of our dearest and oldest friends. Reuniting with them after so many months felt so good.We parted ways at the entrance to the stadium to head to our respective seats. We didn't sit in our usual section today; Benji's assistant little league coach had contacted Michael to offer us a spot in his company's luxury sky box. Banyan's eyes were as big as dinner plates in that little room overlooking the field. He said he never wanted to leave. It was an incredible experience, and when the game was over, our boys were invited to go down onto the field. Florida Field. They were beside themselves searching for a football to throw, and they finally joined a game some other kids had going. It was a larger than life moment.
We stopped by my sister's house quickly for hugs, then started the drive home. Traffic and rain extended our trip by a good hour, and I waited too long to stop for dinner. We sat at the Cracker Barrel table trying to reason with Benjamin, who was so hungry it hurt, yet who wouldn't eat for anything. The waitress looked very confused. We left without ordering.
I'm grateful for the free sausage and meatballs and all manner of snacks that accompanied our seats in the luxury box today, and the pomegranate Benji ate at Aunt Sarah's house–I know he wasn't as hungry as his body was leading him to believe. I also know I need a different response when this happens that supports everyone in our family. Tonight I made two mistakes: I should have stopped for dinner sooner, and we should have stayed at Cracker Barrel, regardless of whether Benji chose to eat. Instead, we went to the car, gave Benji his 6MP, and went home. Banyan suffered the consequence of Benji's struggle, and that's not fair.
Within minutes, both boys were asleep in the car, and they transferred to their beds relatively easily once we got home. I hope they are dreaming now of huge, larger than life moments.