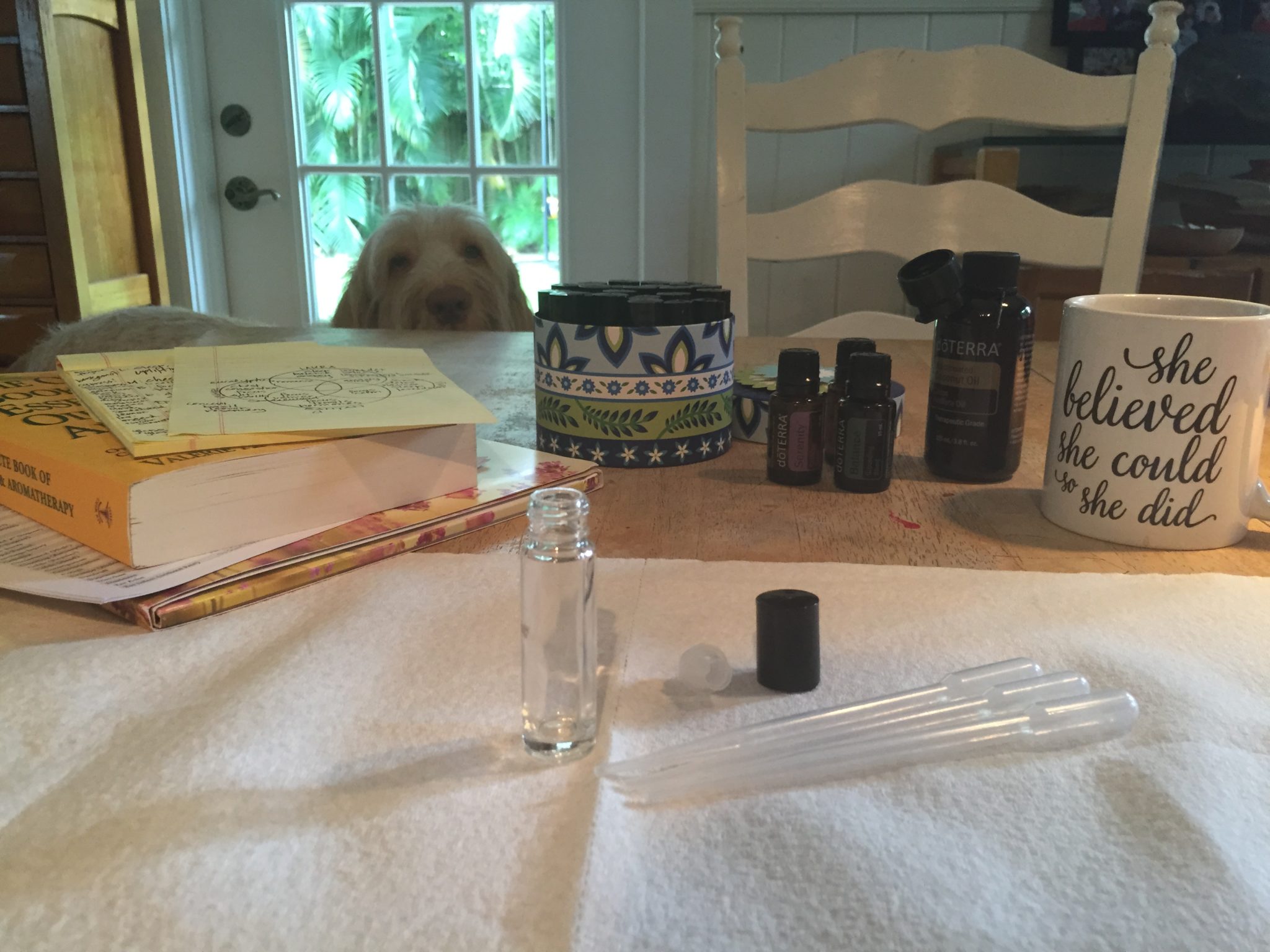 For the third day in a row–an unprecedented stretch since diagnosis–Benji went to school. He woke up with a tummy ache that was intense and anxious. He begged for Kytril, which I gave him. After the medicine and his breakfast, he felt better, as usual, and was excited to go to school. We dropped Banyan at the bus stop and I walked Benji to class, kissing his sweet head goodbye as he hung his backpack on hook number five.
I was excited to be home today. I recently ordered some essential oils to try and replicate the calming blend from KICKcancER that we'd lost a few weeks ago, and they arrived. After witnessing the transformation they made in Benji, I've been researching like mad, concocting other blends that might help with his morning and evening tummy trouble, and might help the rest of us with various emotional and physical issues. I'm kind of on a mission to heal our family right now.
I followed the recipe KICKcancER sent me. I carefully counted and blessed each drop that went into the new vial (our dog Nelson was very curious). Once the oils were blended, I topped them off with fractionated coconut oil and placed a rollerball in the vial. Before affixing the label, I tested the mixture. It was perfect. The smell brought me back to Benji's face, full of empowerment, when the oils first worked for him. I shed some happy tears today. It feels so good to be able to whip up a batch of confidence, right here at home.
Benji stayed after school again today to work with Mrs. Smith and get caught up. When I came to scoop him up, he wasn't ready to leave. He wanted to finish his reading test. He is so happy to be back in the groove.
We have been in communication with Benji's former baseball coach for a few weeks now. We asked if he would consider inviting Benji to practice with his team this season, in preparation for a possible position on the team in spring, when he's in maintenance. Coach Steve was thrilled. We learned that he is actually a two time childhood cancer survivor himself. We are so excited to get Benji back on the field, with this mentor who truly understands what he's been through.
Benji was all set to practice with the team for the first time tonight, but unfortunately, the weather had other plans. Instead, I took the boys to the sporting goods store and bought Benji new cleats and practice pants. If all goes well, he'll practice with the team next week. I can't wait. I know he can't either.
Throughout the day today I communicated with six other cancer families I've met through Benji's treatment. Two of those families are in long term maintenance. Their children are doing terrifically and have resumed all activities. One family is in long term maintenance, but they have a scan next week to check for relapse. One family just got word that their daughter's bone marrow scan was cancer free. They are celebrating. Another family is preparing for surgery on both of their children; their son will be the bone marrow donor for their daughter. And one family, Hudson's family, continues to make their boy as comfortable and happy as possible while coping with their decision to end his treatment.
The only response I know as I process these divergent paths is to count our deep, rich blessings, and to breathe deeply.