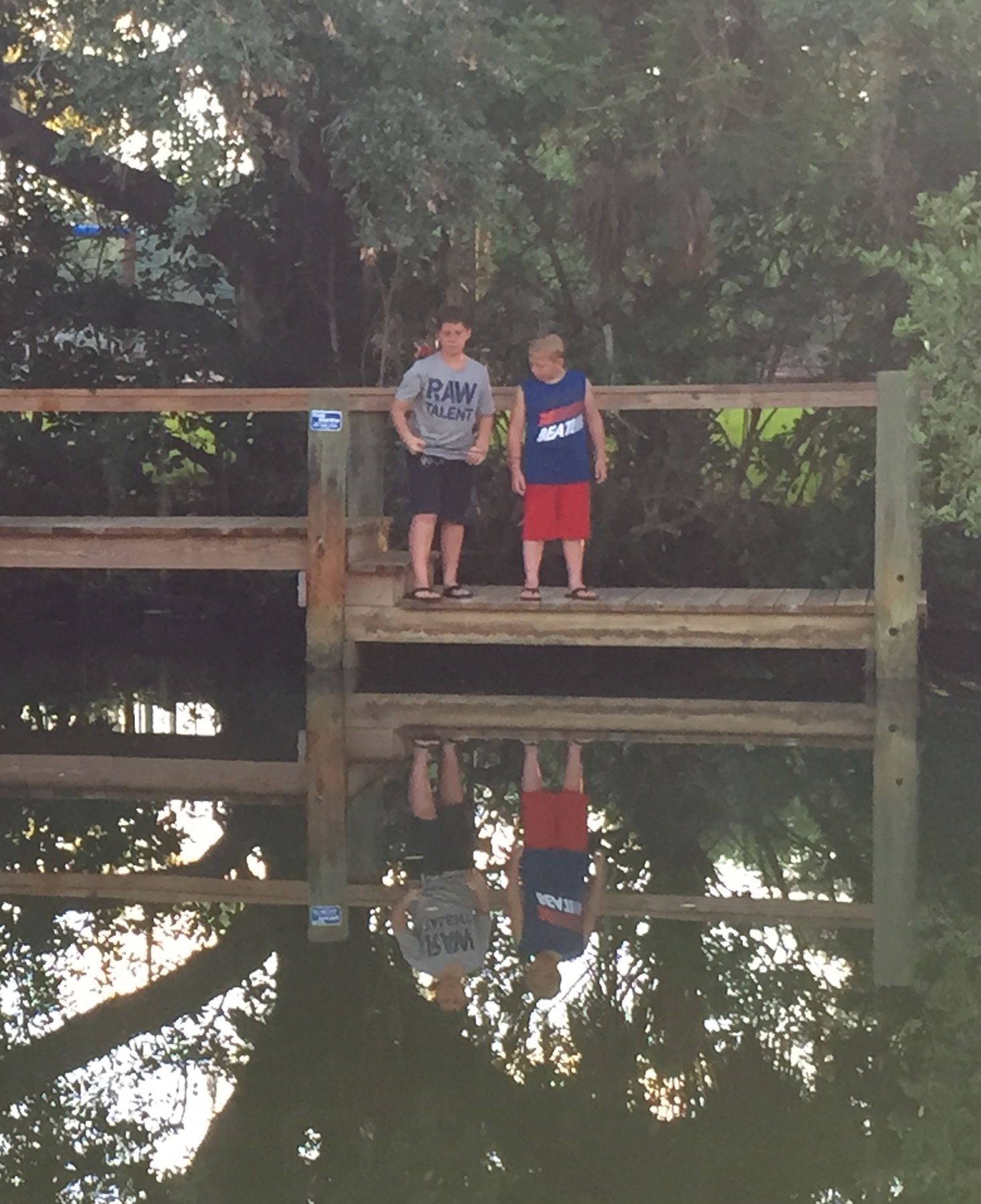 Banyan will be eleven tomorrow. Eleven. 
The epic birthday party extravaganza continued at sunrise, after just a few hours sleep. The boys had set their phone alarms to go fishing off the dock, and swimming in the pool while it was still dark. I acquiesced, and found a vantage point from which I could watch all kids at once. Banyan wouldn't join the others until he had woken Benjamin up to join them. It was a beautiful way to start the day.
Michael's mama came down to begin her pancake breakfast, and the boys began to trickle inside to escape the mosquitos and change into dry clothes. Benjamin found me, hurting. His tummy was tender and he asked for Kytril. I was grateful to have packed it. The tenderness was familiar; I've seen him experience this after over-exertion before. Still, I think the benefits of hard, sweaty play, of being one of the pack, and of casting a line in the water at sunrise far outweigh the risks to Benjamin's body.
We said goodbye to Banyan's friends, and said a hearty thank you to Michael's mother and sister, who hosted yet another stellar party for our boy. After a quiet few hours at home, the boys and I joined them again at a screening of the new Disney Pixar film Inside Out. The movie was courtesy of Uncle Bob, a long time family friend who visits each year for Banyan's birthday. The innovative film follows the emotions of an eleven year old girl as she navigates big changes in her family's life. I squeezed Banyan's hand.
On the way home, I was kind of a mess, contemplating the emotional fortitude of the eleven year old, and wondering what will stick. Banyan has been through a lot this year. Like most parents, I wish I had handled certain moments in his life differently. I know we have made many mistakes. But when I look at my boy, on the eve of eleven, I see a spirit that is so big it can't be contained by his body. His energy is brilliantly beautiful and his heart is huge. We may harp on the small stuff, but he handles the big stuff with instinct and love. Where it matters, he shines.
Tonight was Benjamin's last dose of chemotherapy for a while. He gets a full week off, save the weekend antibiotics he'll take for the duration of treatment. We have no hospital visits, no injections, no daily pills this week. Just a big birthday to celebrate, a camp to pack for, and two sweet boys of summer.