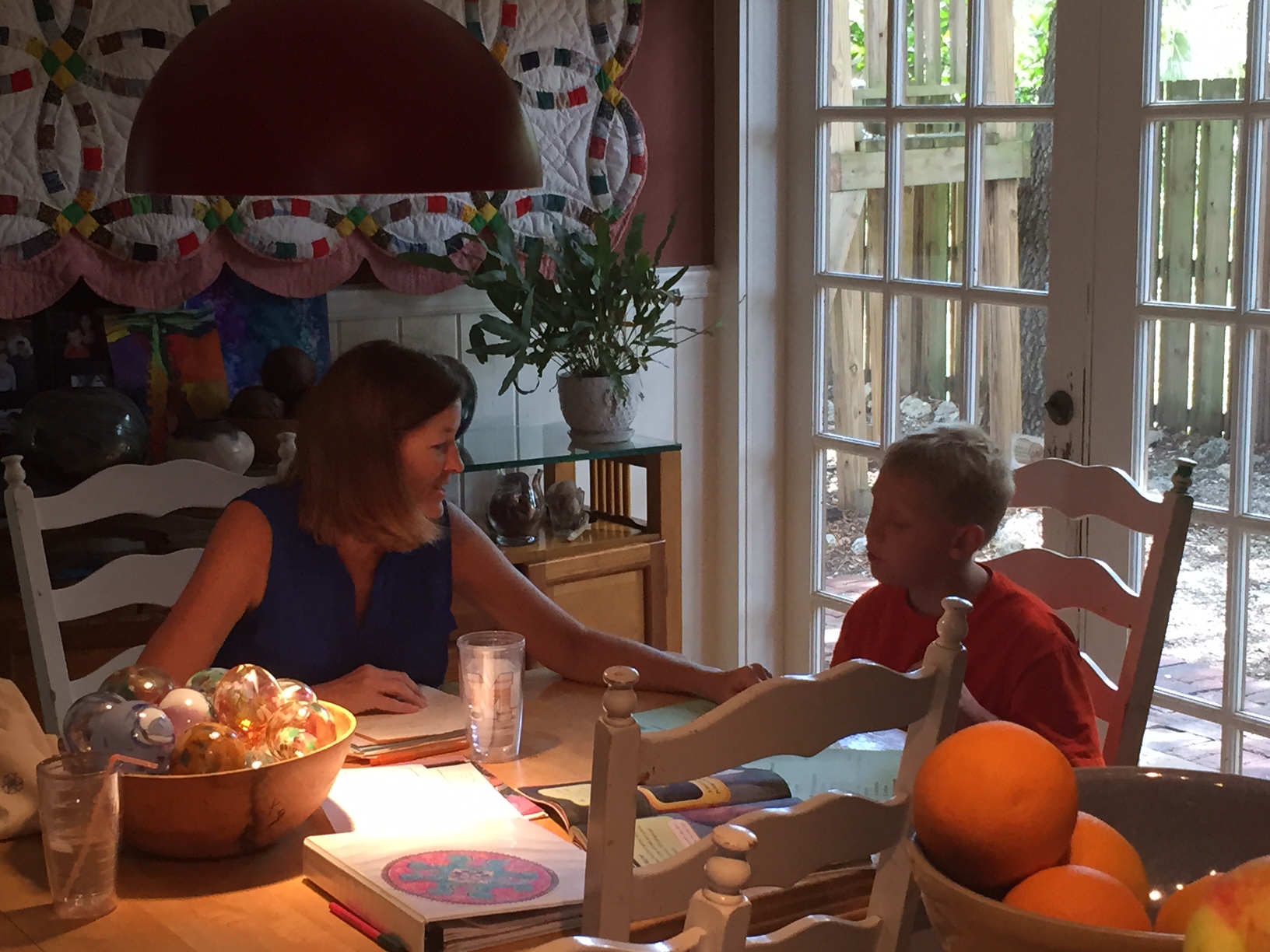 Aside from his nightly oral chemotherapy, Benjamin did not need any medicines today. No Kytril, no Marinol, and we took the Scopolomine patch off of his neck before lunch. He feels completely back to himself again. He has no nausea, no back pain, a healthy appetite, and a healthy amount of sass. We can take it. It is such a blessing to be able to be so thankful for normal.
We got caught up on the rest of Benjamin's schoolwork today, so we'd be ready when Mrs. West visited our house this afternoon. Just like his peers, Benji only has a few more assignments to finish before the end of the school year. He will not fall behind. He will not have summer work to do. He is reading exceptionally well and moving on to second grade material with ease.
I am proud of both of us for making this homeschooling relationship successful and fun. I am also deeply thankful for Mrs. West, who has gone so far above and beyond her role as his classroom teacher. She implemented a system that really worked for our family, and made herself available to Benjamin at all hours. She enabled us to keep connected with Benji's classmates, even though I know it disrupted her schedule (though she would never tell me that). She treated him with compassion, humor, and normalcy. She is a blessing to our family and we will never forget her kindness.
We have just returned from retrieving Banyan from Sea Camp, and have heard all about his wild adventures.  In the aftermath, the fifth grade gets a free day tomorrow to rest. Benjamin, on the other hand, is considering going to school for just the second time since his diagnosis. He feels great, and his absolute neutrophil count (ANC) is plenty high during this phase. Mrs. West is not telling her students this news until we confirm in the morning; Benji needs to wake up and see how he feels to be sure he's ready. But he is pretty excited about the idea.
So there is a definite possibility that I'll have Banyan home and Benjamin in school tomorrow. If so, Banyan and I will deliver his registration by hand to the middle school of his choice. We will also prepare for his graduation, and spend some much needed time together. If Benji goes to school, it will only be for a half day or so. He will have plenty of time to play with Banyan on his "day off." I'm thankful these two are together again. There's normal sibling bickering of course. But beyond it, there's so much love.