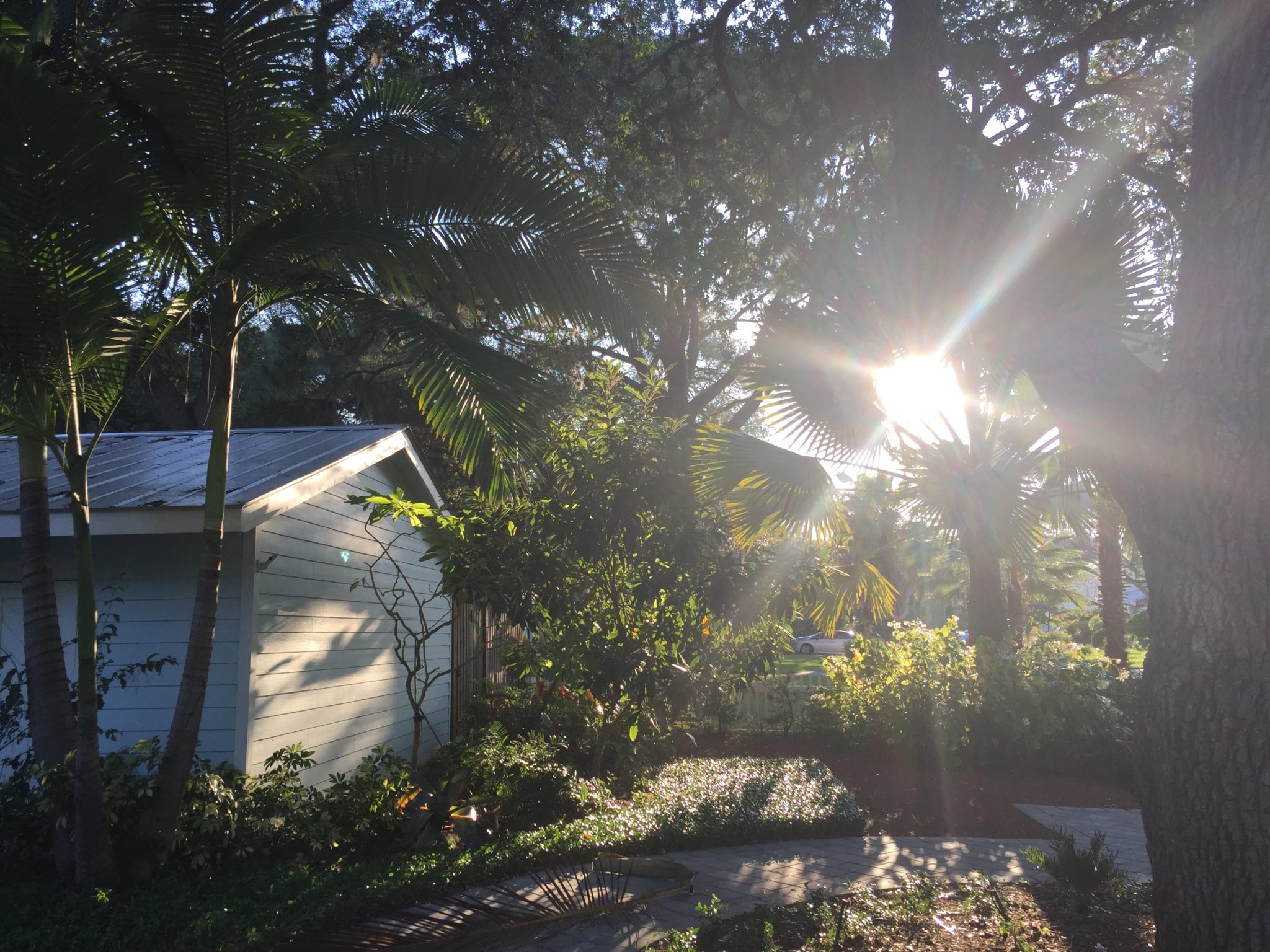 I slept so soundly last night. I was shocked when I looked at the clock this morning; it was much later than my usual Saturday wake up time. I felt like I could have slept for days.
Everything felt perfect in Sarasota today. I marveled at how beautiful the light looked right in our own front yard, our little patch of earth. We soaked in the gorgeous weather, playing outside and biking to a restaurant for lunch. Then Banyan had a monster basketball game. It went into overtime and his team won in a nailbiter. He went out with his friends afterward. He was so happy.
We had an unexpected treat tonight in reconnecting with Benji's preschool teacher, who is in town for the weekend. She is a cancer survivor of more than twenty years. Seeing the face of her former student, who was not yet three when he first walked through her door, overwhelmed her with emotion. I know it must have made Benji feel good to watch someone be so genuinely happy just by virtue of his presence.
Tomorrow I will go to Whole Foods to stock up on the things we will need to help Benjamin's body through Interim Maintenance. In doing more research in the moms' group online today, I came across a mother in terrible fear. Her four year old daughter, diagnosed more than two years ago, had contracted chicken pox. A series of infections that followed landed her in intensive care. She was desperately seeking information.
The post served me well. My joy at Benjamin's remission hasn't diminished, but I was reminded that I can't loosen my vigilance. There will be many months during Benjamin's course of treatment that will find him neutropenic, unable to fight infection. He's neutropenic now.
We met up with Banyan later in the evening at an indoor trampoline park. Benjamin asked if he could play at a place like this, when he didn't have leukemia. He tripped on his words. "Well, I don't have leukemia now, do I?" We talked about it. I told him that technically he still has leukemia. There are probably still cancer cells, they are just so few in number that they can't be seen. But that's why we have to keep going through treatment. To make sure. I told him I understood that it doesn't feel quite right to say he has leukemia either, after yesterday's news of remission.
I found a compromise. "How about, from now on, we say that you're healing from leukemia?"
Big smile. Words frame reality.