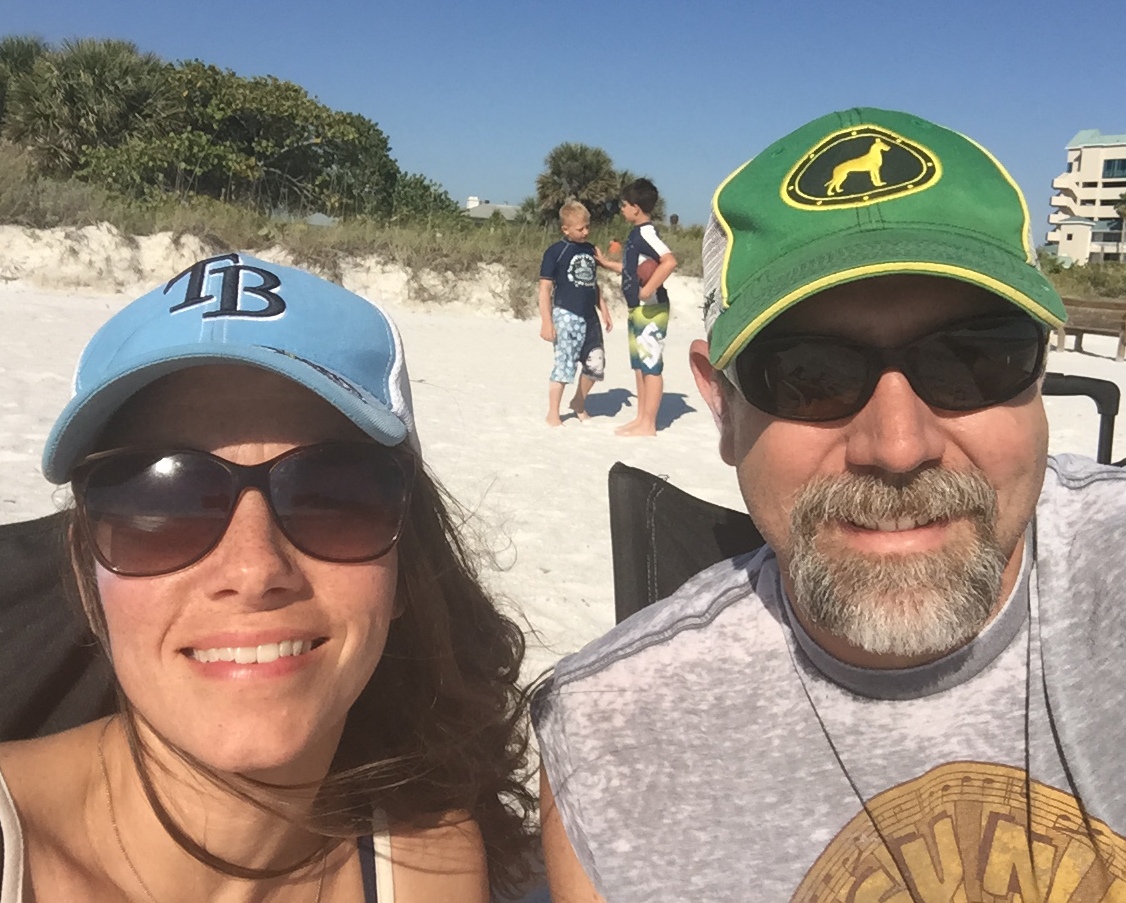 This is a new kind of joy. I am writing this from my beach chair, watching my two beautiful, strong, healthy children collect shells with the love of my life. The strongest microscope in the world cannot detect a single leukemia cell in Benjamin's bone marrow. I feel like I have tapped into a different channel of the cosmos. When the seagull soars above me, I know how it feels.
---
I stayed up late last night after writing. I couldn't go to sleep. I realized I needed to forgo my intention to stay in the moment and allow myself to look ahead a little bit. It was possible that Benjamin would start his next phase of treatment today–Interim Maintenance–and I needed to be ready. I packed for a possible hospital stay, and I justified a few minutes of Google searching. Diving back into the research felt almost sinfully comforting. It turned out to be a wise decision.
We saw one dolphin, three bald eagles, five swallowtail kites, and a dozen osprey on the way over the Skyway. It was a new record.
We were early for our appointment. When Molly the medical assistant came out and called Benjamin's name, I tried to read her face. Of course she would not have been privy to any results yet, but I caught myself looking for signs. We were taken to lucky exam room number seven. We were only inside for a moment when Dr. Grana peeked her head in the door. My heart started pounding. It must be good news, I thought. Why else would she come so soon? Molly hasn't even poked Benji's finger yet.
Dr. Grana started speaking with her kind smile and Puerto Rican accent. "I'll come back to see you after we get Benjamin's blood counts, but I know you've been waiting a long time, so I just wanted to come in and tell you the results of his bone marrow test."
Michael and I moved closer to her, together, protectively, in front of Benjamin's exam table. I don't think I was breathing.
"Benjamin's minimal residual disease is zero point zero per cent. No leukemia cells were detected. It's negative."
The rest of our conversation was a blur. She left, and I melted into Michael's arms. The tears were unstoppable. Soon, Molly, who has seen us at every single clinic visit, was crying too. Benjamin thought the whole spectacle was hilarious. But his pure smile showed me he knew exactly what this means.
Benjamin is in molecular remission. We have a path we will follow for the next three years, and that path is solid. His next phase of treatment is called Interim Maintenance. It begins with a three to five day hospital stay that will repeat every other week for two months. In order to begin the phase, his absolute neutrophil count (ANC) must be 750. Benjamin's blood came back today with an ANC of 690. Dr. Grana delivered the report herself. Benjamin was close, but she thought it best to postpone the treatment and have us come back Monday and expect to stay. Dr. Grana explained more about the components of Interim Maintenance. My late night research helped me ask the right questions, and she had helpful answers for everything.
Even though we were prepared to begin Interim Maintenance today, I realized quickly how perfectly wonderful this new combination of numbers is. Benjamin is in remission, his immunity is stronger than it's been in weeks, it's absolutely gorgeous weather, and we have an entire weekend to celebrate. I also will be allowed time to dig deeper into this new combination of medicines, and to purchase what we need to stave off the side effects that may accompany them. My gratitude was swelling.
Benjamin, realizing that his lumbar puncture was postponed, insisted that Michael take him to the vending machine down the hall for a snack. They left as Dr. Grana was showing me the full report from the pathologist, highlighting the evidence that the sample of marrow was a good and plentiful one. She gave me the "road map" for Interim Maintenance and we looked at a calendar together. One by one, she was soothing all of these places of worry that I had been holding. She felt motherly. With my questions answered and our plan clear, she said goodbye, and congratulations, and I couldn't help it. I hugged her with all the warmth that was spilling out of my heart.
It's a wonder Michael and I safely navigated the three of us from the clinic to the parking garage, what with all the texts and the crying and more texts to family and friends. Benji's vending machine choice (honey pretzels) didn't cut it. The boy wanted a bagel. We found a true bagel joint and enjoyed what I thought was the most delicious breakfast of my life.
During Interim Maintenance, Benjamin will be getting methotrexate in a much larger dosage than he's gotten before. One of the side effects of this medicine is a high sensitivity to the sun. It wasn't hard to plan the rest of our day. We stopped by the office on the way home to give big hugs to Michael's mother and sister (with more tears), then went home to pack for an afternoon at our favorite beach.
We picked Banyan up from school. He already knew the big news, as I had texted both of the boys' teachers with an explanation they could give to their students. Complete with our foursome, we headed west, to Lido. I remembered the first time we returned to this beach after Benjamin was diagnosed. He was tired. He was hurting. He was emotional and so hungry from the steroids. I recognize how much his body has gone through, and how much it has healed, since that day.
Much of my time on the beach was spent contemplating the medicines that have reduced the leukemia cells in Benjamin's marrow from 94% to 0% in four months. I want to watch Emperor of All Maladies again, so that I can look at each black and white face behind a microscope and say thank you. The amount of human brainpower that has combined to figure out the source and regimen and dosages of chemotherapy that is healing our boy is absolutely mindboggling. Benjamin has endured so much so far, but it has worked.
Michael's mother and sister joined us for sunset. We raised glasses of prosecco–even teeny ones for the boys–as the sun was dipping below the pink horizon. Michael made the toast. He said beautiful things I wish I had recorded, giving thanks for Benjamin, for his body, for his doctors, for his nurses, for his medicine, for his brother, for his family, for his community, for his bravery. Benjamin absorbed every word.
Since I've been processing through writing, I contemplate words carefully. They frame our reality. The word remission is one I've thought a lot about. There is a general feeling among the moms in the online group that remission is a frustrating word, because many people who hear it assume that treatment has ended. Between their words, I hear these moms crying for help. They feel more alone than they did in the beginning. I feel grateful that I can be a distant friend for them, and even more grateful that their fear is not one I share. Benjamin will go through treatment for three more years. This is a fact. But if people misinterpret the word remission, and therefore look at my kid as a kid who doesn't have cancer, that's okay with me. 
I look at the word like this: re-mission. We have completed one mission, and now we have accepted another. Our new mission is to make sure that any leukemia cells that the cytometer couldn't detect in Benjamin's body are eliminated, and that the possibility of relapse is minimized to the best of today's human ability. Three years is a trivial price to pay for this task. We are relieved. We are grateful. And we are ready.