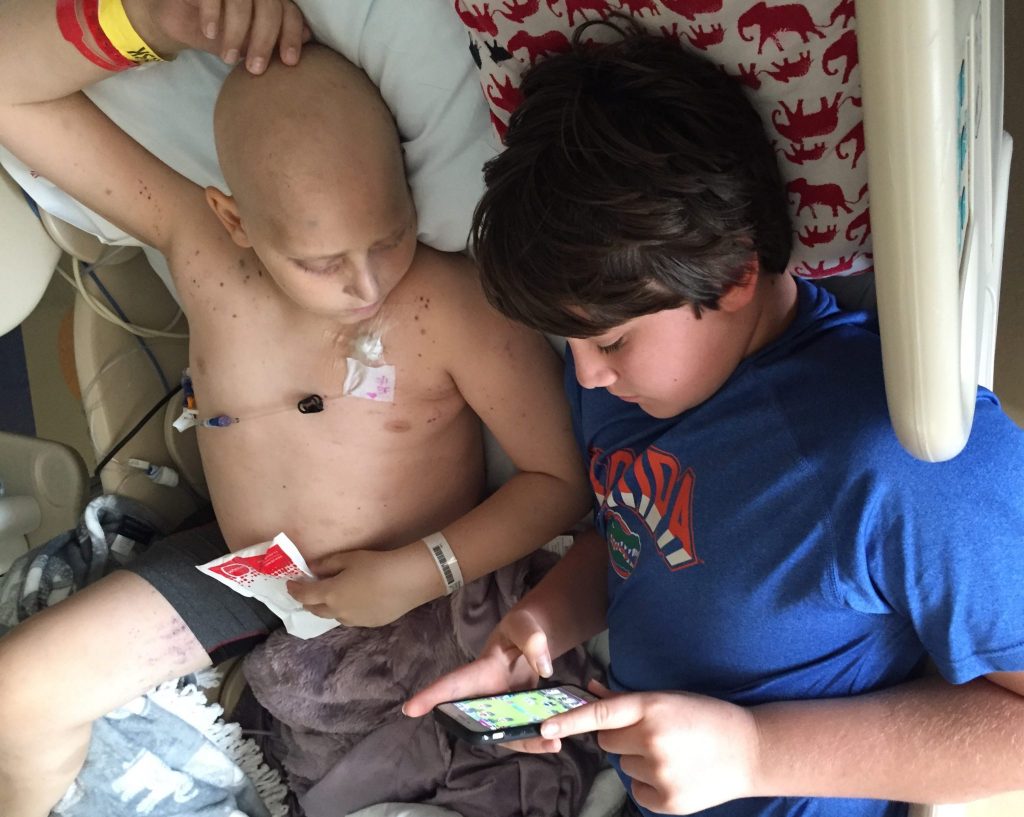 Since Benjamin's diagnosis, we have asked for guidance to make decisions for his highest good. Today we were guided in a direction we did not expect, but one that could not have been more clear. We are staying on the seventh floor.
Last night, Benjamin had a high fever and rapid pulse, and he was shaking. He experienced more occult blood in his stool. He asked for solace in a warm bath, and I held his head against my arm to keep him from falling. We tried giving him Tylenol by mouth to prepare for a potential transfer to hospice care at home (intravenous Tylenol is very hard to come by). He swallowed the pills perfectly, and kept them down; but they had absolutely no effect. We used cold washcloths and his fever broke naturally. We slept.
This morning during rounds we learned that both transfusions Benjamin received yesterday disappeared completely. His platelets and hemoglobin were even lower today. The products aren't being absorbed. This is partly because of Benji's recent fevers, partly because of his gastrointestinal bleeding, and mostly because of his volume of leukemia. We decided to schedule intravenous Tylenol around the clock to try and stay ahead of his fevers. We also decided to give Benjamin a double volume of platelets today, and withhold the packed red cells. They are no longer offering Benjamin the benefit they once did. He has had his last red blood transfusion.
Benji asked Banyan to lie in bed with him this morning, during what would be his only window of wakeful alertness today. They played games and enjoyed being next to each other. They shared donuts that Kathy and Gana delivered per Benji's request. Banyan has been so beautifully in tune with his brother's needs. He holds his hand when he is uncomfortable and he doesn't get his feelings hurt when Benji needs space. He helps him to and from the bathtub and is the first to fetch fresh ice for Benji's root beer. I've told Banyan many times that he doesn't have to stay in the room if he's uncomfortable, but he has said firmly that he isn't going anywhere.
So, Banyan was here when the hospice nurses from Sarasota came to explain their services. We were joined by the Palliative Care physician, our nurse practitioner Shari, and Marris, our wonderful nurse. We all worked together to come up with compromises that might make a transfer feasible. We'd agree to platelets every other day, we'd eliminate Benji's antibiotic, we'd replace Narcan with Benadryl for itching–things like that. I was feeling ready to go home. All of our questions were answered except one.
I asked Shari and one of the hospice nurses to step outside with me and find a private room. I needed to know what would happen at home at the time of death. We have specific requests that we want to be sure are addressed. While the process was explained, we were joined by the other hospice nurse, the attending oncologist, and the Palliative Care physician, who wore a disappointed expression. He had just spoken with the hospice physician from Sarasota. The hospice physician was concerned that they wouldn't be able to meet Benjamin's needs. With platelets that are consistently so depleted, bleeding becomes a serious risk. For the first time, it was explained to me that Benjamin's recent occult blood and lack of platelets could result in a gastrointestinal hemorrhage.
This complicated our decision considerably. On one hand, Benjamin has had so few platelets for such a long time. He has never had an issue with excessive bleeding and I don't believe it will happen now. On the other hand, should a hemorrhage occur at home, it would be much more traumatic than at the hospital. The Palliative Care physician was thinking of Banyan. Here, we can get platelets whenever we need them, day or night. I needed to talk to Michael.
As if he could feel my indecision, Michael walked into the closed room next. He said that Benjamin had been asking for me. I asked the team to go over with Michael what we'd discussed, and I ran back to our room, where Benji was trying to navigate his way to the bathtub with help from the nurses. He was in serious pain.
Our conversation with Benjamin about his transition is evolving. I find myself talking to him during his baths, when his body finds sweet relief and his head is resting against me. I told him today that no matter how much his body hurts, the energy that lives inside him cannot be hurt. It is as bright as a star. It was here before he was born and it will be here after he dies. I told him that he has been so brave, and has worked so hard. It is okay if he wants to keep working and we will work as long as he wants to. But it is also okay to let go. Sometimes letting go is the bravest thing.
Benjamin returned to bed and experienced the worse pain I've ever seen. He was arching his back and screaming, and his eyes were wide and afraid. His cries were audible in the hallway, through the sound absorbing walls. Benji pressed his button and we requested a nurse bolus of Dilaudid as well as an increase in his continuous dose. We also requested Ativan to ease Benjamin's anxiety. Our nurse was in our room within seconds to make the changes. I thought about trying to navigate such a situation at home, where we would have had to call a nurse to come and increase the dose, possibly waiting an hour or more. The experience solidified my decision.
Michael walked in while Benji was in pain and came to the same conclusion. We told the hospice team that we needed to talk with Benjamin to be sure, and that we would get back to them by tomorrow morning. During Benji's next trip to the bathtub we asked him if he still wanted to go home, or if he would be comfortable here. He truly did not care what we were asking him. He just wanted to be free from pain. Our decision was clear. Only one of our options could provide platelets day or night and respond to his pain needs on demand. We will stay here, on 7 South, with this family who has wrapped us up in their care.
Today was another intense roller coaster. I can only imagine how Benjamin feels. I am grateful for the clarity that helped us make the difficult decision to stay here, with the nurses we love and the platelets and pain response we need. Benjamin has done everything that has been asked of him for more than two years. So much bravery. So many hard things. He deserves a peaceful passage, and we will do whatever we can to help this happen. Peace is our clear intention now.