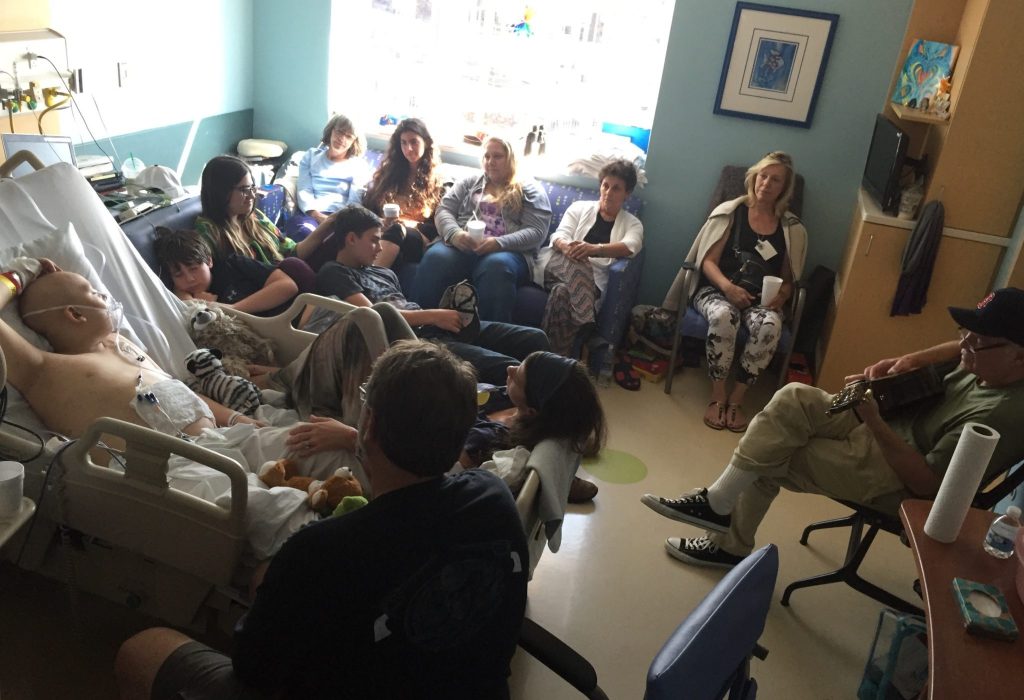 The parallels between birth and death continue to make themselves obvious. Both processes have a natural ebb and flow. When there is a deep breath, it is followed by a much needed exhale. When there is a moment of intense pain, it is followed by relaxation and normalcy. These slow waves allow for proper pause, for reverence, for gentle transition. The challenge is accepting that all phases are part of the same reality.
Last night was not easy. Benjamin's pain continued to increase, and we increased the dose of his basal Dilaudid along with it. Also, somehow, his peripheral IV line came dislodged from his hand, and he woke up feeling wetness on his skin; it was blood, and in no small quantity. We turned on the lights and transferred Benji to a chair while we stripped his bed and called our nurse. She helped stop the bleeding, which of course looked worse than it was, but it was a frightening few minutes. I'm thankful that Michael is here with me. He has adapted to the rhythms of the seventh floor well, and is by my side the moment Benji needs help.
The kindness flowing into this room continues. Today's first delivery included a box of donut holes. Benjamin ate one and a half of them. I was so happy to watch him eating. Such pleasure can be derived from the simplest things right now.
Morning rounds were really difficult. Shari and Dr. Stapleton, the weekend oncologist, suggested that we wean Benjamin off of any unnecessary volumes of fluid. His lungs sounded more coarse than yesterday and they felt it was time. They reduced the rate of his total parenteral nutrition (TPN) today, and by night shift, it was removed completely. They discontinued all remaining antifungal and antibiotic medicines as well. And they said that while Benjamin's platelets and hemoglobin were both below transfusion parameters, they recommended only giving platelets today–and from now on. Excessive bleeding should be prevented, but the volume of red blood transfusions at this point will only add burden to Benjamin's organs, which are trying to slowly transition. This conversation was so hard to accept. Every decision I've made for over two years has been made to help Benjamin live. Now I am making decisions to help him die.
Dr. Oshrine came to see us this morning. I can hardly look at the man. His sincerity was palpable when he told us how devastated he was, and how sorry. I told him through tears that I didn't know how to thank him for everything he has done for Benjamin–but we will find a way. Michael and I are looking into the best avenue to support Dr. Oshrine's research efforts, in Benjamin's honor.
Benji was surrounded by his entire inner tribe this afternoon–Paw Paw, Nanny, Aunt Sarah, Lilye, Lotus, Mimi, Kathy, Gana, Michael, Banyan and me. Benjamin rested and did his brave work to the sounds of Paw Paw's guitar. We were fed by our community twice more today. Rainbows danced around the room.
Benjamin's need for pain medicine increased throughout the day. We are finding success by alternating adjustments in his basal Dilaudid rate and the amount he gets when he presses his button. As his pain is increasing, so is the size of his abdomen. It is more distended than ever, sometimes causing him to arch in agitation. We're told it isn't just the swollen liver and spleen, but fluid shifting in his body as well. This is part of the process.
During Benjamin's few waking hours, he had moments of lucidity and capability that both filled us with gratitude and shook our resolve. He actually asked to take a bath tonight. He walked to the bathtub on his own, oxygen free, with me pushing his pole behind him. Michael brought in a portable oxygen pump just in case. We filled the tub with epsom salts and essential oils and I sat on the floor and washed Benjamin's body like I have done so many times before. I used every bit of strength I had to stay in the moment, enjoying his deep relief.
After Benjamin's bath he felt well enough to play a game with Banyan on their phones. He was himself. He was sarcastic. He ate a little bit of food for dinner. He held his oxygen saturations longer than he has in many days, going several minutes at a time without the need for his mask. It was impossible not to feel hopeful. Michael felt it. I felt it. It was a shiny, sharp, double-edged sword. Should we have given him that blood transfusion? Did we stop TPN too soon? Have we given up? As they have done so many times before, the nurses reassured me. No one in this hospital, least of all Dr. Oshrine, would allow a shell sticker on our window if there were so much as a fraction of a chance that Benjamin would overcome this burden of disease. What we saw tonight was part of the process, and it was a gift.
As Benjamin sleeps peacefully with a much lighter IV pole, I am thankful tonight. I am thankful for every moment we can share with him, from the normal to the beautiful to the terrifying. I am thankful that his pain is well managed and that he is not struggling for oxygen. I am thankful that Michael and Banyan are here with us and that our family and community have our backs in the biggest way. I accept the ebb and flow he is experiencing and am thankful for the balance it creates. I trust the innate wisdom of Benjamin's beautiful, dying body. He will know what to do, and somehow, we will know how to help him through.