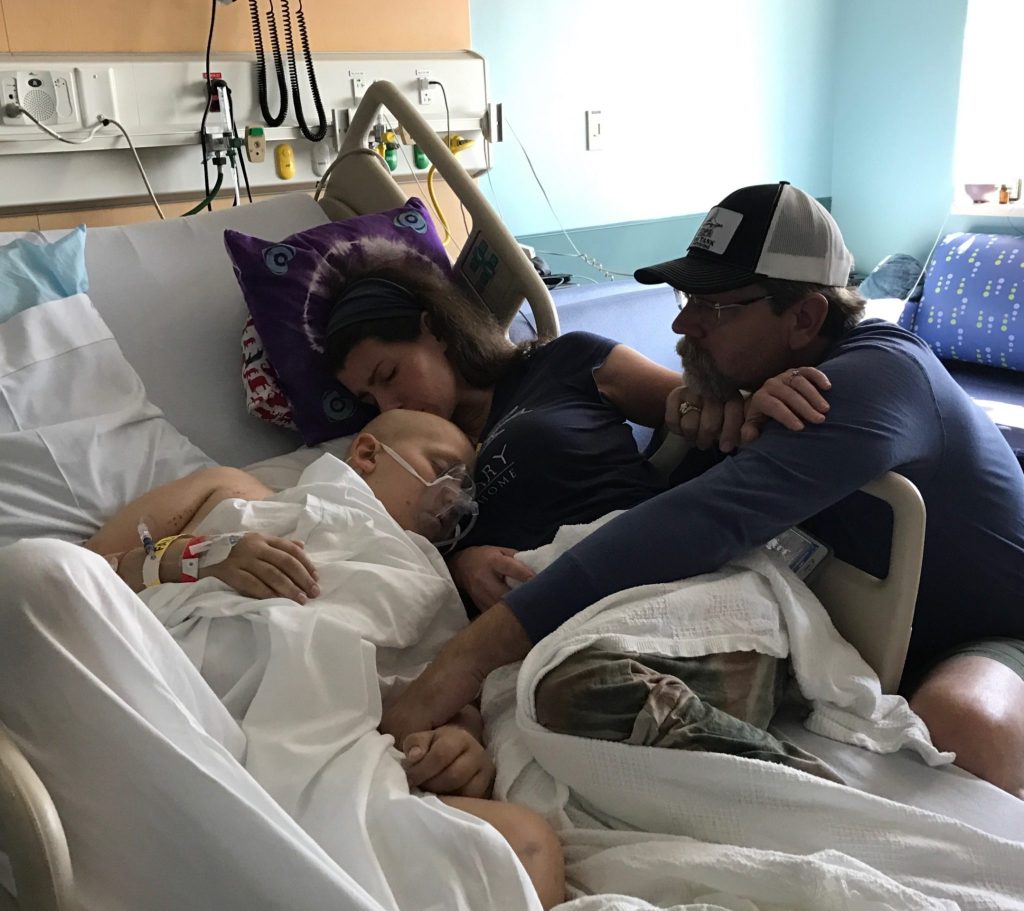 Benjamin slept deeply and peacefully last night and I followed, breathing with him. I woke up at shift change, grateful to see one of my favorite nurses coming on board to shepherd us through these next days. I did not get up to look at numbers. I am not writing them in my binder anymore. I stayed in bed to look at my boy, hoping it wouldn't be the last time I'd see the sunrise on his skin.
Benjamin's face was such a healthy color this morning that it played tricks on me, especially when I heard that his white cell count had decreased again. But there is no reduction of disease. Benjamin's belly is more distended than ever, to the point of altering the shape of his navel. His oxygen has been increased to 13 liters, almost maximizing the capacity of his current mask. The gurgling, rattly sound in his chest is increasing, though his lungs sound clear. His transition is progressing. He is working through it, gently, slowly, and beautifully. This is really happening.
During a conversation with one of our nurses, I expressed my concern over Benjamin's ongoing need for blood and platelet transfusions. I wondered if we were being selfish. She reassured me that we absolutely were not. Continuing transfusions only ensures that Benjamin will avoid as much unpleasantness as possible as he completes his passage. I am more grateful than ever for blood donors. His comfort and peace is so important right now. This morning he received six units of platelets; it was his 92nd transfusion.
The Palliative Care nurse practitioner came to see us this morning. She reviewed Benjamin's comfort medicines and made sure our families were taken care of and had their questions answered. For the first time, Michael and I shared some of our thoughts and questions about decisions we'll have to make in the coming days. Such a feeling in my stomach I have never experienced. I decided that any conversations about the future can wait. Every moment that Benjamin is here with us is a gift. We must be completely present.
The boys' grandmothers, aunts and cousins returned today to hold space with us. They waited in the hall when Benjamin needed quiet rest, and sat with us when he was comfortable. He experienced a rise in his pain in the late morning and we called the pain team right away. They replaced his Fentanyl patch with a basal Dilaudid dose on his PCA. It worked well. When he felt relief he fell asleep deeply with his head on my chest. When he moaned softly I hummed low with him, laboring together like we did more than nine years ago. I inhaled him, studying every pore, as if he were newly born. I tried so hard to stay present, but the pain in my belly betrayed me, reminding me with every breath that I will have to learn how it feels to miss him.
We continue to slowly decrease the non-comfort medicines Benjamin is taking. Yesterday and today we eliminated broad spectrum antibiotics. Today we discussed weaning Benjamin off of his total parenteral nutrition (TPN) soon as well, to avoid extra fluid taxing his organs. These are all such hard decisions.
Though Benjamin slept for most of the day, he had windows of lucidity that we all enjoyed. We played a few minutes of Apples to Apples with our family, and in the evening we watched the beginning of a movie before Benji and I fell asleep. When he was awake, he was thirsty for root beer, which we gladly obliged. He wants to do as much as he can by himself, pouring the root beer and navigating the straw through the openings in his oxygen mask until he drinks his fill. It is a gift to witness the relief on his face when the cold, sweet carbonation finds his throat.
The energy surrounding our family and our boy is dizzying. As rainbow stars hang from our windows on the 7th floor, their images are also being sent to us by hundreds of people, from family to close friends to strangers. We were fed lunch and dinner again today and a meal train is underway. Several classes at Benji's school sent pictures of their students with rainbow stars and signs for Benji. The acts of kindness and words of love and prayers for peace are unceasing. As painful as this is, we are so grateful to be so boundlessly supported in this sacred time together with our son.
Benjamin is sweating profusely tonight and his coughing is more pronounced. His pain has escalated again, so our night nurse gave him a bolus of Dilaudid in addition to the high frequency with which he's pressing his button. She saw him wincing, and reminded us that we could press his button for him. She doesn't want to see him in pain either. But Benjamin has been autonomous about pain medicine and just about everything else for more than two years. I will not press his button without his blessing.
There are so many feelings competing in my gut as I watch my son dying. But overwhelming all of them is pride. Benjamin has done everything that has been asked of him so bravely and gracefully. He is doing so now. His light shines so brightly, more brightly than the limitations of his body. Occupying the space next to him as he completes this journey is such a privilege.