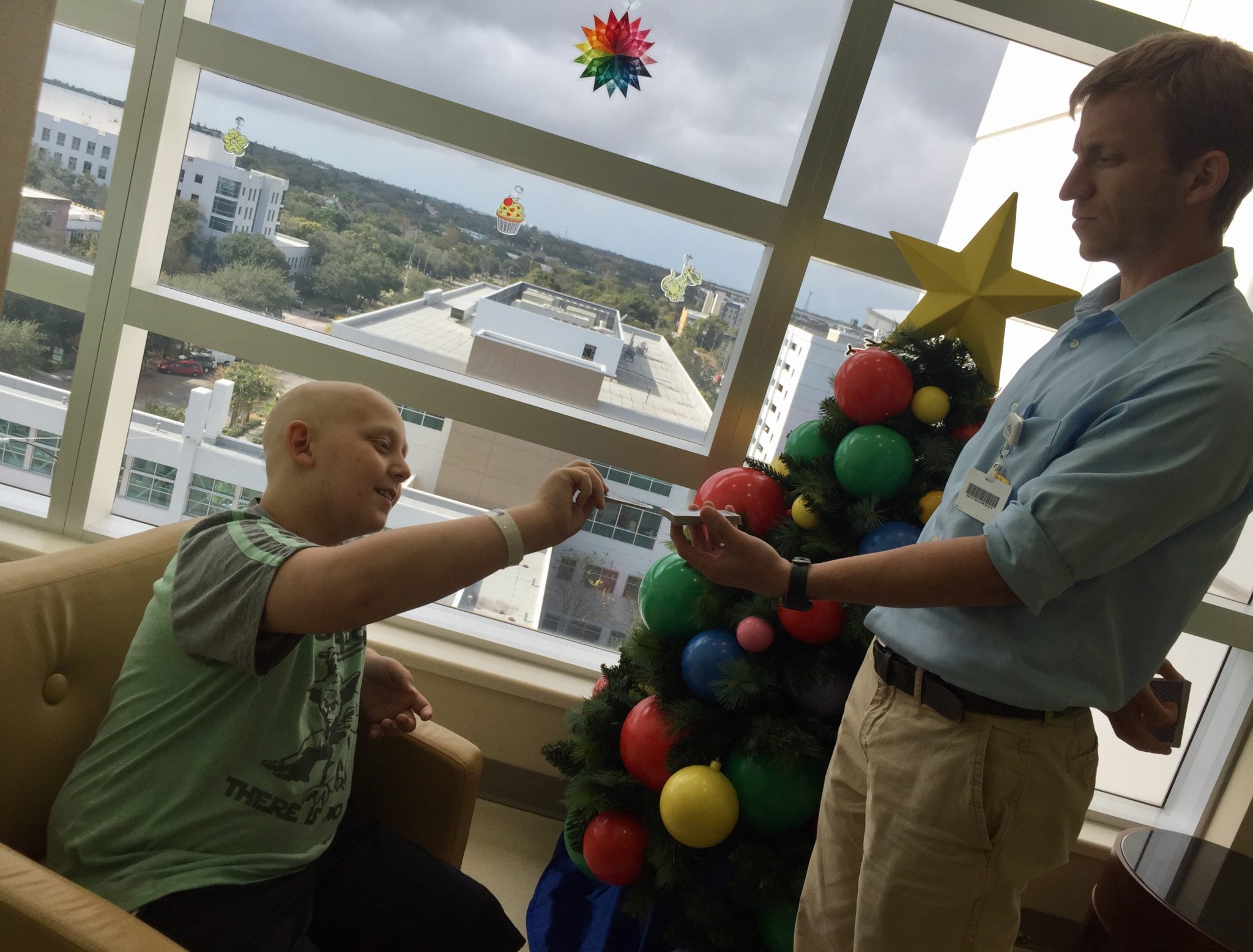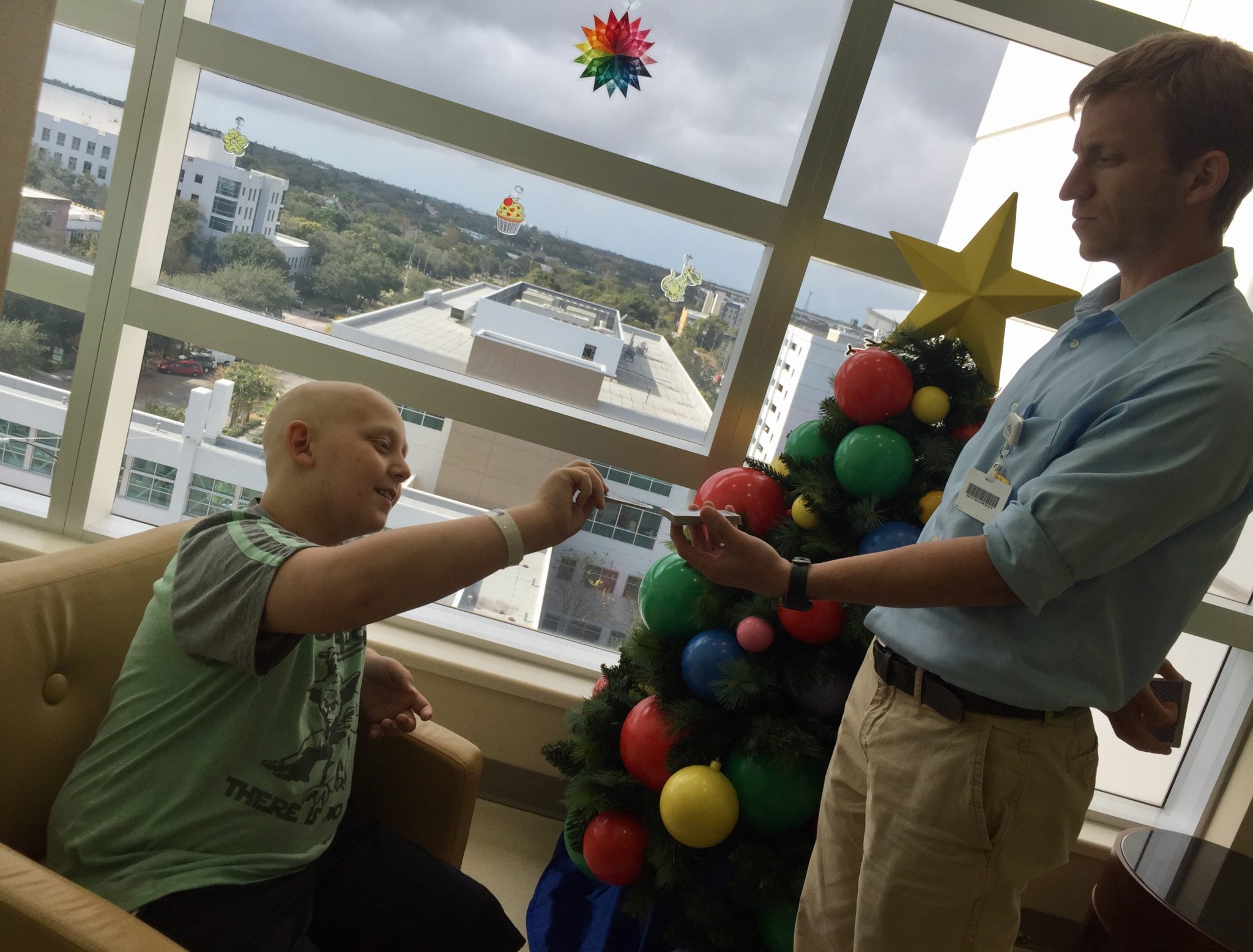 This morning's labs were frankly terrifying. Benji's white cell count and neutrophil count doubled again, and his blasts went up to 73%. His absolute blast cell count is so high. The leukemia is making it really difficult for his marrow to create healthy cells. His platelets disappeared again after yesterday's transfusion. And his absolute lymphocyte count, the number we need for T-cell collection, is going down. I felt certain when I saw the screen that we had missed our precious window for apheresis.
Our nurse practitioner came in while Benji was still sleeping. I expressed my concerns. She said she would talk to Dr. Oshrine and make sure he wanted to proceed as planned. She also had placed a call to the pathologist to have him manually sort the differential and be sure the machine hadn't made a mistake.
Benji woke up wanting to take a bath–his typical morning request–but he was happy, his spirits were high, and his body felt well. We played with Legos and did some multiplication work while his platelet transfusion was dripping, then our nurse practitioner came back in with the attending physician for rounds.
The team said that Dr. Oshrine wanted to move forward with the apheresis catheter placement on Monday. I asked if it would be prudent to try and bump the procedure up to tomorrow, given the rise in blasts today. I was told it wouldn't be possible. The oncology team and the surgery team were on board and prepared to move whenever necessary, but the apherisis process is controlled by OneBlood. There isn't a machine available until Monday.
For reasons that defy logic, this stirred up something akin to rage in my belly. I went on a whispered tirade, sheltered from Benji's ears and appreciated by the kind listeners in front of me. After all of the collaboration that went into this plan, I could not accept that we might lose the opportunity to collect Benjamin's cells because of logistics. Once I calmed down, I realized how manic I must have sounded. Dr. Oshrine still feels that Monday is the best day for collection, for several reasons. My tirade was fear driven. I am afraid of what could happen if Benji's blasts continue to rise. So, I asked.
Bone pain will be the determining factor. If Benjamin's blasts begin to cause severe bone pain over the weekend, we will intervene with hydroxyurea, a chemotherapy Dr. Oshrine and I discussed as the best choice for management now. It will help get the blasts down, but it will knock down other white cells as well. I didn't get an answer during rounds as to whether this would prevent cell collection if we need it before Monday. I needed to speak with Dr. Oshrine.
The team left to continue the work necessary to coordinate Benjamin's busy schedule for next week. They called in a consult with the surgical team. They ordered an ultrasound to look at both sides of Benjamin's neck and determine which vein would be best for the catheter. They contacted the blood bank and put the volume of platelets Benji will need Monday morning on hold, to be absolutely sure it will be available. They already scheduled Benji's nurses for Monday and Tuesday and made sure there was additional staffing to assist with post-op needs. Every time I walked out into the hallway today, doctors and nurses were having conversations about Benjamin's care. So many people are working so hard for him right now.
Our room was bustling while the ultrasound technician was scanning Benjamin's neck. Our sweet Thursday volunteer was here to play with Benji, toys in hand. Benji's teenage buddies Austin and Marina came back to the floor to participate in a hospital fundraiser. Nurses were in and out as well. Everyone was carrying on perfectly normal conversations with Benji while he was lying on a hospital bed with a gelled wand pressing into his veins.
Dr. Oshrine came to see us a little while later. Benji was playing with a nurse, so I stepped outside with his doctor and we sat by the window. I expressed my fear about the potential need for intervention prior to Monday's apheresis. He told me that hydroxyurea could still be used and not compromise the collection. This was a huge relief. I hope we don't need it, of course. He reiterated his preference for Monday for the procedure and was very pleased that everything fell into place as quickly as it did. We have the blessing of the hospital and their partners at Moffitt to collect, freeze and store Benji's cells. After the process is over, the Inotuzumab will be ready to ship here, and Benji should be able to start its administration by Wednesday.
We had to talk about risks. Benji's platelet levels pose the highest threat to a successful implantation and collection process. The team feels that the plan is solid, but of course it is not ideal. If there is too much bleeding, they may have to stop the procedure. Benji will have a transfusion very early Monday morning, then he'll have a platelet level drawn. He will go down to surgery with a second transfusion going through his port. He'll have a peripheral IV placed for anesthesia. He will also have his port reaccessed while he's asleep, something I requested to avoid an additional platelet challenge on Tuesday, when he'll be due again. I was given three consent forms: one for surgery, one for apheresis, one for the port reaccess.
There is also a chance that we will not be able to collect what we need in terms of volume to be able to manufacture CAR-T cells, should Benjamin need to enroll in a trial. But Dr. Oshrine was careful to tell me that the Inotuzumab wouldn't make Benji ineligible from trying to collect again. He feels strongly, though, that this is our best opportunity to do this. His conviction made the consent forms a little easier to sign. I believe in his investment in our son. I believe the potential benefits of cell collection far outweigh the risks, as scary as they seem right now.
Benji walked out of his room while Dr. Oshrine and I were talking. He had a deck of cards with him. He and his doctor started exchanging magic tricks. Dr. Oshrine looked directly into Benji's eyes the whole time. I couldn't tell if he was just trying to learn Benji's secrets–or something more. He left me with sound advice: don't worry too much about the numbers on the screen. Look at the boy in front of you. He renewed my awe. He is a good doctor, and a good man.
Michael arrived while the music therapy folks were in our room. Benji had grown a little tired by then, and he was in bed enjoying the sweet sounds around him. My phone rang a few minutes later; I stepped outside to answer. It was a physician from the National Institutes of Health. She'd received my email about Benji and wanted to let me know that they'd have an opening in their CD22 trial sooner than they expected.
The NIH doesn't accept cells that are collected anywhere else, however, so I told her I felt we needed to stay the course here for now. The timing is too delicate. She understood and asked more questions about Benji's case, trying to be of help. I told her everything. She said they have seen very promising success with Inotuzumab at her institute. I sent Dr. Oshrine her contact information and learned they'll be at the same conference this weekend. It fills me with hope to think of minds from all over the place coming together to discuss things like immunotherapy and cryopreservation. I feel certain there will be conversations about Benjamin there.
Michael was also here when we had our surgery consult. The surgeon who placed Benji's port will actually not be conducting the procedure on Monday, but the man who will seemed confident. He said he places one of these at least weekly and has done them with platelets infusing before.  Most of Benji's questions for him were practical; he wanted to know how they plan to place the peripheral IV in the operating room, and which operating room will I be in, anyway.
Banyan, Kathy, Gana and Aunt Becky came with sweet gifts and Chinese takeout, which Benji devoured. Benji told jokes and enjoyed his time with everyone very much. He was walking the halls as they left, not complaining of any pain whatsoever. I am reassured by the memory that his bones didn't hurt the last time he was this infected with leukemia, just before his diagnosis.
Benjamin has been on treatment for acute lymphoblastic leukemia for 700 days.  In 700 days, he has had:
1 surgery to place his port
5 bone marrow aspirates
19 scans (MRI's, ultrasounds, x-rays, CT scans, EKG's)
43 platelet transfusions
14 packed red blood cell transfusions
1 cryoprecipitate transfusion
22 lumbar punctures
22 doses of intrathecal chemotherapy (into spinal fluid)
72 doses of intramuscular chemotherapy (via shots)
88 doses of intravenous chemotherapy (via his port)
470 doses of oral chemotherapy
106 (northbound) trips over the Sunshine Skyway
121 nights in the hospital
223 doses of steroids
445 doses of antibiotics
10 days of immunotherapy
…with one surgery, planned apheresis, cryopreservation and experimental drug on the schedule for next week.
Look at the boy in front of you.
I see him. I am in awe.