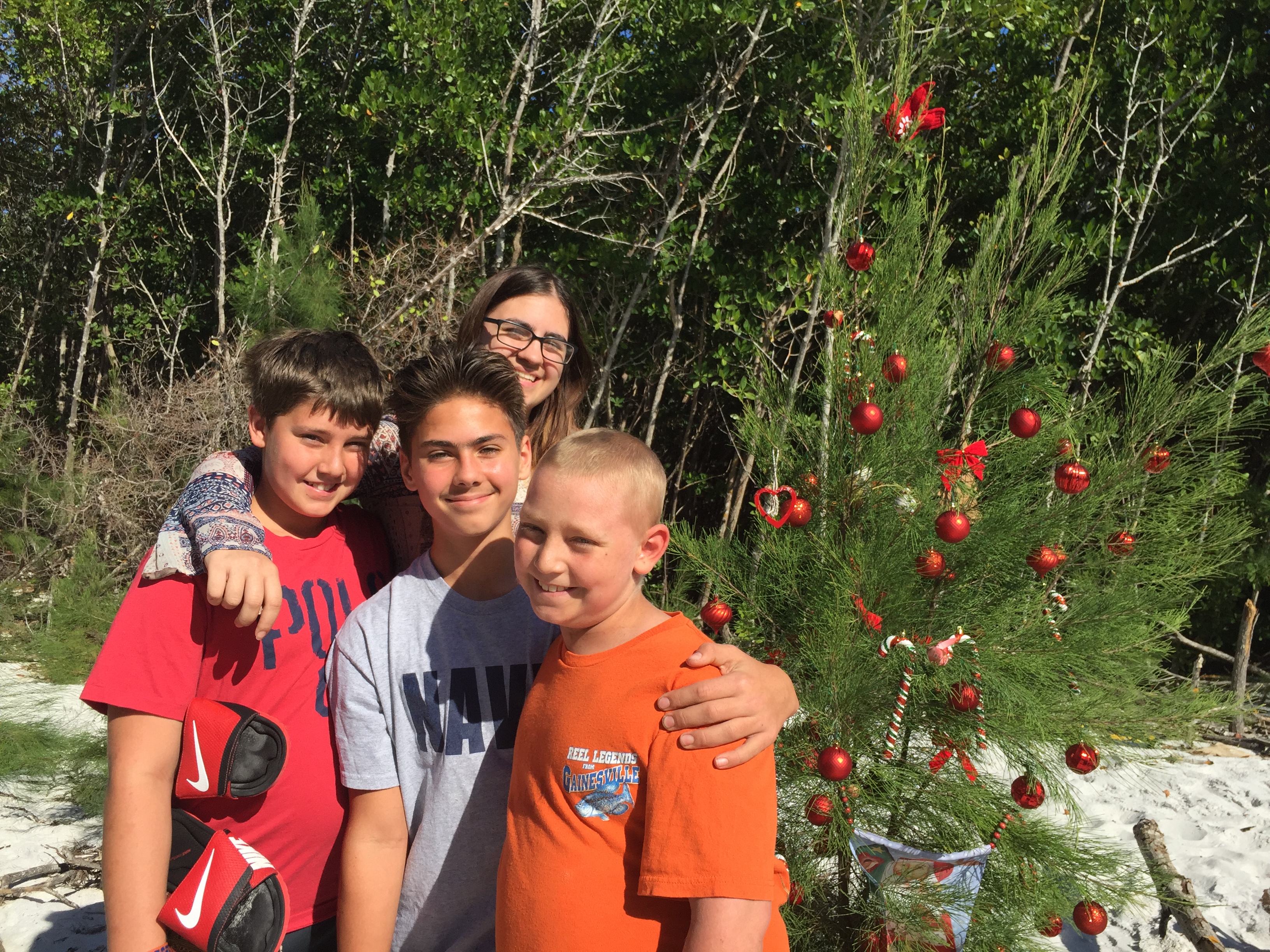 It was a sweet Sunday. I was the last to rise in our full house, and was met with a fresh cup of coffee when I did. We all enjoyed a slow Sunday morning pace.
The weather was perfect in Sarasota today. My sister and her kids stayed to take a little adventure with us out to Beer Can Island, a spot we've never visited between Longboat Key and Bradenton Beach. It was magical. Hidden paths through the mangroves, giant outcroppings of driftwood, acts of kindness left by visitors before us. In a clearing on the path was a small cedar tree completely decorated for Christmas. On a huge climbing piece of driftwood were painted inspirational words like "BELIEVE" and "HOPE" and "LOVE." Shells were placed on upturned roots in gorgeous designs. Another clearing revealed tent frames handmade from branches.
We each did what we loved during the time we spent there. The kids all climbed the driftwood cantilevering over the water, and found caves and forts and secret places together. Sarah explored the artistry of the patterns of nature. Michael walked as far as he could walk. And I found a tree rooted in at the perfect angle to hold me as I meditated for a few minutes and soaked in the salty air I'd been craving. It was such a gorgeous day.
We shared a meal with our family together before parting ways. Our neighbor Emma shares a birthday with Benji, and we came back to Clematis Street to celebrate her sweet sixteen. We chose this invitation over an invitation to the annual "Children with Cancer" holiday party up in St. Pete. It was no contest, really. Our hearts are warmed by being home right now.
During the party I got a phone call from a friend who has recently given birth. She was in need. I knew the blend of emotions she was trying to articulate, and I felt an overwhelming desire to help her. With Michael at home and my boys with good friends next door, I went on a mission. I collected the items I thought might help my friend and delivered them to her doorstep. I didn't knock. I ran back to the car, engine running. This was such a gratifying act. I have felt such a disconnect at times from my identity before leukemia, an identity that was shaped significantly by activism in the maternal health world. Dropping that bag at my friend's door was a moment of reconnection. The public arena I occupied before may not be serving me now, but a late night drop off for one mother can be just as significant, if not more so.
Tomorrow morning, Benji, Banyan and I will head to All Children's for the last time in 2015. It will be our 86th northbound trip over the Sunshine Skyway. Benji will get his port accessed and his blood drawn. We'll see how his liver, kidneys and immune system are tolerating his nightly chemo. If his numbers look good, he'll get intravenous Vincristine, and he'll start another steroid pulse. He'll have oral Methotrexate when we come home. He's not thrilled about getting accessed, but he's very pleased that he has no lumbar puncture this month. I've learned from Cody's mom that these monthly trips become harder as the times away from the clinic grow longer. This makes sense to me as I watch Benji's face when we talk about tomorrow.
Before Sarah left today, she gave me two bags of gorgeous glass ornaments that she handblew. They are gold, the color representing childhood cancer awareness, and they are gifts for the doctors, nurses, medical technicians, receptionists and custodians that have treated Benjamin with compassion and love this year. Each act of compassion was such a huge gift to our boy and to our family. It's nice to be able to return the favor in a tangible way.