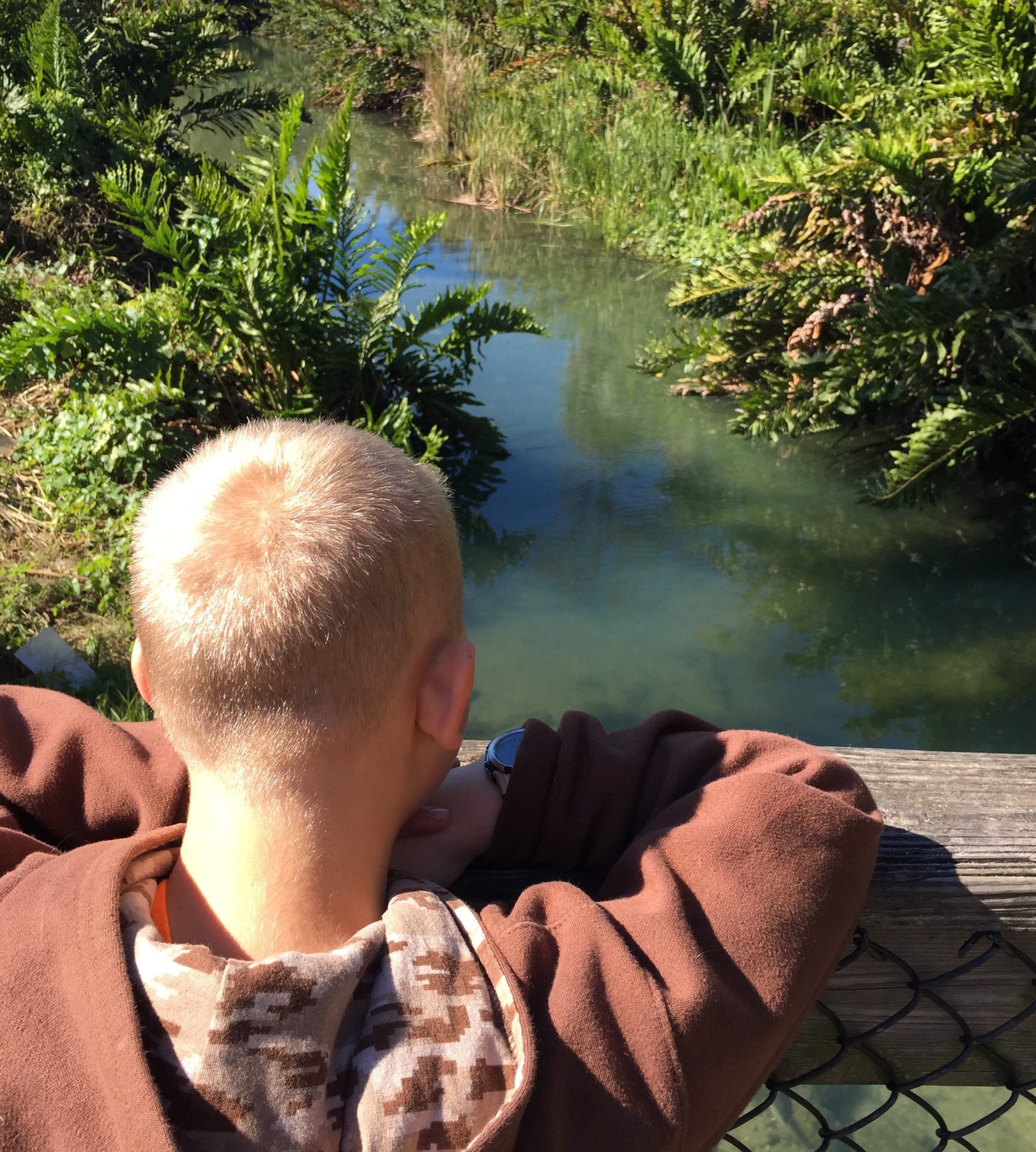 Once again I find myself so grateful for this space, this empty white screen. This day held so much beauty but ended with fear and pain. I need this space to rearrange things back to beautiful before I sleep.
In a way, I feel like we're graduating soon. One more day on dexamethasone, two more days until the tell-tale bone marrow aspirate, five more days until we know the results that will pave our roadway into Consolidation. We'll no longer be in Induction, come Friday week. No longer freshmen in this weird new world. We know the meds, the acronyms, the lingo. We're getting deep into research that wasn't on the surface when we started.
Benjamin and I spent lots more time in the kitchen today. We packed a picnic and went to a park we hadn't been to in years. We laid on the grass and read several chapters of our current book, a favorite, James and the Giant Peach. A dear friend who lives close came to say hello, with coffee in hand for me, and showed Benji a sweet spot to watch fish in a clear brook. We watched a while, then Benji listened to his body when it told him what to do. We went home to rest.
After a nap (and a few more chapters), Benjamin's teacher came to our house for her first Hospital Homebound visit. It was lovely to see her. Benjamin was well-rested and smiling the whole time. She brought many fun things for us to work with at home, and got us caught up with material so we can conduct our own tests and assessments. I plan to get ahead on the days Benji feels well, and encourage rest on the days he doesn't. I'm thankful we have such a bright boy. (He completes our set of two.)
We enjoyed another phenomenal meal tonight from a generous friend. We cleaned the kitchen, helped Banyan with a math project, did our bath and bedtime routines. The boys were almost asleep–my tea kettle had just started to whistle–when Benjamin started crying. His legs were hurting. Badly. All over his thighs. This is a new symptom we haven't dealt with before. I remembered that leg pain can actually be an indicator of leukemia, so my mind was racing: does this mean more blasts? What's happening?  I immediately called the after-hours oncology line at All-Children's. I also posted in the online group I've joined of moms with leukemia kids.
The doctor on call was kind, but vague. She told me to check for signs of swelling or infection, and that it was probably nothing. She did remind me that leg pain could be a side effect of vincristine. That was a mild relief. Then I checked the moms' group online. There were already 17 answers. Apparently severe leg and joint pain is common in late Induction. Some moms attribute it to the vincristine, others to the steroids; both have been pumped though Benjamin's body for four long weeks. Some kids even stop walking during this phase because of the pain. With almost every response to my post came a word of reassurance and a tried and true remedy.
Two valuable lessons learned. One: it makes sense that the end of each phase of treatment should be the most difficult. We will be prepared moving into Consolidation. Two: groups of mothers on a mission are worth their weight in gold. I promise to pay this experience forward one day.
In lieu of having their recommended treatments on hand tonight, Michael and I took turns massaging Benjamin's legs, and used arnica and muscle cream. We told him he could take pain medicine if he wanted to. He doesn't like pain medicine. But he couldn't sleep for crying. Finally, he asked for it. We gave him half the recommended dose. He is sleeping soundly.
When the old man gives James the bag of magic in James and the Giant Peach, he says, "…marvelous things will start happening to you, fabulous, unbelievable things–and you will never be miserable again in your life." I hope that one day, this whole leukemic chapter will be Benjamin's personal bag of magic. That he will have a special perspective with which to view the world, and his place within it, and never be miserable again.