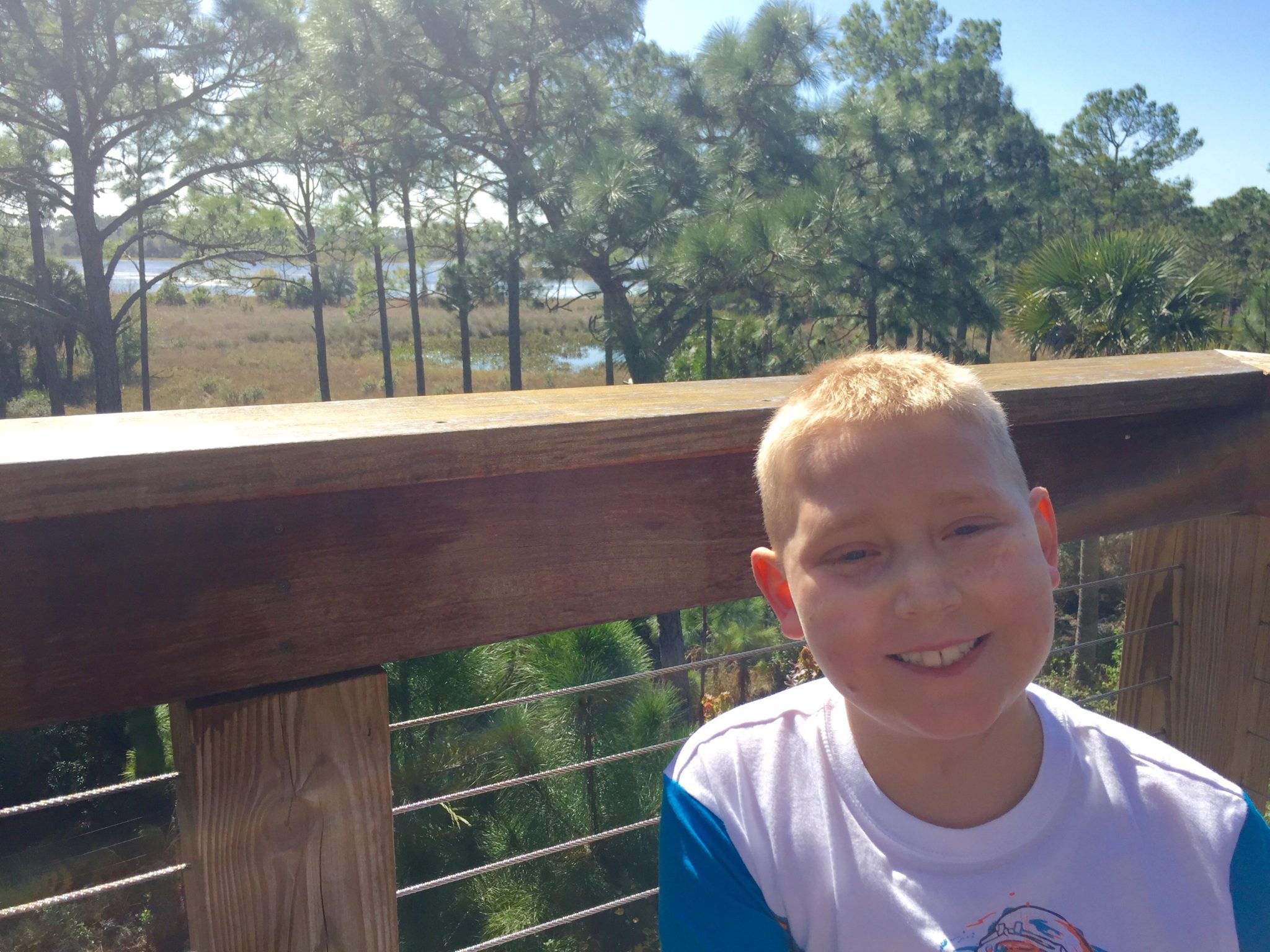 Mondays. Transition days. Back-to-everything days. Tender days.
The early hours were somewhat rocky this morning. Benjamin was teary not to be able to go to Daddy's breakfast meeting, teary not to be able to make homemade french fries at 7:30am, teary at the prospect of walking the dogs. Mondays are rough for most of us. For Benjamin, precarious moments are made doubly intense by 25 days of steroids. We understand. We are patient.
Once we returned from dropping Banyan off at school, the pace slowed and the house seemed to exhale. Benji was much calmer as we settled into the morning. An early nap meant I was able to work a little (and research a lot). After he woke, we looked up the information for the cancer support center that had contacted me–The Center for Building Hope–and headed north, to check out the free organic vegetables they offer weekly. Of course, we packed a picnic lunch before we went.
We were given the grand tour of the gorgeous building when we arrived. It's an incredible facility, and offers support groups, creative opportunities (pottery, quilting, expressive writing), physician dialogue, meditation, a lending library, a labyrinth and much more. I took many mental notes but moved through quickly, as Benjamin had one thing on the brain, and it was in a picnic bag in the car waiting for him. We walked back to the room where the vegetables were distributed. Inside was a brilliant spread of produce grown by Aloe Organics, a family farm dedicated to feeding families with children battling cancer.
Wait. That's not for us. We don't need that.
These words fly through my head almost as quickly as I dismiss them. Of course it's for us, the whole reason we came here was for the produce. We're juicing, we're making smoothies, we're trying to get as much green into this boy as we possibly can–he needs nutrients, and we are deeply grateful for this farm who wants to heal their community. But "families with children battling cancer" still sounds so absurd, at least right at first, when describing OUR family.  It's the same reaction Michael and I shared when the Make-a-Wish Foundation visited us in the hospital. It's the same reaction I have when I see my son's face on a crowdfunding page. That's not for us.
I don't look at Benjamin and see leukemia, or cancer. Does any parent? I wonder. They're such big words. I see that my boy is tired. I see that there are patches of hair that are thinner than others. I see the puffy cheeks from the steroid and the tummy aches from the vincristine. I know the numbers, I understand the science. But those are just details. I see my boy shining through those. Telling jokes, being creative in the kitchen, making keen observations, snuggling perfectly into my arm, eyes wide and sparkly when he hears Daddy's truck come home.
We took our picnic up to the top of the observation tower at the Center, overlooking five acres of native wetlands. Benjamin walked slowly up the stairs. He shared everything in his lunchbox with me. He insisted on it. We did a little school work, watched the sky for our favorite birds, and headed home.
With the bags of organic vegetables we were also given a jar of raw honey. Benjamin talked all the way home about making tea with it. So before his very long afternoon nap, we had tea. Lavender. His tea tag said, "Share your strengths, not your weaknesses." Mine said, "Speak the truth."