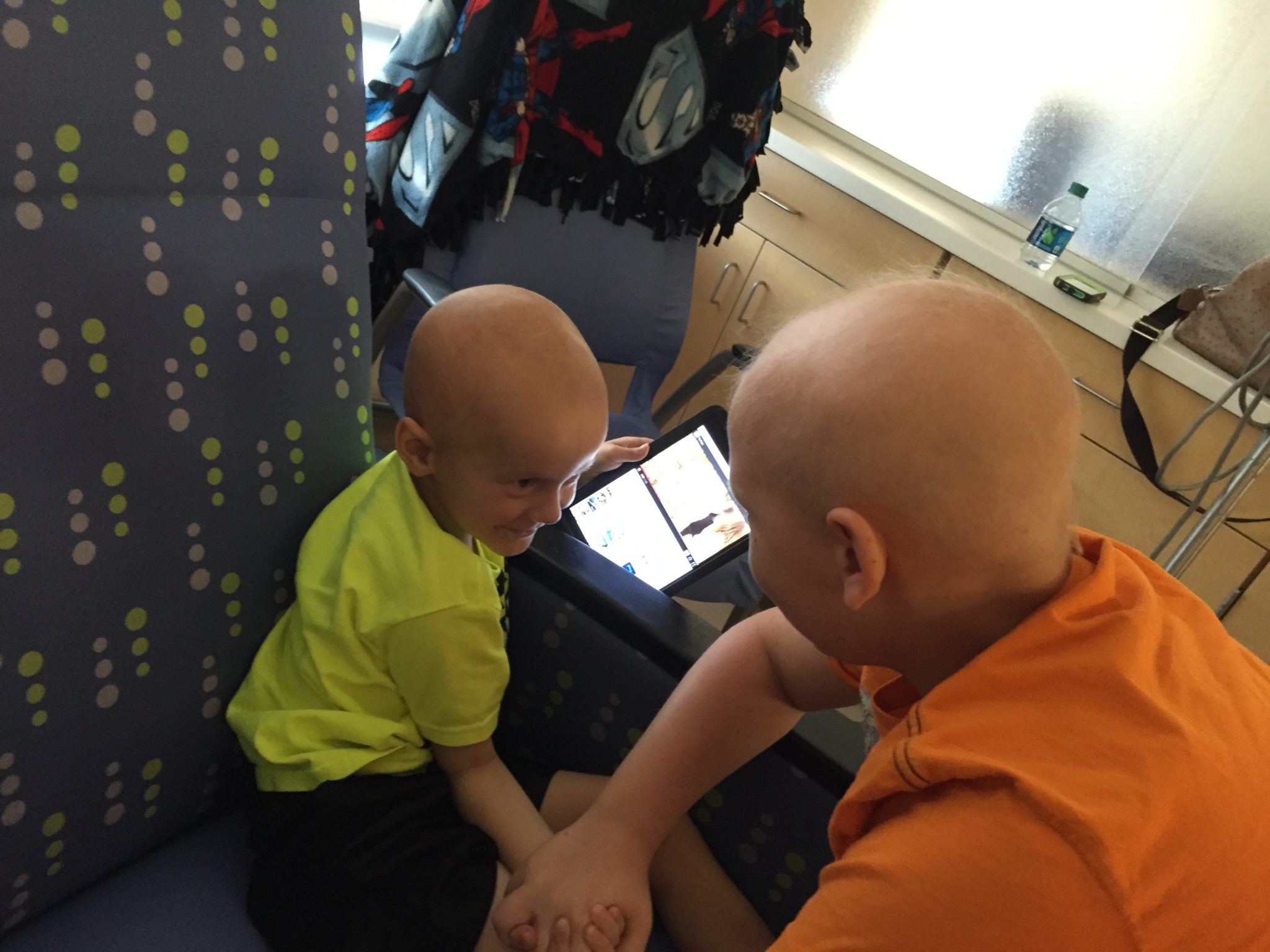 I woke up thinking of Hudson, the little boy I wrote about yesterday. I thought of his mama, and her decision to fill her son's days with happy adventures. I went through the motions of the morning, waking Benji up first for our early morning drive over the Skyway. When he asked for bagels from our favorite bagel joint, I said yes immediately. I wanted to say yes to everything.
Michael dropped Banyan off at the bus stop, and Benji and I went north. I put numbing cream on his port before we left, and on his legs when we arrived. We have the timing down to a science. We arrived in the Infusion Center. It had a strange energy today; there were lots of teenagers there, most of whom were sleeping in their chairs, hooked up to whatever they needed infused into their bodies. We waited for the nurses to have a break in their morning to access Benji's port and draw his labs. When Tracey came with her sterile field and needle ready, Benji was brave. He squeezed my hand when the needle poked his chest. Tracey accessed, flushed, drew blood and heparinized all at once, to minimize his discomfort. I am so grateful for her.
While we waited for Benji's labs to come back and his Erwinia shots to be sent up from the pharmacy, we had an epic paper airplane battle. We walked all around the Infusion Center, seeing whose planes would fly farther. We ended up near the door to the center, which has a little window in it that looks out into the waiting area. Benji peeked through the window. "Hudson!" he said. My heart leapt into my throat.
Sure enough, a few minutes later, Hudson took his seat in a bay a few down from Benji. Benji wanted to go play with him immediately. For a split second, I considered limiting their play. I was feeling selfish, indulging the thought that maybe Benji shouldn't get any closer to Hudson, that he should be protected from the pain of loss, should his prognosis take its course. I quickly dismissed the consideration. Hudson's parents have committed to making him as happy as possible in these coming weeks. They are protecting him from burdens too big to understand. I am certainly not telling Benjamin what I've learned. I'm not sure if or when that conversation will happen. For now, for today, Benji was just happy to see his friend.
Benji and Hudson played tag, watched YouTube videos, arm wrestled, and flew paper airplanes. At one point they went into the bathroom together to turn out the lights and investigate a glow in the dark t-shirt. I told Benji, "Keep your distance. You've had a runny nose." Hudson's mama said, "Oh, it's okay. We're past all that now." When the boys were out of eyesight, I hugged her tight and quick, not long enough for tears to pass. This woman is on a mission, and I could feel it. They have ended all chemotherapy. Hudson was there today for a blood count, so she knew what precautions to take when they go to swim with the dolphins this weekend. Disney is next.
Soon Benji's labs came back, and he was cleared to get his Erwinia shots. He was as brave as he's ever been. His eyes widened during the pain, but he remembered to breathe. There were no tears. The nurses adorned him with decorated bandaids, and we began to take our laps. On the third lap, we ended again at Hudson's bay. Benji and Hudson played during the hour Benji had to wait. They made each other laugh. The light in Hudson's eyes is incredible. He is so happy and so sparkly…that, says his mama, is the hardest part. He feels just fine. We talked a lot, about his three year journey since diagnosis, their travels to Philadelphia and New York, his three relapses. All afternoon, I struggled, looking at my own sparkly guy. I fought doubt so hard. I kept it away for now, with logic and distraction. Believing in that which you cannot see is an intense and exhaustive exercise.
When Benji's wait was over, he was deaccessed, and we were given our discharge papers. His port bled more than usual when the needle came out. His platelet numbers are super high right now, so I questioned the bleeding. His nurses said that his port has been accessed so frequently lately that it's more likely to be tender and sore. I'm grateful for his weekend break. We were given our orders to come back Monday morning and check Benji's counts. Today, his absolute neutrophil count (ANC) had gone down again, to a "profoundly neutropenic" 162. On Monday, the number will need to be 750 in order for him to begin his next phase of treatment, Interim Maintenance 2.
As we left, we stopped by Hudson's bay one more time. His mom made a passing reference to something that happened in the clinic three years ago. Benji knows that his own treatment will last a little more than three years. He said to Hudson's mom, excitedly, "So he's almost done with treatment?" Hudson's mom paused, only slightly, then answered with an upbeat "Yep!" Benji continued, "When will he get his port out?" Hudson's mom said, "We don't really know yet." Both answers were honest. She stayed so solidly grounded for her boy. So positive and enthusiastic. Benji gave Hudson his paper airplanes, and we said goodbye, for now. I was, and remain, in complete awe.