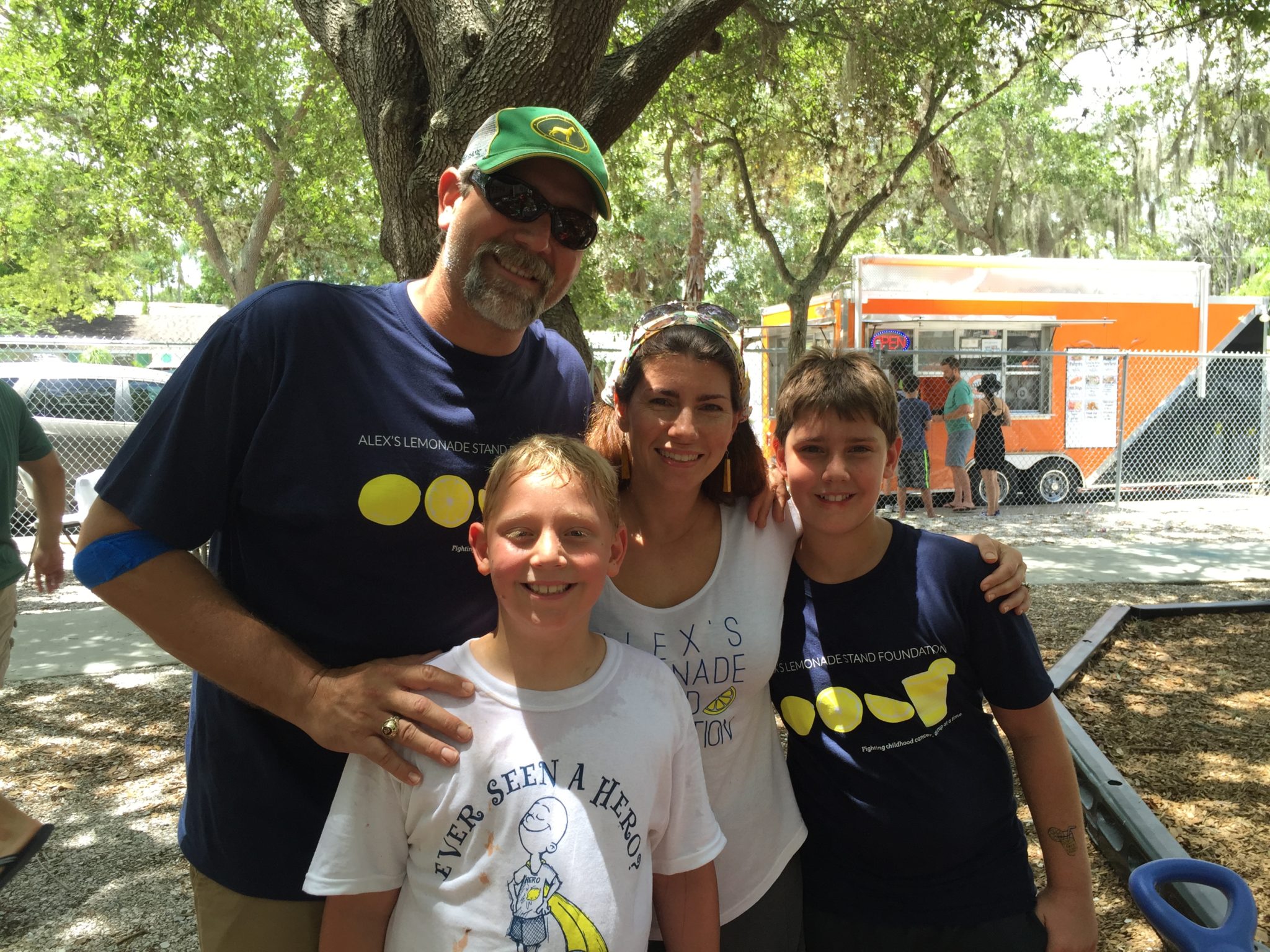 The hospital bags are packed and waiting near the front door. The Scopolomine patch is placed securely behind Benjamin's left ear. The children are sleeping soundly, ready for our trip over the bridge in the morning. And I am finding that my cheeks still hurt after a day that was full to the brim with love, lessons, and lemonade.
We woke up early this morning at Michael's mama's house. We said our goodbyes to the Gilkey cousins and left quickly, with a Grammy-made breakfast for the road. After a quick stop at home to relieve the dogs and get dressed in our Alex's Lemonade Stand Foundation gear, we drove the familiar path to Southside Elementary to spend the day at the grassroots lemonade stand in Benjamin's honor. All throughout the country on this weekend, stands are held to raise money for pediatric cancer research. A sweet friend who is a Southside mom and pediatric cancer survivor was the mastermind behind the Sarasota stand. She had a small but mighty team of fierce women behind her. I could never thank them adequately enough.
From the moment we arrived, we were met with a rush of emotions. We saw my sister's car first; she decided to sprint down from Gainesville for the day with my niece and nephew. Then we saw the Big Red Bus, the mobile donation center for One Blood, which is the company that provides blood donations to All Children's Hospital. On the side of the bus was a huge banner with Benjamin's face on it, and the words Donate Blood in Honor of Benji the Brave.
When we finally made it through the entry gate, we were welcomed by faces we know and love, and faces we were meeting for the first time. Family members and dear friends were there. The Southside Elementary School family came out in full force, with principals past and present, and many, many parents, students, and teachers. Michael and I continued to bolster ourselves against each other as the words and feelings came in waves.
We were extremely moved that a couple who has worked with Michael, and his father before him, came to show their support; they recently lost their son to brain cancer. Their son was a Southside father and such a sweet, well loved member of the community. His wife was one of the first people to bring us a meal when Benjamin was diagnosed. This family has always shown us the deepest of kindness. I was at a loss for words.
Another kind couple approached whose faces we'd never seen before. Their son was holding a benefit in New Jersey today to raise money for cancer research. They couldn't be there, and they saw my column in Friday's paper and decided to come to the lemonade stand instead, to be with him in spirit.
A former colleague from my community radio station came to show his love. He is recovering from tongue cancer and could hardly speak.
People from all phases of Benjamin's life were there. The entire time, he was playing at full speed, with his big brother, his cousin, and his neighbors and friends. I marveled with several people at the timing of things. Benjamin felt better this weekend than he has many weeks, and we are being readmitted to the hospital for high dose chemotherapy tomorrow. It couldn't have possibly worked out more perfectly. And it didn't even rain, on a June afternoon in Sarasota.
Michael and I had an appointment to donate blood together, followed closely by his mother and sister. Friends of the family climbed on the bus as well, along with total strangers. At one point from my seat on the bloodmobile I could feel the gratitude spilling out in tears. There were people giving of their very marrow for our son; people with whom I share a last name, and people I've never met in my life. The coordinator of the blood drive estimated that they collected 30 pints of blood in Benjamin's name. By my count, he has received, to date, 11 transfusions totaling 3,071 mL of platelets and 1,466 mL of packed red blood; that's just shy of 10 pints of whole blood. We tripled that today. I can't really describe that feeling.
When I stepped off of the bloodmobile, I saw Benjamin immediately. He asked how I was feeling (I tend to get a little faint while giving blood) and he said, so sincerely, "Mom! I'm so sorry you had a shot in your arm." Seriously? Shall we do a little recap of the last five and a half months? 
The rest of the afternoon was just lovely. There was live music by teachers and students, and a silent auction with gorgeous artwork and gifts. There were stations for face painting, hand painted rocks, and a sweet bake sale manned part time by Benji and his friends. This was the third big public fundraiser in Benjamin's honor since his diagnosis, and the first we've been able to attend. We are swirled and lifted by so much love. Everyone was so happy to see Benjamin feeling so strong. This is the energy we need. This is community. This is what I will pay forward, for the rest of my days.
The lemonade stand made the evening news. The reporter said to Benji, "Imagine that one of your friends came up to you and they said, 'Hey Benji, what's it like having cancer?' What would you say to them?" Benjamin spoke so confidently. He said, "I would say, 'It's fun, and it's not fun. There's some bad days, and it's just…I hope to get through it soon."
Tomorrow we will check into the All Children's Outpatient Clinic in the morning. If Benjamin makes counts, or reaches an absolute neutrophil count of 750, he will be admitted for his final round of high dose Methotrexate during Interim Maintenance. He'll be hooked up to IV hydration and receive the medicine over a 24 hour period. Then it will be chased with Leucovorin, the rescue drug, until his levels are low enough for discharge; anywhere from three to six days. It will be our last planned hospital admission during frontline treatment. I packed in record time.
There were a few moments today in which I felt like I was walking in someone else's shoes. This is not my life. This is not our story. But mostly, the moments of today were filled with an enormous sense of pride. This is our life, and this is our story, and that is our boy running and laughing over there, and look at what our community can do. We will never be able to change the fact that somewhere in Benjamin's marrow, a single white blood cell decided to replicate too quickly. It happened, and now we fight with whatever means necessary to ensure it doesn't happen again. But within that fight, between the rounds, we can find some of the greatest gifts we've ever been given; in the smile of a stranger, in the kindness of a friend, in the deeds of a big brother, in the presence of a family, on an air-conditioned bloodmobile, in a cold glass of lemonade, in the collective energy under one elementary school pavilion on a sunny Sunday afternoon.
We are so thankful.