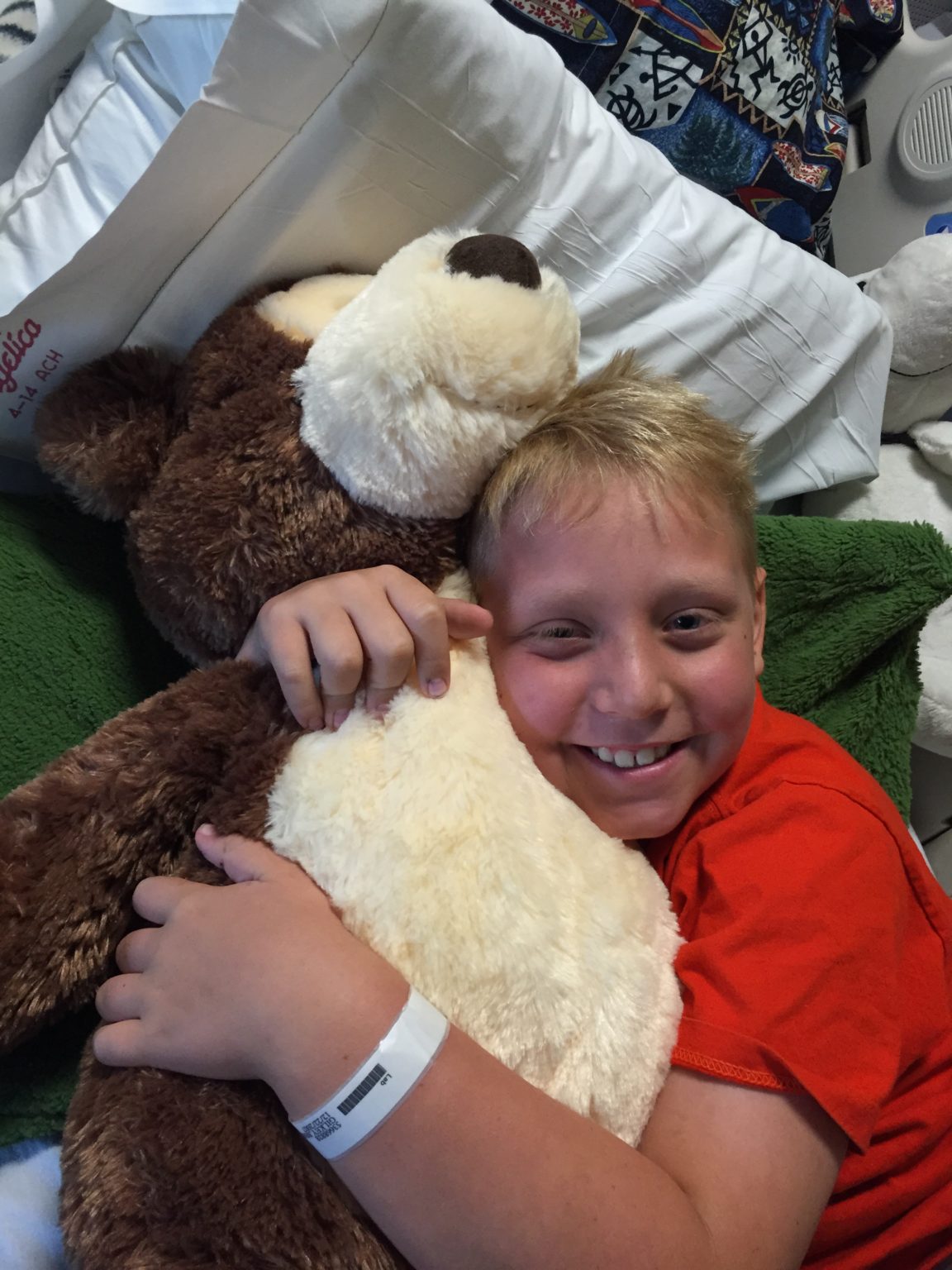 We woke up early. The first thing I noticed was that Benjamin's voice sounded different. The cough came next. Could he be catching a cold? Is it the Vincristine messing with his vocal cords?
Before I could get the answer, shift change was upon us and Krystyna with two Y's was our morning nurse. She joked that maybe she was bad luck, because Benjamin vomited almost immediately after she arrived. This time there was no heparin or flush to blame.
It's amazing what a good night's sleep will do for one's ego. Last night I entertained the idea that yesterday's vomiting episode was somehow my fault, like I hadn't done enough to prevent it. This morning, I didn't have time for that nonsense. It's not about you, Laura. I requested Marinol immediately and double checked the time of the Kytril drip. I asked if we could remove the Scopolomine patch and replace it with a fresh one, and made sure we were on the schedule for Dr. Wishnew's rounds early. And I turned on the music.
Dr. Wishnew's team said that sometimes Methotrexate patients can develop a postnasal drip, and a nurse suggested an antihistamine. I declined. It seemed counterintuitive. Benjamin's cough was dry and his throat was sore, as though he were fighting something off; this wasn't an allergic reaction happening. I didn't think we should be attempting to dry things up when we are working to flush things out. As for the nausea, they helped me keep the big picture in mind; he had passed the 36 hour mark with only two nauseous episodes, and we still had Marinol in our back pocket.
The Marinol, once again, worked beautifully. Benjamin felt better very quickly. Shortly thereafter, his first dose of the "rescue drug" Leucovorin was administered and his 42 hour blood draw was taken. This requires a double saline flush. I held my breath. No nausea! While we awaited the results from the lab, a dear friend paid us a visit with her sweet little girl, and they brought pizza. Benji gobbled up two pieces.
I walked down the hall to grab some water for our friends. A girl about Banyan's age with no hair and a giant smile was ringing "The Bell." It hangs on the wall near the exit doors on the seventh floor, with the inscription:
Ring the bell
Three times well
Its toll to clearly say
My treatment's done
This course has run
And I am on my way!
All of the nurses were lining the hall where the little girl stood, hugging her family, her father filming the moment through teary eyes. Benji will ring that bell before we know it.
Shortly after our friends left, the results of Benjamin's 42 hour draw came back at 0.63. This was a great number–he'd cleared his first benchmark. If he cleared 0.4 at the next draw six hours later, we would be discharged. If he did not, protocol dictated we wait until he clears 0.1, whenever that may be.
Michael arrived in the afternoon and we focused on Benjamin hydrating, hydrating, hydrating. We played games and made music. We also received a surprise visit from Dr. Oshrine, who is on the floor this week seeing bone marrow transplant patients. He went out of his way to come and visit Benji and find out how this round of Methotrexate was comparing to the last one. Michael and I feel so grateful for this partner in Benjamin's care.
Benjamin's 48 hour labs were drawn at 5pm. It usually takes an hour or two for results to come back. Since today is Wednesday, we passed the time by participating in the hospital wide "Video Bingo" contest. Benjamin won the second round! His IV started beeping right after he won, so I called Krystyna. She took a breath, like she was going to say something, then changed her mind. "Okay, I'll be right there." I knew she'd gotten the results. I knew we weren't coming home.
Benjamin's 48 hour Methotrexate levels didn't go down, as expected; they nearly doubled, to 1.24. We were totally baffled. Krystyna had never seen this before. The charge nurse said it happens, but it is rare. They called the lab to rule out any error; the lab tech said the increase raised a red flag with her too, so she tested the blood twice. No error. Still, to determine a pattern, Dr. Moore (now on call) requested the blood be drawn again.
While we waited for the second draw, Benjamin spiked a little fever. Not a high one, and it's gone now, but it sealed the deal. Michael and I decided that regardless of the results of the draw, Benji and I would stay where we are. His next blood sample agreed, showing a Methotrexate level of 0.86. Nowhere near clearance, but certainly a step in the right direction. His next draw will be at 5am. Benjamin's prize for winning Bingo was a giant stuffed bear. He named it Bingo. It considerably softened the blow of staying another night.
I posted my concern over the increase in the online moms' group. A rise in Methotrexate levels after 48 hours has happened to several kids, and their parents were very helpful. In the morning I will get Benjamin moving right away. We will take many more laps around the seventh floor, if he feels well, to get his body moving. We will continue to hydrate. We will be home soon.
Our night nurse made a mistake, and gave Benjamin his oral chemotherapy twenty minutes early. I had written the time it was to be given (based on his last food) on the nurses' board, and told her verbally. I assumed my bases were covered. I didn't see her give the medicine. My back was turned. We had just replaced Benji's Scopolomine patch, and I was writing in The Binder. After she left, I told Benji we'd be going to sleep after his 6MP in 20 minutes. He said, "Mom, I just took it!" It is the only time Benjamin has ever had the medicine early.
I felt a little guilty for having approached our sweet nurse in front of her charge nurse with the error, but I needed to make sure everything was okay. Our nurse apologized, and made suggestions for how the team could better communicate protocols in the future.
She had been operating from parameters she'd learned elsewhere. It was an honest mistake.
My guilt dissipated when I read the comments to my post in the moms' group. One mother said that her child sustained brain damage from prolonged Methotrexate exposure, because the hospital simply forgot to give him Leucovorin for 24 hours.
All Children's has been absolutely amazing. We are extremely happy with Benjamin's care team. But humans make mistakes. And when I leave the room to heat water for tea, and I wave through the window to the baby in the crib alone in the room next to ours, I feel so deeply thankful that I am able to be here on the seventh floor.