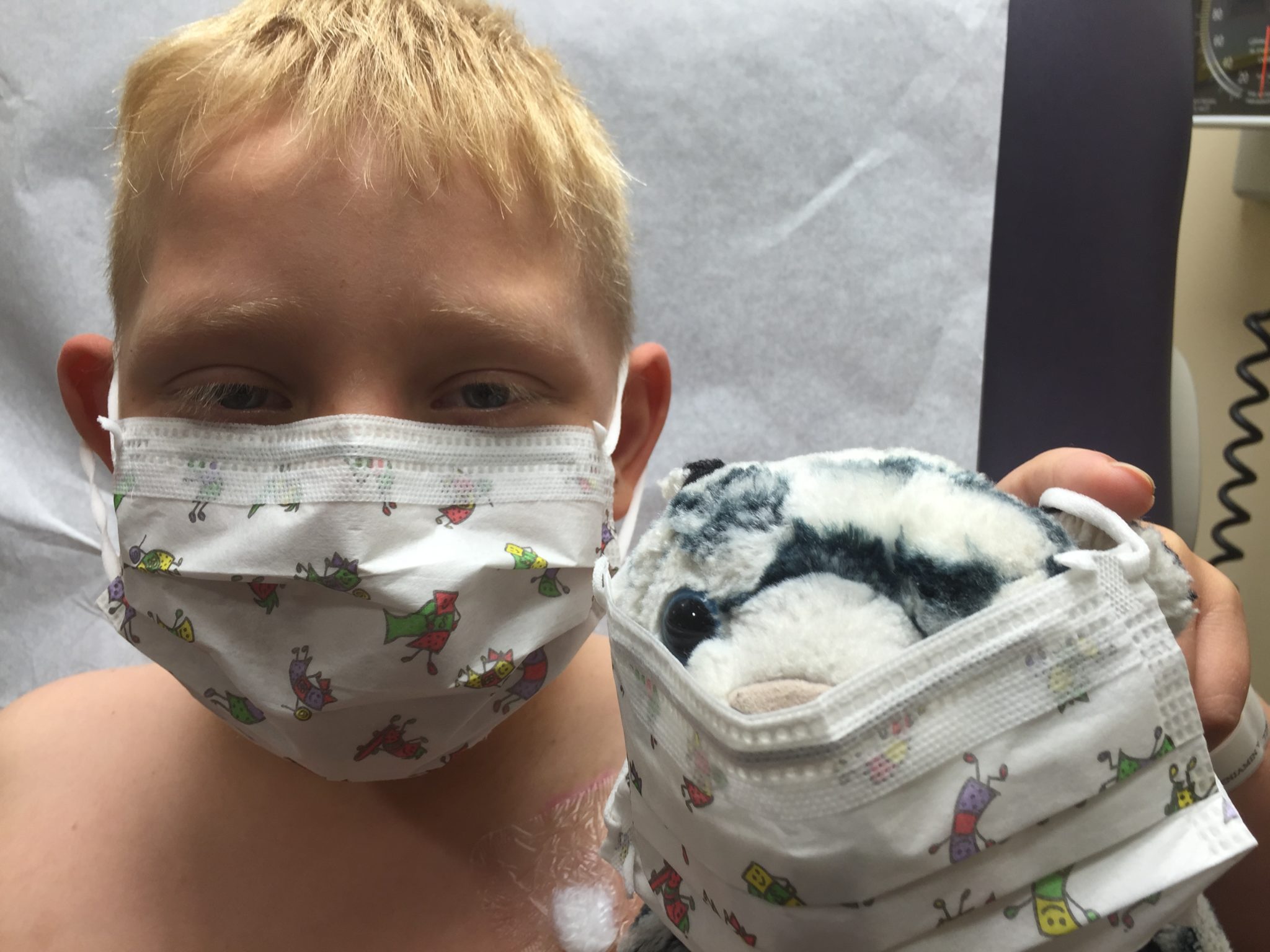 Spirits were high this morning. All of us had big days ahead, and we collectively seemed to rise to the occasion. Banyan took a great attitude and some banana muffins down to his friend's house to catch a ride to school, where more state testing awaited him. (Really? More?) The rest of us–Michael, Benjamin and I–loaded up and headed north. I climbed into the backseat before we crossed the bridge to put numbing cream on Benji's port, just in case. The Skyway was beautiful against the darkening sky. It started to rain as we parked on the fourth floor of the outpatient garage.
We got settled into our exam room in the clinic, and Benji had his finger poked for the complete blood count that would tell us whether we would go home, or stay for a bone marrow aspirate. We waited for the results to come back from the lab. I knitted at a ridiculous pace. A nurse we've never had before came back with the printout. Before she read Benjamin's absolute neutrophil count (ANC), he stopped her– "Let me guess!" he said. He guessed 450. His ANC was 410. This kid amazes me constantly.
I wrote last night that I was at peace with any outcome today would bring. However, an ANC like 410 was the one scenario that gave me discomfort. It is much higher than the 137 of last week, but it's lower than the Children's Oncology Group (COG) protocol of 500 for the aspirate. Michael and I played out all scenarios late last night. If his ANC is rising but still super low, we go home. If his ANC is over 500, we stay for the bone marrow. If his ANC is on the cusp (like, say, 410), we discuss it with the oncologist. We knew Dr. Oshrine wouldn't be in the clinic today. With such a serious decision to make, we needed someone all business. Someone with confidence. Dr. Grana was the perfect physician in our scenario. And that's exactly who walked in the door.
Dr. Grana was ready to move forward. We voiced our concerns based on the explanation Dr. Oshrine had given us last week. Is 410 too low a number to get an adequate pool of cells from the bone marrow? Should we wait a couple more days? She explained that a reliable sample from the marrow is dependent on a good count of all white blood cells, not just neutrophils. Benji's total white blood cell count is at a strong 1950. Still, I was struggling. For me, this was the ultimate lesson in trust: a machine is going to look at Benjamin's bone marrow and tell us if it can detect minimal residual leukemia, or if it can't. I want to be damn sure that the sample it's looking at is dense enough for a good solid read. In other words, if they tell me they don't see leukemia cells, I want to believe them. I don't want to doubt.
Michael knew what I was trying to say in my rambling manner, and broke it down in a much more direct way. I was so grateful he was with me. He asked her simply, "Is it possible that we could get a false negative?" Her answer was what I needed. No. The pathologists who look at the flow cytometry will be able to tell if the sample is adequate, or if they need another bone marrow aspirate. Perfect. Thank you. One final question–would it be Dr. Grana performing the bone marrow aspirate? She said it wouldn't be her, and looked at her paperwork to see who was on for such procedures. It was Dr. Mayer. I could have danced when I heard her name. With those two women directing this critical moment, my trust blossomed and my doubts disappeared. Let's go to surgery.
Benji's faithful tiger, Roar, joined us on our journey today. When we all wore masks as Benjamin was getting his port accessed, so did Roar. When Benji got his bracelets to head into anesthesia, so did Roar. The hospital staff even gave Benji a friend for his tiger. Benji named him Mr. Cuddles. The three of them were thick as thieves. We waited quite a while for anesthesia, and then the moment came. We discussed the level of propofol with the anesthesiologist, and they offered to give him pain medicine to help him recover from the bone marrow aspirate. Benjamin refused. They seemed surprised, but we backed him up. The boy does not like feeling out of control. Let's just wait and see if he needs pain relief once he's awake. Everyone, especially Benjamin, was pleased with this plan.
I walked Benji into the operating room and could have hugged Dr. Mayer when I saw her big smile. I had the chance to slide in a few words about our hope at a nice big sample of cells. She was so reassuring. I held Benji's hand until he fell asleep clutching Roar, then I walked out to find Michael, our buzzer, and a hot cup of coffee.
I knitted feverishly, trying to visualize a perfect sample of bone marrow being extracted from Benji's hip bone, placed delicately into a vial, and then sent off into a part of All Children's Hospital I've never seen. I pictured the right stickers being checked and double checked before they were placed on the vial. I pictured the needle going in effortlessly and pulling out exactly what it needed.
We waited near the doors to the surgery unit. One of the nurses that was in the room during Benji's procedure walked out of the doors. She caught our eye, and whispered, "He's doing great. He's in recovery now. They should call you back soon."
A few minutes passed, and Dr. Mayer walked out the doors. She was looking at her cell phone. She looked up and saw us and gave us another huge smile. She said everything went perfectly. She can't say for sure what the results of the cytometry will be, but she felt very happy when she aspirated his marrow. She said it felt like the marrow of a normal child. I know he would have loved to hear her say that.
I knitted my last stitch just seconds before our buzzer went off. We went back to see our smiling boy, snuggled up with Roar and Mr. Cuddles, waiting for the soft pretzel Michael had promised him from the cafeteria. We waited just a few more minutes for a vitals check, then grabbed a wheelchair to take our boy home. No pain, no medicine necessary.
We left with instructions to call the clinic tomorrow afternoon. Either the results will be in, or they won't. Either they'll be negative, or they won't. We are in this strange place again and we are ready to be past it. But for tonight, I will hold clear the vision of a vial of perfect marrow, with Benjamin's name and medical records number adhered to it. I will hold clear the vision of a focused technician who will examine this marrow and read its results beyond a shadow of a doubt. I will hold clear the knowledge that whatever we learn (or don't learn) about Benjamin's path tomorrow will be for his highest good.
---
So many people sent us prayers and energy today, by text, by phone, by email, by social media. We felt surrounded by love, as we have been since Day One. Before Benjamin went into surgery, I asked him, "Should I post a photo now? Or wait until I write tonight?" He said now. He likes knowing that so many people are thinking of him with healing thoughts. And I know that it's working. Thank you, thank you, thank you.