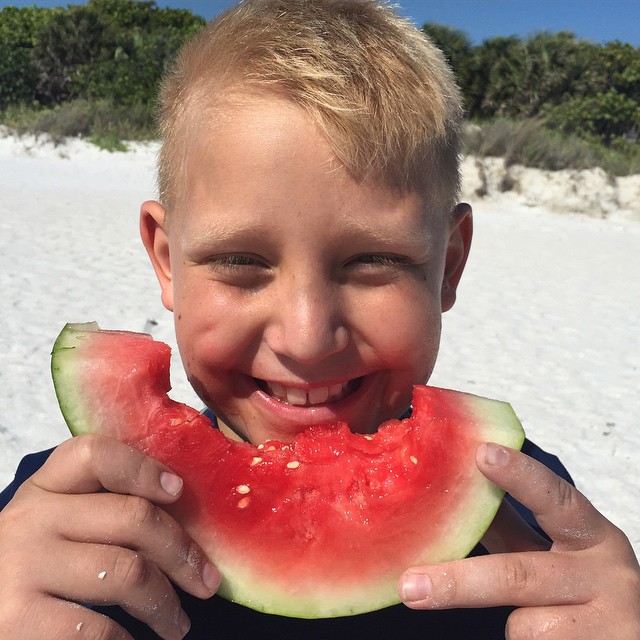 "Since it is so likely that children will meet cruel enemies, let them at least have heard of brave knights and heroic courage." –C.S. Lewis
Once upon a time, there lived a wonderful boy. He had hair of gold, eyes of the ocean, and a lion's heart. His name was Benjamin Wilson Gilkey. Just after his seventh birthday, Benjamin accepted the mighty task of slaying the most vicious monster in the land, Acute Lymphoblastic Leukemia. News of the boy's unparalleled gallantry spread. He became known far and wide as Benjamin the Brave, the most courageous of knights. On Saturday, February 11, 2017, after a valiant 772 day conquest, Benjamin, age 9, defeated his nemesis. His final act was his bravest of all, for in conquering his mortal enemy, he sacrificed himself.
When he was not engaged in battle, Benjamin was a happy third-grade student at Southside Elementary School. He was well known for his throwing arm, his innate empathy, and his spicy sense of humor. His favorite things in the world were fishing before dawn with his father, playing football and video games with his brother, and riding his four-wheeler through the South Georgia woods. He loved Roald Dahl books, songwriters who tell stories, and the Tampa Bay Rays. He enjoyed camping, art, science, card tricks and prankery of all kinds. He aspired to attend the University of Florida and to one day open his own restaurant, which would serve, among other things, the best omelets in town. His laugh sounded like sunshine. He asked insightful questions, he gave great hugs, and mostly, to all who knew him, he was a very good friend.
Left behind to honor Benjamin as best we can are his grateful parents, Michael and Laura; his brother Banyan, who made him the happiest of all; and a mighty tribe of loving grandparents, aunts, uncles, cousins and dear friends.
Benjamin's family would like to extend the deepest of gratitude to the care team at Johns Hopkins All Children's Hospital. We would also like to thank the hundreds of people who have offered selfless acts of kindness during Benjamin's transition.
A Celebration of Life will be held on Saturday, March 4th at 2pm at Sarasota Middle School. Please consider honoring Benjamin's bravery by giving blood, or by contributing to The Benjamin Gilkey Fund for Innovative Pediatric Cancer Research. Donations can be made by mailing a check to the Johns Hopkins All Children's Foundation (memo: Benjamin Gilkey), PO Box 3142, St. Petersburg, FL  33731-9954; by phone at (727) 767-4199; or online at www.hopkinsallchildrens.org.